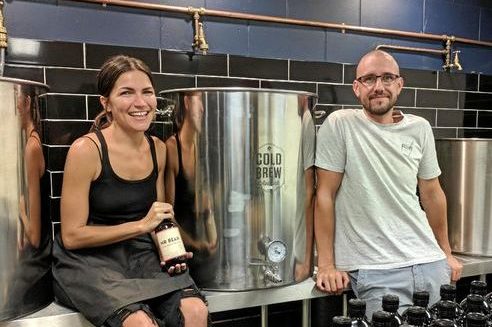 Meet The Locals - Mr Bean Cold Brew
In July 2016, good friends Jack and Polly started Mr Bean Cold Brew at the Airlie Beach markets as a passion project to sell their cold brew coffee concentrate to the local community. The response was incredible and the growth of their business has been organic, fast and exciting to say the least!
The team had experimented for a year before discovering what they believe is the perfect blend and balance of Robusta and Arabica beans for the cold brewing process.
In this interview, Polly shares with us the beginnings of Mr Bean Cold Brew, what the benefits of the cold brewing process are and the challenges of being a small batch producer. Mr Bean Cold Brew was featured in our April/May 18'
Discovery Box
.
Image: Whitsunday Times
What's your food philosophy?
I've always lived by the quote "Let food be thy medicine, and medicine be thy food" It's simple, true and powerful. Jack and I try to eat as many wholefoods as possible. We source these from our local markets on the weekend, you can't beat local and organic produce.
What was the inspiration behind starting Mr Bean Cold Brew?
Mr Bean Cold Brew started as a side project for Jack and I a short 18 months ago out of a true love for cold brew coffee. Initially, we had started brewing our own cold brew coffee as no other cold brew business would send to Airlie Beach as it was 'too rural'. It took a lot of time and experimentation perfecting our brew, but once we had the perfect balance of arabica and robusta beans and flavours, we begun sharing our brew with friends who loved it and wanted to start buying bottles from us each week.
From here, we decided to start a market stall selling our cold brew and mixing a unique range of cold brew coffee drinks which we still do each Saturday at our local markets.
Fast forward today, we both now work full time on Mr Bean and have designed and moved into our commercial brewery where we brew, bottle and distribute Mr Bean Cold Brew each day to our 150 wholesale customers and retail customers who order from our online store where we proudly offer free postage australia wide.
Most people would be hesitant to go into business with a friend? How do you manage being mates and business partners?
Jack and I have been best friends for 10 years, having travelled together, worked together and lived together we knew each other better than anyone else when starting our business.
We are a great business team as we have a strong respect for one another and appreciate the skills that we bring to our business.
Jack is extremely good at business planning and growth and all of the logistics, vision and engineering that goes into that. I studied Graphic Design which means I absolutely love the design, social media, marketing and branding aspect of our business...I am also very passionate about customer service and enjoy engaging with our customers and ensuring everyone is happy with their product and our service.
Something that is really important about our business partnership is our friendship, Jack and I spend a lot of our days laughing and keeping our friendship at the forefront of our business.
Can you tell us a little about the cold brewing process and what the benefits are?
Ahh where to start. Firstly, as a health benefit Mr Bean Cold Brew is 70% less acidic than regular coffee making it non bitter and also alkalising. The less acidity also means it's kind of your digestive system and teeth!
Because of the slow brewing process its naturally sweeter which means you don't need to add in any refined sugars is you like your coffee a little bit sweeter. There are a lot of fitness benefits of having cold brew before your workout such as speeding up the metabolism, accelerates fat loss, improves focus, decreases muscle pain and increases your performance.
Other benefits? Because Mr Bean is so smooth, its extremely versatile which means you can mix it into your ice coffees, smoothies, affogatos, raw treats and of course, Espresso Martinis!
As a small batch producer, what's the most challenging aspect to your job?
It used to be keeping up with product demand, however now that we are in a commercial brewery we are well equipped with the best commercial cold brew vats and always make sure we have enough stock on hand for our wholesalers and online customers.
And the most rewarding?
One of the most rewarding aspects of Mr Bean is being proud of our product and how far and fast we have grown organically in the past 18 months.
If we looked inside your fridge what would we find?
You will always find a large glass jar of Kombucha, lots of Mr Bean bottles, some produce from the markets and lots of spinach for our pet bearded dragons.
What is one thing you couldn't work without?
Honestly, it would be Mr Bean Cold Brew! When people ask how we have come so far in a short space of time we often joke that our daily coffee intake has helped speed up the process.
What's your favourite season for food and why?
Jack loves winter for warm soups, roast dinners and curries! I love summer for freshly caught reef fish and calamari, salads and avocados!
What are your BIG goals for 2018?
We have a lot of projects in the pipeline for Mr Bean this year. Starting with the launch of an exciting range of ready to drink cold brew coffee beverages which are launching very soon! 2018 will see many more stockists, distributors and expansion Australia wide for Mr Bean! YAY!!
What would your ultimate last supper be?
VERY tough question! Mine would have to be my Mum's eggplant lasagna followed by her signature chocolate sauce pudding with ice cream! Jack's would be avocado and salmon sushi!
To discover more and connect with Mr Bean Cold Brew click below:
Website: www.mrbeancoldbrew.com
Instagram: www.instagram.com/mrbean_coldbrew
Facebook:
www.facebook.com/mrbeancoldbrew