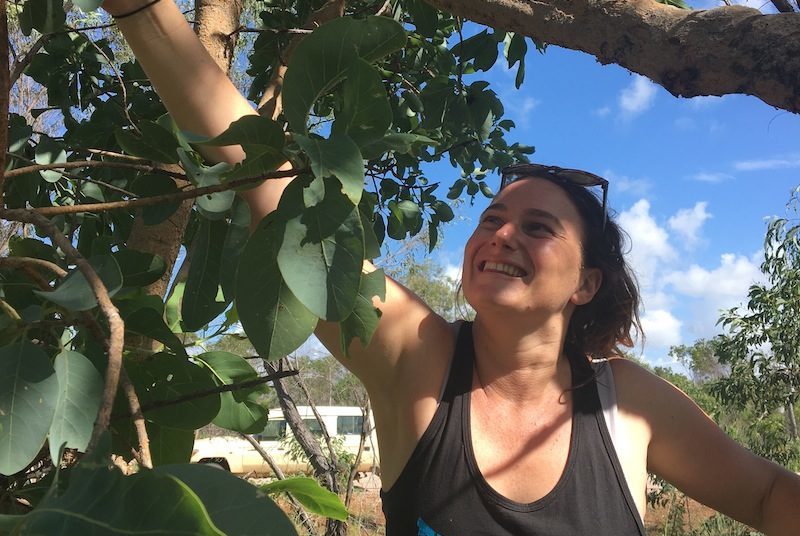 Meet The Locals - Kakadu Plum Co
Sitting having her morning green smoothie one day, founder, Tahlia Mandie asked herself: "Does Australia not have its own homegrown native superfood?" From there her research led her to the powerhouse fruit, Kakadu Plum.
Kakadu Plum Co. was founded to share this magical fruit. To connect with communities. To make a difference to the Australian Native Food Industry.
In this interview, Tahlia shares with us the unique power of the Kakadu Plum and how she achieves a sense of balance between being a business owner and busy mum of two young kids. The Kakadu Plum Co's Kakadu Plum Powder + Kakadu Plum with Lemon Myrtle Powder was featured in our April/May 18'
Discovery Box
.
What's your food philosophy?
Clean and healthy with a little indulgence as well.
What was the inspiration behind starting Kakadu Plum Co?
It was just before Summer of 2016 when I observed everyday Australians opting for international superfoods to meet their health needs. It was the time that Matcha and Acai became overly popular. I asked myself if Australia had its own native bush superfood and soon discovered the Kakadu Plum, a native Australian bush fruit that is wild harvested by Indigenous Australians and known to have the highest source of vitamin C of any plant in the world.
The questions I had were, why had we not known about this? And two, why are we not celebrating this? Shortly after this I partnered with Indigenous communities in The Kimberley region of Western Australia and began my mission of celebrating Indigenous culture through food and encouraging all Australians to buy local.
Your Kakadu Plum Powder is wildcrafted in the Kimberley region. Can you share with us a little about the region and how you struck up a relationship with the community there?
The specific region is Dampier Peninsula along the Kimberley Coast. It is about 100km north of Broome. It is one of the most beautiful, pristine places filled with so much rich culture. I initially researched where Kakadu Plums were grown and from there did further research into who was actually harvesting them. Right from the beginning aligning myself with an Aboriginal community and Traditional Owners was important. My relationship with Traditional Owner Bruno Dann and his partner Marion just came about after spending much time researching who was doing what in the native bush food industry.
I feel incredibly humbled to be connected to them and be able to share parts of their story.
Are Kakadu Plums only found in Australia? What makes them so special?
Yes, Kakadu Plum is our one true superfood that is grown wild in parts of Australia. It is more organic than organic and has been growing in Australia for thousands of years.
Kakadu Plums are known to have the highest source of natural vitamin C of any plant in the world, up to 100 times more than oranges. They are also packed with rich antioxidants, over 5 times more than blueberries, and are a great source of folate. They are also a great source of vitamin E and iron. Our Kakadu Plum Powder is simply the Kakadu Plums dehydrated at low temperature and milled into a powder. It is a true whole fruit superfood.
As a small batch producer, what's the most challenging aspect to your job?
Doing literally everything on my own. From sales to distribution, social media management and customer service… it is me. Only me.
And the most rewarding?
Seeing our community, fans and followers grow everyday and coming on our journey celebrating Indigenous culture.
If we looked inside your fridge what would we find?
Loads of fresh fruit and vegetables (I have 2 young children who eat a tonne of fresh fruit daily), kombucha, almond milk, eggs laid by our chickens and a vegan chocolate bar (or two)
What is one thing you couldn't work without?
The support of my husband.
What are your BIG goals for 2018?
My passion and mission for supporting Indigenous communities has been the root of Kakadu Plum Co. and I am excited to be able to take this even further this year. There will be a new 'Project' launching very soon with this mission in mind!
Not only are you busy business owner but a mum of two kids, any tips on how you achieve balance (if any)?
It is busy and often a juggle, but I wouldn't have it any other way. My son started school this year which has allowed me to structure my days differently by having one drop off and pick up. Balance is about knowing where your priorities are and being able to give yourself permission to switch off and focus on other things; them.
What would your ultimate last supper be?
Ohh… that is a hard question. As long as there is something with a glass of red wine I am happy :)
To discover more and connect with Kakadu Plum Co click below:
Website: www.kakaduplumco.com
Instagram: www.instagram.com/kakaduplumco
Facebook: www.facebook.com/kakaduplumco