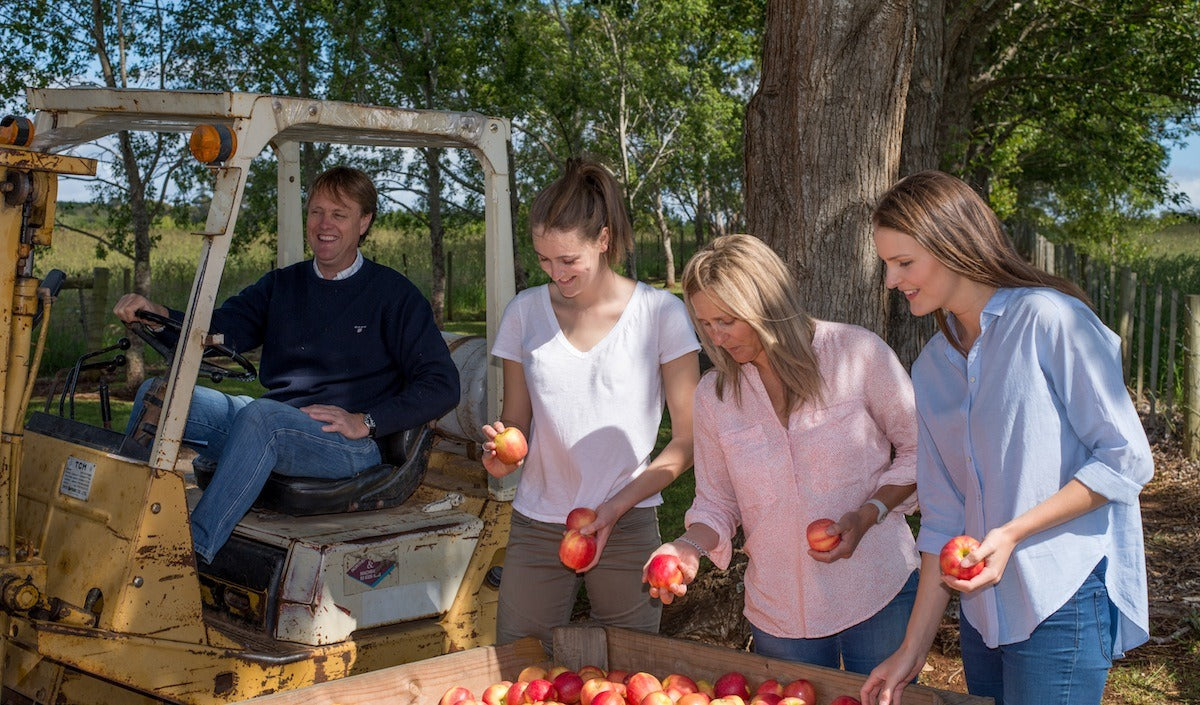 Meet The Locals - The Forager Food Co.
The Forager Food Co. is steeped in a rich family heritage of farming and food production dating back generations. The Ranicar family has lived in Tasmania since the 1950's when Edward and Betty Ranicar left tea plantation management in India, seeking the best farming ground, and a good temperate climate. Their son Piers and his wife Susie developed the berry fruit and salmon industries in Tasmania, now some of the largest agricultural industries in the state. Today, John and Sophie Ranicar are the descendants of these well known Tasmanian families and continue the legacy through The Forager Food Co. which they established in 2009 to utilise and preserve the best local produce in its purest form – freeze dried.
In this interview Sophie shares with us their inspiring food philosophy, how freeze drying differs to dehydrating foods and gives advice for those who are looking to launch their own food business.
The Forager Food Co. freeze dried Apple Wedges are featured in our Aug/Sep 18'
Discovery Box
.
L-R: John, Skye, Sophie & Chloe
What's your food philosophy?
Our moto is 'redefining the food experience'. This means the texture, flavour, aroma, visual will be unexpected - it literally redefines what you expect. We source locally wherever possible to reduce food miles and to get the best possible raw materials. We buy direct from the farmer and we consider it a partnership - not a transaction.
What was the inspiration behind starting The Forager Food Co.?
The Forager Food Co is all about taking food that might otherwise be wasted because it doesn't meet the supermarket specifications. We see so much fresh produce dumped simply because it is the wrong size, shape or has some minor imperfection. Forager takes this product and adds value through its process, resulting in a concentrated version that looks, smells just like the fresh product but is enhanced!
Can you talk us through the freeze drying process and how it differs to dehydrated foods?
Dehydration uses heat to remove moisture over time which results in the product shrivelling up. Most dehydrated fruit requires sulphurs as a preservative because they still retain too much moisture to stop bacteria growing. Freeze drying uses a process where the moisture is removed whilst the product is still frozen because it is under a vacuum. Keeping the product frozen protects the nutrients like vitamins and antioxidants but also keeps the shape and colour just like the original. No preservatives or any other additives are required - just 100% fruit or vegetables.
Can you tell us a little more about the region you produce in and the relationship you have with local farmers?
We try to source locally in Tasmania first and much of our produce comes direct from the farm gate of the grower. We work hand in hand with our suppliers - and have become an integral part of their businesses moving the fruit and vegetables that might otherwise not have a home. Unfortunately Tasmania isn't warm enough to grow products like mango and banana so we source further afield in order to get the best fruit we can.
As a premium food producer, what's the most challenging aspect to your job?
Our process in long and slow - we have limited capacity so we are always trying to juggle what we can do.
And the most rewarding?
When you unload a drier and see, smell and taste the wonderful product that come out!
If we looked inside your fridge what would we find?
Lots of fresh fruit, veg and a bit of chocolate hiding in the back!
What is one thing you couldn't work without?
Great staff - without passionate and caring people around us, nothing would work.
What's your favourite season for food and why?
Summer because that is when we receive most of our produce.
If you weren't a food producer, what would you be doing?
Probably advising other food producers how to be successful in the business - it's not easy!
What advice would you give to someone whose considering launching their own food business?
Talk to everyone you can - suppliers, marketers, customers, consumers - really try to understand your market, do the numbers time and again and make sure you really do have a passion because it takes a lot of hard work to make it happen.
What would your ultimate last supper be?
A BBQ with fresh crayfish, beef, salads and pavlova covered in Forager Fruits for dessert surrounded by friends and family.
To discover more and connect with The Forager Food Co click below:
Website: www.foragerfoods.com.au
Instagram: www.instagram.com/the_forager_food_co
Facebook:
www.facebook.com/theforagerfoodco