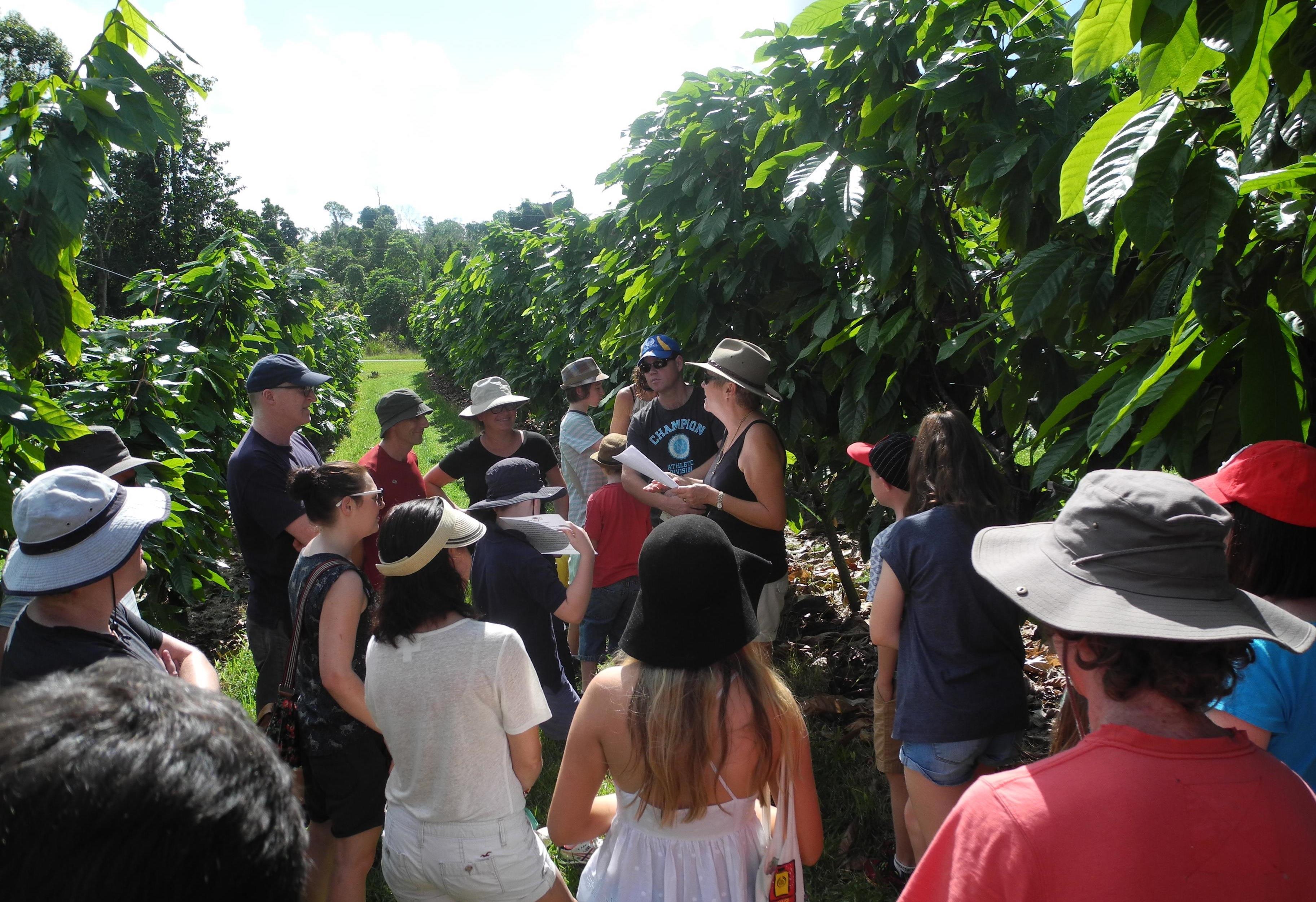 Meet The Locals - Charley's Chocolate
Just over five years ago, Chris and Lynn Jahnke embarked on new careers and launched Charley's Chocolate. Chocolate was their calling and we're so glad they listened! They are now multi award winning chocolate producers on Australian soil, something you don't see everyday.
In this interview Lynn shares with us her journey to becoming a chocolate producer, what the must dos are for a foodie visiting Mission Beach (the region they farm in) and their biggest achievement to date.
Charley's Chocolate 'Mount Edna dark chocolate' was featured in the August 17' Discovery Box.
What's your food philosophy?
It's quite simple really. I like to know where my food comes from and exactly what's in it. That way I can make an informed decision as to whether or not to eat it.
Mission Beach in Queensland is quite the sea change from where you're originally from in England. We'd love to know more about your journey to Australia and what the inspiration was behind starting a chocolate business?
We first made the move to Melbourne which was very different from the UK, moving to Far North Queensland was a huge "sea change" or as we call it a "tree change." My background is in handbags and found myself working for Myer, Oroton and then finally running our own retail handbag business for over twenty years. We came up to Far North Queensland once a year to "get warm" and fell in love with the tropics. We wanted some space so we bought a 400 acre property at Mission Beach. We continued to run our Melbourne business from Queensland for a few years, however we got tired of the traveling so sold the business and our Melbourne home and settled permanently in Mission Beach. We ran some cattle but not enough to make a living. We saw a program on ABC Landline on growing cocoa Far North Queensland and the rest as they say is history!!!! The name Charley comes from a book by John Steinbeck about his travel with his dog Charley who was a chocolate standard poodle.
Can you tell us a little about the region you farm and produce in?
We are in the wet tropics and I like to think that our cocoa trees produce great chocolate because of the loving care and attention that they have been given. Australian chocolate produced from Australian grown beans will vary depending on where the beans are grown and how they are fermented and dried. Then the chocolate maker comes into play. There are so many factors that affect the end result. We currently have three Australian grown Single Origin Chocolates and they are all very different from each other.
cocoa pods
The region you farm in is susceptible to cyclones which if hit, would deeply impact your business. We hear you've created an innovative concept to protect your trees.
We have our trees on trellis. This system was developed in Tatura, Victoria over many years by a horticulturist by the name of Baz Van Den Ende to improve yield. It has been "tropicalised" for this region and we believe will mitigate significantly the impact of cyclones. When the next cyclone comes through we'll lose the leaves as you do but not the trees.
> Charley's Chocolate innovative concepts have been picked up a Government facility tasked with looking into how businesses across the county are adapting to climate change. The National Climate Change Adaption Research Facility (NCCARF) visited the plantation in 2016 as they were keen to find out how they have planned around the inevitability of a cyclone. You can watch the interview they did here
You have your hands very busy not only looking after the cocoa trees & producing chocolate, but also running public tours throughout your chocolate plantation. Can you tell us a little more about your tours?
The tours are incredibly popular and are very often booked out. We give people a quick history of chocolate, show them the trees, flowers and pods and explain how you get from a cocoa pod to a chocolate bar. We have been amazed by the fabulous feedback from guests on these tours.
In recent years, what's been your biggest achievement for Charley's Chocolate?
Certainly winning a Gold Medal and the overall for Champion Trophy for the best bean to bar block in the Melbourne Fine Food Awards last year with our Mt Edna Chocolate It just blew us away. It scored 97.5 out of a 100 and there were 96 other entries. We were very proud of ourselves and for Australian grown cocoa. We also were awarded two silver medals. We have just been awarded Gold again this year for Mt Edna plus another two Silver and Bronze medals. We are very happy!!
Mission Beach and its surrounds is renowned for its coastline, not necessarily food. What are the must dos for a foodie visiting for the first time?
Obviously a visit to Charley's is a "must". Fruit Forest Farm runs tours on Saturdays from May to September, Mungalli Creek Dairy at Milla Milla is a multi award winning Biodynamic Dairy and very well worth a visit as is Jaques Coffee at Mareeba. We also grow so many other things up here like vanilla, pepper and native foods and spices. To name but a few. For native foods go to Rain Forest Heart close to Mungalli at Milla Milla.There are some wonderful honeys and great ice cream and gelato makers but not all of these are open to the public.
What would your ultimate last supper be?
Spaghetti a la vongole, Bistecca allla Firoentina, Gorgonzola picante Biscotti di Prato (Sorry so Italian I know!!!!)
To discover more and connect with Charley's Chocolate click below:
Website:
www.charleys.com.au
Facebook:
www.facebook.com/charleyschocolate