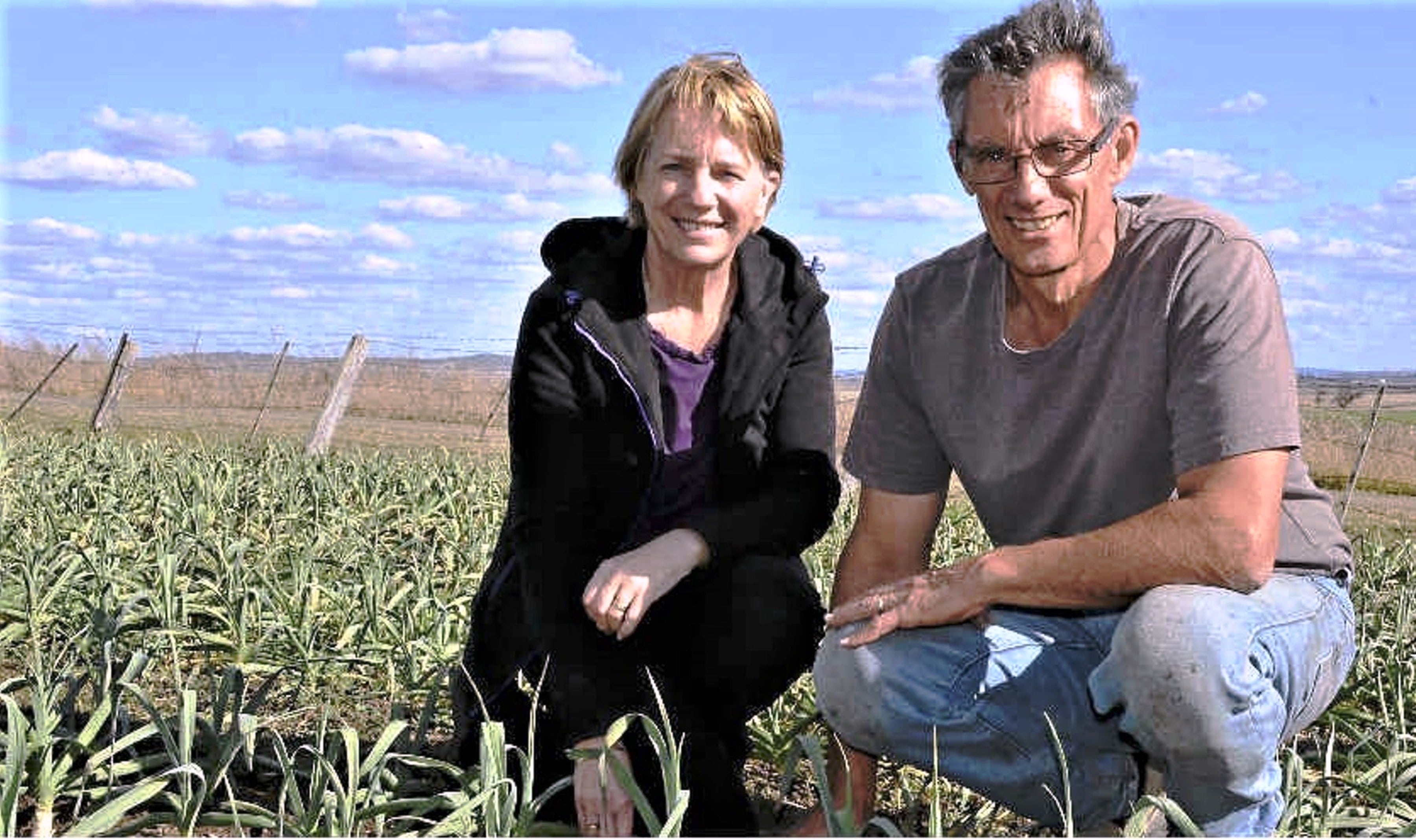 Meet The Locals - Budgee Garlic & Herbs
Budgee Garlic & Herbs are focused on providing quality garlic and herb products that are grown without the use of chemical fertilisers or pesticides all year round.
Their property, based in Budgee at the foothills of the Great Dividing Range, is surrounded by the rich, fertile, black soil farmlands of  "On Our Selection'' movie fame.
>> Budgee Garlic & Herbs were featured in the Autumn 2020 Discovery Box
What's your food philosophy?
To provide a high quality, naturally grown Australian product to our customers, full of flavour, colour and high in nutritional value.
What was the inspiration behind starting Budgee Garlic & Herbs?
We were prompted by an inability to source Australian grown, chemical free dried herbs and spices and fresh Australian garlic on the local market. So we decided to grow and dry our own produce which we then transformed into a range of salts, seasonings, preserves and dried products. After a lot of trial and error, we gave some of our "creations" to friends and family as gifts and were eventually persuaded by them to have a little market stall. From those humble beginnings we have grown a very busy and exciting small business and we now sell our products all over Australia.
Can you tell us a little more about the region you farm in?
We have a small property on the western foothills of the Great Divide, about 30 minutes south of Toowoomba in Queensland. The farming district is called Budgee and its rich black farmlands were the inspiration for Steele Rudd's  classic Australian stories about "Dad & Dave" .
As a small batch producer,  what's the most challenging part of your job?
The most challenging part of our job has been to produce enough food to service a growing small business. This has been a particular challenge after many years of terrible drought. For the last 3 years we have had to purchase several tanker loads of water a year just to keep a core of our produce alive. We had to stop selling bulk dried herbs to other companies and concentrated on trying to produce enough for our own production needs, We also entered into a lovely partnership with a small local high school who have incorporated chemical free garlic growing into their agricultural courses. The students plant, nurture and water and harvest their garlic which is then sold on to us...a blessing for both parties as we lost about 50% of our Budgee garlic due to drought over the last 2 years.
And the most rewarding?
 I know it might sound strange, but we just love to watch the transformation of seeds into tasty, nutritious food plants. There is something so natural and healthy about getting your hands into the soil and starting the process of food production. Of course, not all farm work is exciting, but even hand weeding can be rewarding when we look around and see kilometres of stunning trees and beautiful farmland looking back. It is so peaceful and beautiful.
If I can add a second *most rewarding" aspect, it would be getting inventive in the kitchen. I think my creative side loves to come up with foodie ideas, tastes and blends. My family and friends keep saying "haven't you got enough to do?"  They just don't understand to joy of creating...!
If we looked inside your fridge, what would we find?
We have 3 fridges in our kitchen. One is for home use (mostly full of fresh foods and condiments), one is for garlic products about to be processed, and the third is for herbs and other produce will be transformed into a range of products.  At the moment our third fridge holds about 27 kilos of tomatoes that have been washed, peeled and cut ready to be made into Spicy Tomato relish, Mild Tomato relish, Roasted Tomato and Garlic Relish, Tomato and Black Garlic relish, Tomato sauce and Chilli Tomato sauce.
What do you love most about Autumn and why?
I love the Autumn weather. Up here on the mountains we have lovely warm days and crisp, cool nights, But I also love that we are about to plant our garlic, my husband is currently preparing the soil with organic compost and some natural lime in preparation for planting
What is one thing you couldn't work without?
My food processor, it saves hours and hours of time we would otherwise spend on cutting, slicing, chopping, blending and pureeing.
If you weren't a food producer, what would you be doing?
Good question...I  worked in the community service area for many years and my husband was an accountant, so I guess we would still be in those professions. But I always used my garden as a "wind down" space after work, and Rod often says he doesn't know how he sat behind a desk for so many years, so who knows what we would be doing!
What advice would you give to someone who is considering launching their own food business?
Make sure you do your homework and develop your products to be the best you can make them before entering the market. We knew there was a niche in the market for our products because we had tried to source similar products for our own use with little or no success, We then took about 2 years of trial and error, testing our products on family and friends who could be brutally honest if need be!  Even though we had no intention in the early days of turning our passion into a business, hindsight tells us that those couple of years prior to starting our business were invaluable. Make sure you have sufficient finance behind you pay for the necessary food licences, insurances, and marketing, and for a year or two of minimal return while you establish your business. But most of all, find something you are passionate about and don't give up...you can always adapt your product, but you can't substitute anything for the passion behind the product.
What are your BIG goals for 2020?
Water security is a big goal for this year. We have installed gravity fed trickle irrigation systems and are looking at ways of harvesting more water. We also want to see our little business enter new markets, and have just engaged a marketing person to assist with this. We have a great deal of confidence in our beautiful and often unique products and are looking forward to having them grace even more tables across the nation in 2020.
What would your ultimate last supper be?
I think it would have to be a beautifully crafted, fresh, crisp, flavour filled salad, full of locally grown herbs and vegetables and topped with our pickled garlic. I really love fresh food, and salads can be so varied and so packed full of nutrition and flavour!
To discover more and connect with Budgee Garlic & Herbs click below:
Website: www.budgeegarlicandherbs.com
Instagram: www.instagram.com/budgeegarlicandherbs
Facebook: www.facebook.com/budgeegarlicandherbs