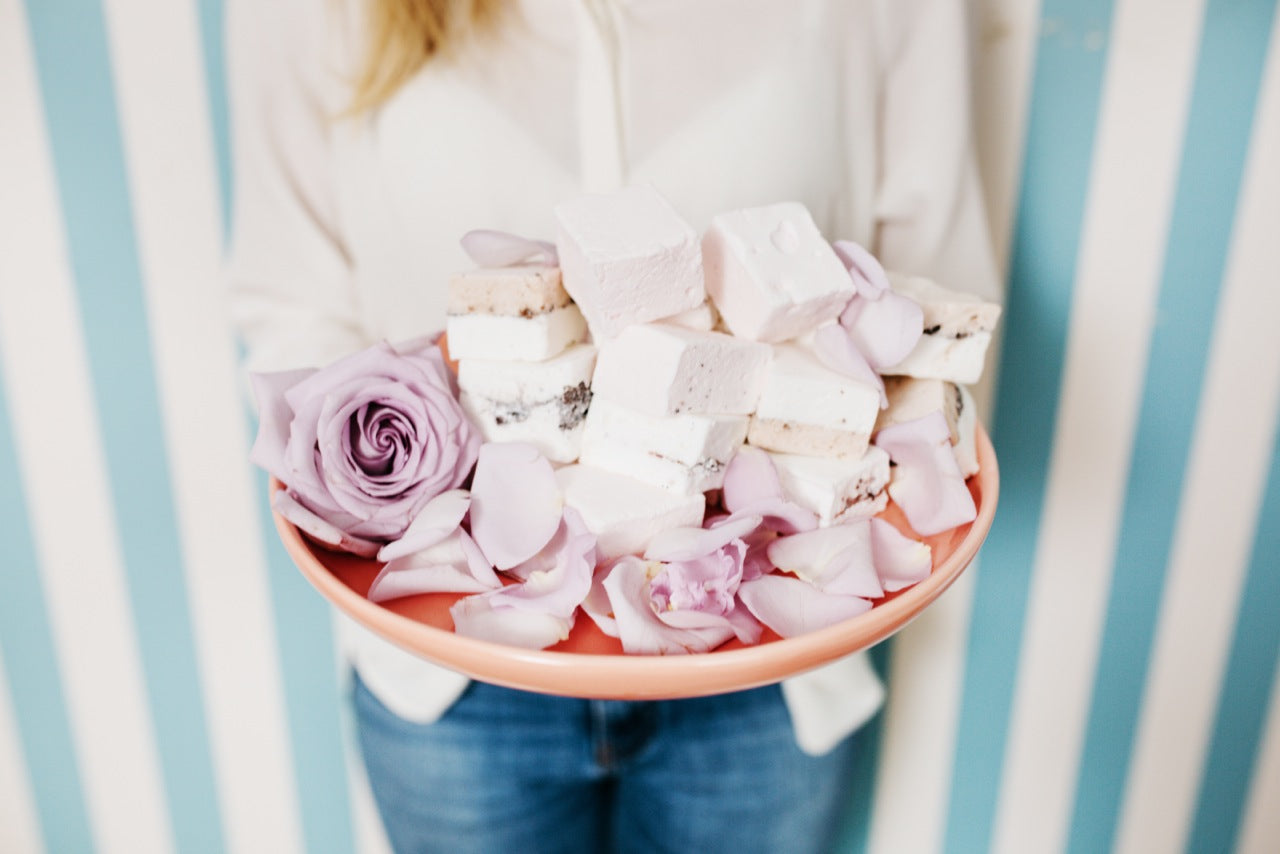 Meet The Locals - Black Pantry
Black Pantry began in 2013 with a humble recipe for rosewater marshmallows. Based in Sydney's Northern Beaches, sisters Jo and Belinda Black knew they had something special when requests for more marshmallows came in thick and fast and soon they were making marshmallows by the dozen.
In this interview Belinda shares what their food philosophy is, her first memory in the kitchen and how to perfectly toast a marshmallow.
Black Pantry 'Snickers, Vanilla & Vanilla Berry marshmallows' were featured in the August 17' Discovery Box.
What's your food philosophy?
Our food philosophy is pretty straight forward really. Just to produce the highest quality product with the best ingredients and style. To create something bespoke and unique.
Black Pantry marshmallows are anything but a simple marshmallow. What was the inspiration behind your business, its branding and the flavours?
We stumbled across what would be our first Black Pantry marshmallow flavour, Rosewater, whilst making christmas presents for my boss at the time. She asked me to make her friends some marshmallows "like the ones I had in St Tropez'". I then gave my friend and designer, Jessie James from Supply Paper co. a huge amount of product and asked her to help us make these look amazing and the rest is history. I roped Jo my sister into the business which is why we are where we are today.
What's your first memory in the kitchen?
Sitting on Mum's kitchen bench making cup cakes and licking the beaters.
We hear your Snickers Marshmallow originated from a request by Zoe Foster Blake? We'd love to hear more of this story and why you think the Snickers is your most popular flavour?
Zoe is passionate about peanut butter and snickers, well that was pretty much the brief! It has to be the texture, it's unlike anything you have tried that makes this marshmallow so popular. It's crunchy yet soft and pillowy, unbelievable.
You've collaborated with some amazing brands (Tiffany & Co, Samantha Wills, Sass & Bide, Etihad) for corporate gifts and events. What advice would you give to someone who's looking to approach and partner with larger brands?
I think you just need to follow your passion and hopefully they approach you, every amazing opportunity for us has just fallen into place so far. if you create a beautiful product (you hope) it will shine and that you get noticed. If not send out some beautiful product to brands you admire and go from there.
Do you have any tips on achieving the perfect toasted marshmallow?
Because we don't use preservatives in our products you have to toast gently then once it starts to go, watch it closely then remove from flame and blow on it! Then eat...yum!
In recent years, what's been your biggest achievement for Black Pantry?
It was pretty amazing being discovered by 'The Cool Hunter' in The Boathouse at Palm Beach. He saw and bought our marshmallows then got in touch and we ended up stocking his Christmas pop up shop with a beautiful choc honeycomb marshmallow, that was pretty cool.
What would your ultimate last supper be?
Freshly shucked coffin bay oysters!
To discover more and connect with Black Pantry click below:
Website:
www.shop.blackpantry.com.au
Instagram:
www.instagram.com/blackpantry
Facebook:
www.facebook.com/blackpantry