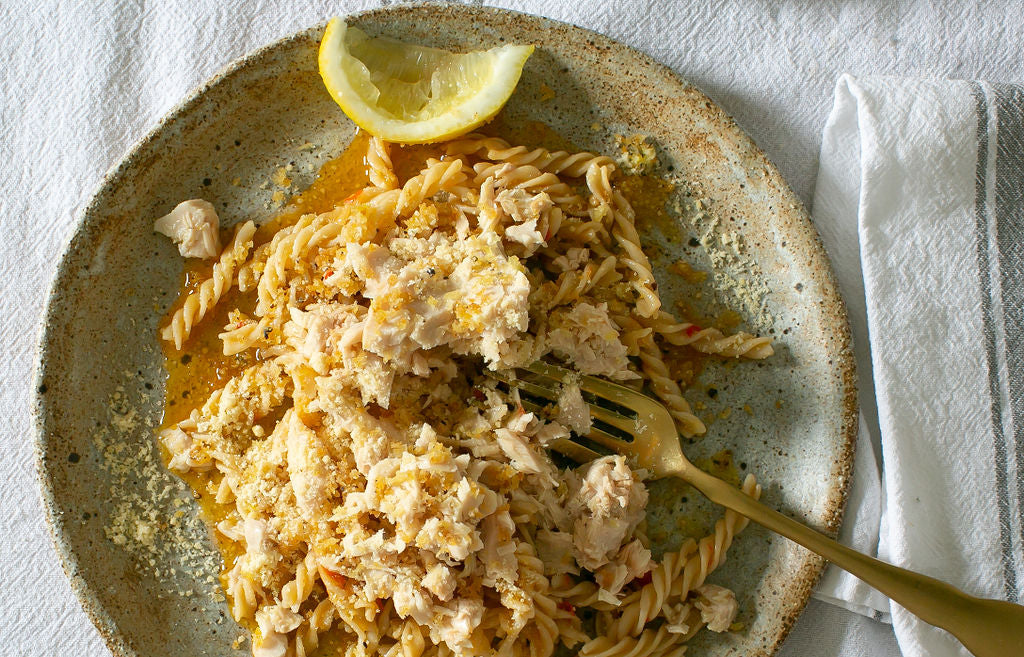 Little Tuna & Chilli Oil Pasta
What better way to celebrate World Pasta Day (25th October) than with a delicious new pasta recipe!
This Little Tuna & Chilli Oil recipe not only heroes the 100% Australian Little Tuna product inside the new Spring Box, but uses other gourmet goodies featured in previous boxes.
What's even more exciting, is our clever photographer Brooke from The Better Brands Co surprised us with her hidden cooking talent & created this sensational recipe just for you guys! - (thank you Brooke!).
Quick side note: If you're new around here, a huge HELLO to you! Our mission is to help foodies like you discover & eat the best Australian made artisan foods every season.  The ultimate foodie box is delivered directly to your door for you to enjoy! Learn more on our ABOUT US page or come say hi on Instagram @foodiescollective 
Little Tuna & Chilli Oil Pasta
Ingredients:
Tuna:
Jar of Little Tuna in olive oil

Gremolata:
Breadcrumbs
Lemon zest
Sea salt
Olive oil 
Fennel seeds/ or fresh dill
Grated parmesan

Chilli Oil drizzle:
1/4 lemon juice
1/2 cup olive oil
2 teaspoons of Bippi Italian Style chilli oil 
(to taste, I like the chilli to be a smooth flavour but you can lift the heat by adding more)

Pasta:
Pasta of choice, I have used Sourdough Pasta by Berkelo
Method:
In a hot dry pan gently toast the gremolata ingredients (alternatively line a baking tray with foil and place under the grill for a few minutes till toasted). Set aside. 
Boil pasta as per instructions.
As the pasta is cooking, whisk together the Chilli Oil ingredients and set aside. 
Drain the pasta and return to the pot. Mix through the Chilli Oil to gently combine & warm through. 
Plate up pasta then add chunks of the Little Tuna Wild Australian Tuna on top. (I don't add the tuna to the pasta when cooking as it's perfect straight from the jar.) 
Go to town with garnishes! - Top with the crunchy gremolata, a squeeze of lemon juice and a generous sprinkle of parmesan.  Season to your liking.
"With the combination of citrus, sea salt, chilli & premium Australian tuna, this meal warms the soul, excites the taste buds & leaves empty plates all round".
Brooke, The Better Brands Co