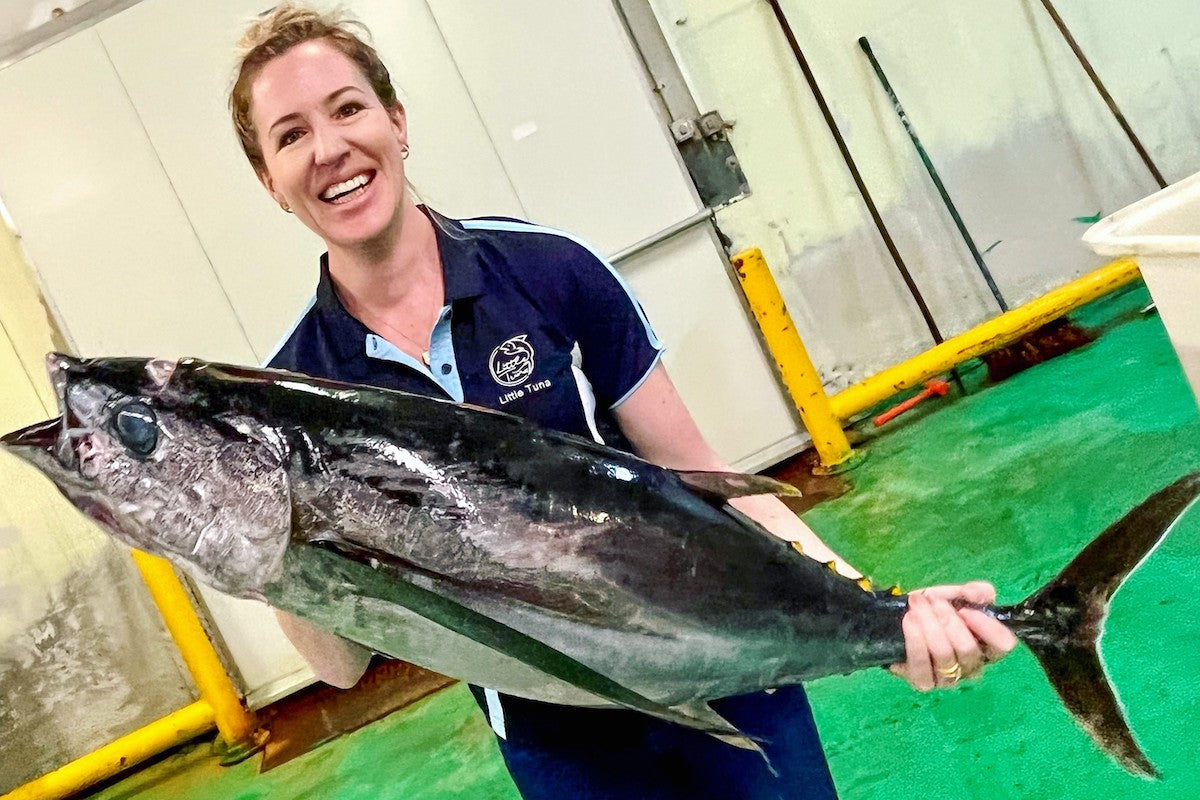 Meet The Locals - Kate at Little Tuna
Little Tuna is a very special Australian brand doing wonderful things for the Australian fishing industry. Their tuna is 100% Australian caught, owned and made sustainably, off the coast of Cairns Queenslands.
Rowan and Kate Lamason are the creators behind this brand and are extremely passionate about building a sustainable business and bringing Australian tuna to all. 
>> Little Tuna, Tuna Steak in Olive Oil is featured in the Spring 2022 Discovery Box (out now).
What's your food philosophy?
Source local, support local and think sustainable.
What was the inspiration behind starting Little Tuna?
The Lamason family has been involved in the tuna fishing industry for nearly 40 years. After noticing a gap in the market, we (my husband Rowan and I) combined our appreciation of Australian seafood and a healthy lifestyle to create the foundations of the Little Tuna brand.
Where do you fish for your tuna?
Our tuna is caught off the Coast of Queensland Australia in the Eastern Tuna and Billfish Fishery.
What kind of tuna do you use in Little Tuna products?
We use Australian Albacore in our Little Tuna Products. Albacore tuna is a white flesh fish that grows up to 40kg. The Albacore Tuna is assessed by AFMA as not subject to overfishing.
How are sustainable fisheries monitored in Australia?
Any seafood used for the Little Tuna products are caught by Australian fishing companies using sustainable fishing methods. Fish are caught in Australian waters governed by the Australian Fisheries Management Authority (AFMA). AFMA has implemented stringent recording and monitoring systems as well as strict guidelines for gear used and number of vessels allowed into the fishery.
A quota system is also in place limiting the total allowable commercial catch. Vessels are fitted out with onboard cameras to allow for visual monitoring. Using these methods, there will not be any decline in the species' survival.
For someone visiting Cairns for the first time, what are the must dos?
Visit the Atherton tablelands to delve into the waterfall circuit and local gourmet food.
A trip to the reef to view the spectacular marine life.
Spot a crocodile while cruising along the Daintree River.
Finally by a visit to the cairns lagoon for a relaxing afternoon swim and for all your seafood needs drop into Cairns Little Seafood Market for the best seafood in town and home to Little Tuna.
As a small batch producer, what's the most challenging part of your job?
Logistics. By far logistics is the most challenging and being located in Cairns adds an extra element. Forward planning is a must and staying on top of what needs to be done.
And the most rewarding?
Peoples reviews and feedback when they have discovered our product, that they feel confident and thrilled to discover and how much they love the flavour. 
If we looked inside your fridge, what would we find?
Way too many gourmet sauces, we are a family who loves a good locally made sauce to pair with whatever we are eating for dinner. We also have a lot of fruit and of course there is always a jar of tuna floating around in there.
What is one thing you couldn't work without?
Local Commercial Australian fishermen. They're out there doing the hard work to bring us a fresh supply of seafood everyday. 
What do you love most about Spring and why?
We love spring in Cairns because we know the summer time is on the way. Christmas is just around the corner and all the trees are sprouting fresh new shoots. 
If you weren't a food producer, what would you be doing?
Both Rowan and I have professional trades that we still use in our business but always there if we ever felt we were to take a side jump. I'm a qualified accountant and Rowan is a marine skipper / engineer.
What advice would you give to someone who is considering launching their own business?
Build a strong support network, believe in what you are doing and always maintain a presence in your business because people love a personal experience. 
If you could have any celebrity/renowned chef cook you dinner, who would it be & why?
Our favourite and very well known local chef, Nick Holloway from NuNu in Palm Cove. He's got a lot of energy and is very passionate about food as well as exploring local and unique flavours . He was also our chef at our wedding and still the best meal we've ever eaten.
What would your ultimate last supper be?
Easy one… A seafood feast. We love our seafood and can't go past a fresh seafood feast. Fresh prawns, bugs, oysters, mudcrab, fish yum!
To discover more + connect with Little Tuna click below:
Website: www.littletuna.com.au
Insta: www.instagram.com/littletuna.au
 >> GRAB your Spring Discovery Box now and try the incredible Little Tuna for yourself! SHOP HERE