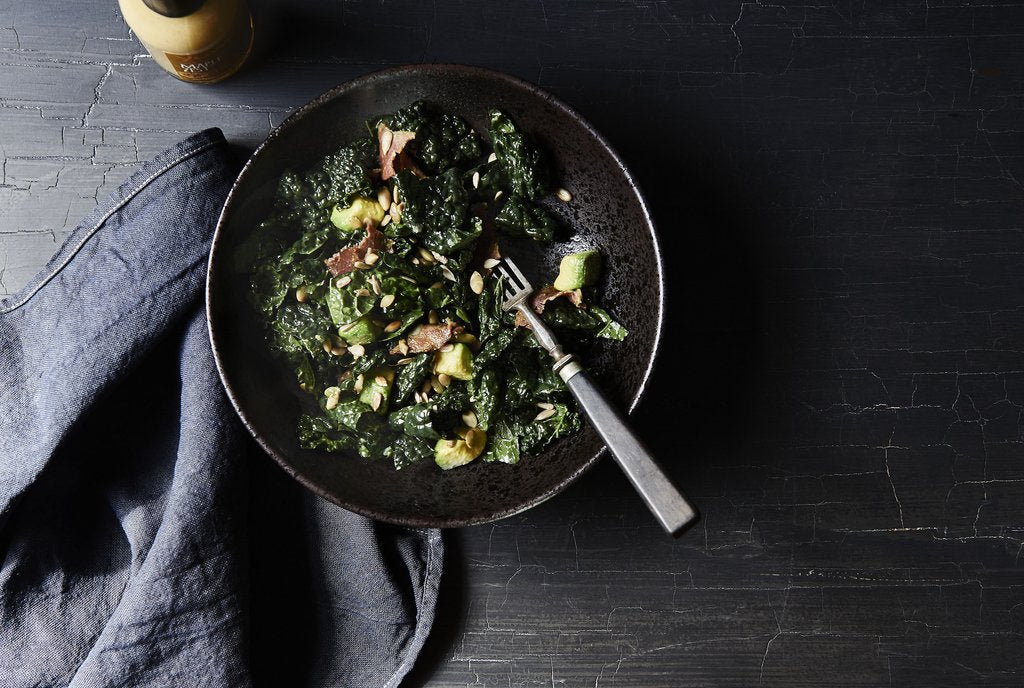 Kale, Avocado & Crispy Bacon Salad
This recipe is a great example that sometimes less is best. With only a handful of ingredients, this Kale, Avocado and Bacon Salad is lip smacking good with its fresh, creamy, crispy and crunchy textures and flavours.
We love the finishing touch of Yumm Tastes Very Original salad dressing. It's totally delicious and one of the most versatile dressings we've come across! Enjoy foodies!!
Kale, Avocado Bacon Salad
Ingredients:
1 large bunch kale, de-stemmed and cut into bite sized pieces
2 avocados, cut into chunks
4 rashers bacon, sliced
3 TB sunflower seeds
3 TB pumpkin seeds
6 TB
Yumm Very Original
dressing
Method:
Fry the bacon over a medium heat until crispy. Remove from pan and drain.
Gently toast the sunflower and sesame seeds in a small pan over medium heat and allow to cool.
Put kale in a large mixing bowl and pour over the Very Original dressing. With your hands, gently massage the dressing into the kale. Continue for a few minute until the kale is glistening.
Toss in avocado and chopped bacon and mix gently. Season to taste.
Empty onto a serving platter and sprinkle over lightly toasted seeds.
Serves 4
Recipe courtesy of Yumm Tastes
As seen in our exclusive 'Smokin' Sizzle'
2019 mini zine, tucked inside the Discovery Box:
Experience your very own Discovery Box now and discover the #tasteoflocal.