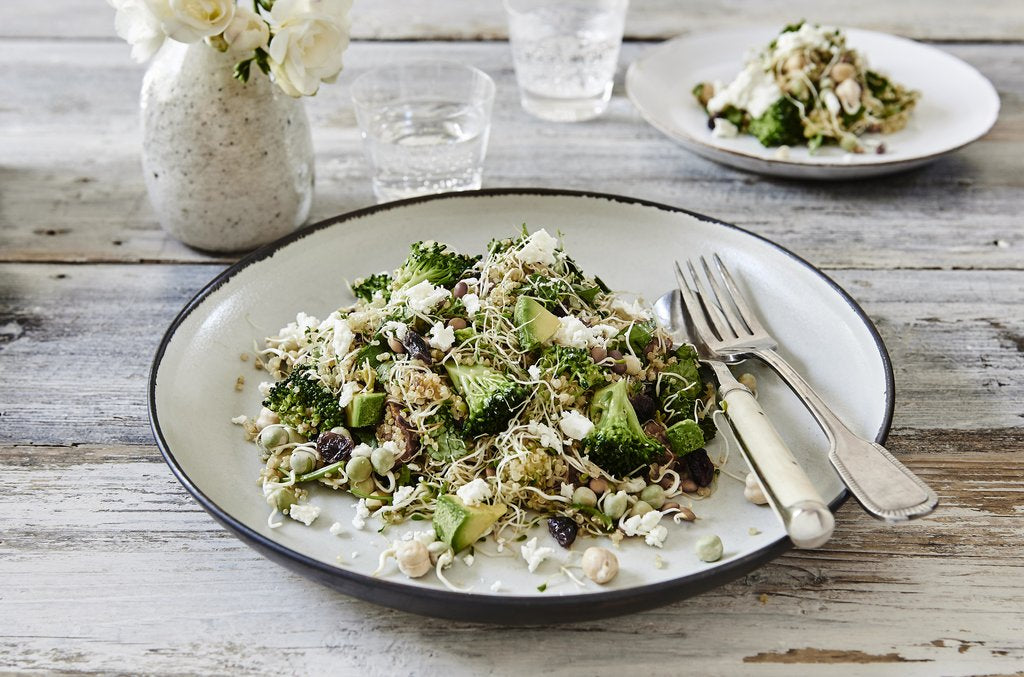 Broccoli, Feta & Quinoa Salad
Who doesn't love a crunchy, salty salad with bursts of sweetness? This broccoli, feta and quinoa salad is just that. The crunch comes from the toasted seeds & florets of broccoli. The feta gives it a salty hit and the juicy dried cranberries are tiny bursts of sweetness. Hearty enough to serve on its own or just as a delicious as a side salad, you can't go wrong.
With a delicate blend of olive oil, sesame oil, raw honey and garlic, the Yumm Tastes Very Original dressing is the perfect match, found inside the new 'Smokin' Sizzle'
Discovery Box
.
Broccoli, Feta & Quinoa Salad
Ingredients:
140g broccoli, stalks sliced, top cut into small florets
170g quinoa
1 avocado, peeled and cut into chunks
Large handful of mixed bean sprouts
Large handful of alfalfa
Large handful of pumpkin seeds
25g dried cranberries
100g feta cheese, crumbled
6 TB
Yumm Very Original
Dressing
Method:
Rinse the quinoa in cold water and drain. Add to pot with 2 cups water. Bring to a boil then cover and simmer for 15 mins until all water is absorbed. Remove from heat and let it sit with the lid on for a few minutes. Fluff with a fork.
Whilst the quinoa is cooking, blanch the broccoli in boiling water for just 2 minutes. Rinse under cold water and drain well.
Heat a small frying pan and lightly toast the pumpkin seeds. Remove from the pan and leave to cool.
In a mixing bowl combine the cooled quinoa, broccoli, sprouts and cranberries. Pour 6 tablespoons Yumm Very Original Dressing and gently combine. Season to taste. Pour into your serving bowl and top with alfalfa, crumbled feta and toasted seeds.
Hint - you can substitute any grain such as freekeh, bulgur wheat or couscous for the quinoa.
Serves 4
Recipe courtesy of Yumm Tastes
As seen in our exclusive 'Smokin' Sizzle'
2019 mini zine, tucked inside the Discovery Box:
Experience your very own Discovery Box now and discover the #tasteoflocal.