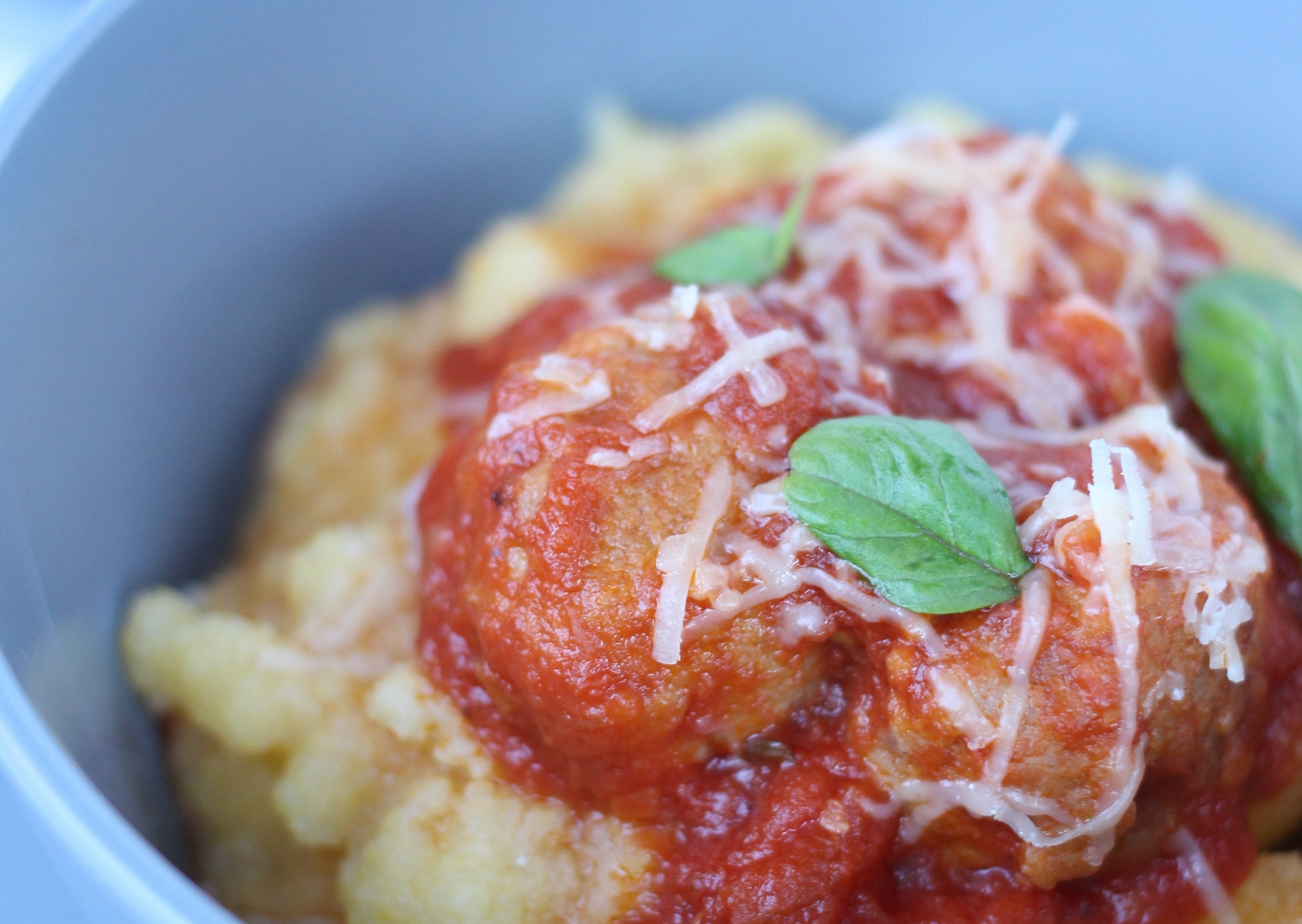 Simple Italian Meatballs In Tomato Sauce with Creamy Polenta
Do you know where the mighty meatball originated from? Not quite sure. Don't worry, you're not alone. After doing some diligent research (thanks google), there seems to be much confusion and hotly debate as to where this meaty morsel originally came from. Sadly, there doesn't seem to be a clear winner. Meatballs or rather polpette as the Italians call it, are not only an Italian delight as one may first think. They make an appearance in many other cuisines. Does Spanish, Swedish, Greek or German meatballs spring to mind? If you dig a little deeper, you'll find they also play a part in Chinese, Brazilian, Indian, Turkish, Indonesian, even Vietnamese cuisine.
If you're now suddenly craving meatballs (#sorrynotsorry), we're here to help! Below is a seriously simple (I'd even call it a cheats version) for Italian Meatballs in Tomato Sauce. You can serve these on a bed of creamy polenta (our fave in Winter), or with spaghetti. You can have these on the table within 40 mins making it a great mid week supper.
Simple Italian Meatballs in Tomato Sauce with Creamy Polenta
Thick Pork Sausages 500g (buy good quality sausages with a high % of pork meat & no icky preservatives, ideally from your local butcher)
Fennel Seeds 1 TB
Olive Oil for cooking
Passata 700ml
Brown Onion 1 sml, finely chopped
Garlic Clove 1, crushed
Sugar 1 tsp
Balsamic Vinegar 1 TB (you can use red wine vinegar as a substitute)
Water approx 350ml
Basil handful of leaves
Parmesan Cheese 4 heaped TB, grated
Polenta for serving
Using a small sharp knife, slit each sausage open lengthways and using your fingers or spoon, scoop out the sausage meat. Discard the outer casing. Divide each sausage into approx 3-4 pieces, using the palm of your hands to create smooth round balls (slightly smaller than a golfball). Aim to have between 20-24 in total. Sprinkle the fennel seeds onto a plate and roll each meatball into the seeds so they cover the meat (don't worry if the meatballs don't have even coverage, the more rustic looking the better!). Heat a pan over a medium heat and add a splash of olive oil. Cook the meatballs (approx 8 at a time) for a couple of mins or until lightly browned. Remove from pan and set aside. Using the same pan, add a little more olive oil and cook the onions over a medium-low heat until soft & translucent (approx 5 mins). Avoid any browning of the onions as this makes them bitter. Add the crushed garlic and cook for a further minute. Pour in the passata sauce, sugar, balsamic vinegar and a few basil leaves and stir well. Gradually add some of the water to create a smooth, loose sauce. Bring to a simmer and cook for 15 mins. After 15 mins return the meatballs and cook for a further 15 mins. Remember to gradually add more water if the sauce needs loosening. Remove basil leaves and season with salt & pepper. Serve the meatballs over a creamy bowl of polenta
*
with a generous sprinkling of parmesan cheese and fresh basil leaves. Serves 4
*
Tip for the polenta - if your packet of polenta recommends cooking with just water, halve the quantity of water and replace with milk to make it creamier. When the polenta is nearly cooked, stir through a spoonful of butter or splash of extra virgin olive oil and add some grated parmesan cheese. Season with sea salt and pepper.
Buon Appetito!