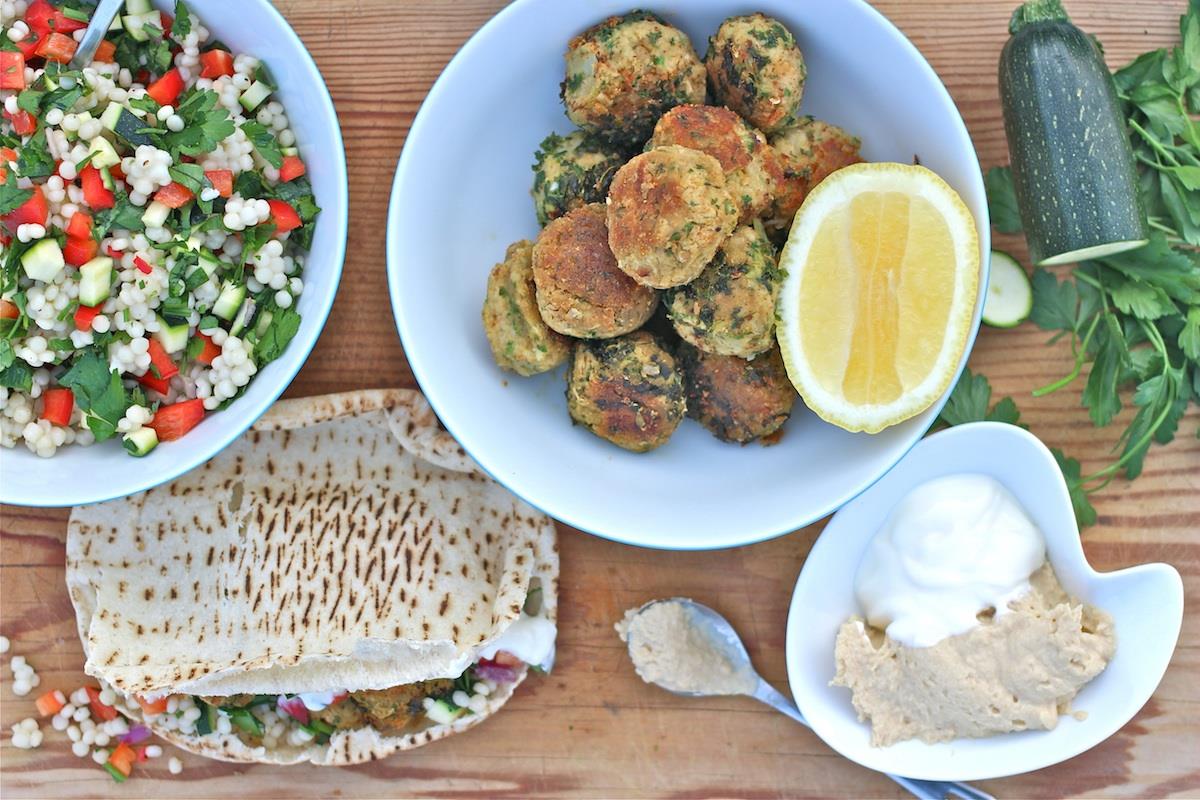 Homemade Green Falafels
Despite this recipe being inspired by Winter greens, this Homemade Green Falafel recipe can actually be made any time of the year. As the seasons change, just choose your favourite seasonal green leaf to add into the mix. As we are still officially in Winter, I've opted for Kale, however other seasonal options could be Baby Spinach Leaves, Silverbeet, Cabbage etc. To make these falafels POP, they are best served with a fresh
couscous salad
,
hummus
& some cool creamy yoghurt.
As the daily temperatures start to climb again, I'm guessing your palate is also starting to crave more lighter, fresher foods. Spring is only a few weeks away so it's about time to put away that casserole pot and get those salad bowls out!
Homemade Green Falafels
Chickpeas 2 x 400g cans rinsed, drained
Garlic clove 1, crushed
Parsley curly or flat leaf, 1 large handful, finely chopped
Ground Cumin 2 tsp
Ground Coriander 1 tsp
Chilli Powder 1/2 tsp
Lemon 1, zested and juiced
Brown Onion 1 small, finely chopped
Kale leaves 3-4 large leaves, washed
Plain Flour 1 1/2 TB
Baking Powder 1 tsp
Place the chickpeas in a saucepan of water and bring to a simmer. Cook for a couple of minutes to soften. Throw in the kale leaves and cook for a further minute then drain and set aside. In a frypan add a little olive oil and add the chopped onion. Cook over a low heat for approx 5 mins until the onion is soft and translucent. In a food processor bowl, add the chickpeas, kale, onion, parsley, spices, lemon zest and a couple of tablespoons of lemon juice. Blitz until well combined but careful not to puree the chickpeas. Sprinkle in the flour and baking powder and give it a final pulse to combine. You want to have a rough dough like consistency. Using your hands, roll the mixture into balls (similar size to a golf ball). You should have approx 25 balls. Place on a tray & refrigerate for at least 20 mins or until your ready to cook. You have the option of cooking them two ways...the healthier version is to bake them in an oven (180 degrees celsius) on a lightly greased tray for 20 mins (turning them over half way) or to pan fry them in some olive oil for 4-5 mins (again, turning them over midway). Serve with some fresh pita bread and
couscous salad
. Top with some
hummus
(check out our super simple homemade recipe) and/or some greek yoghurt. Enjoy!