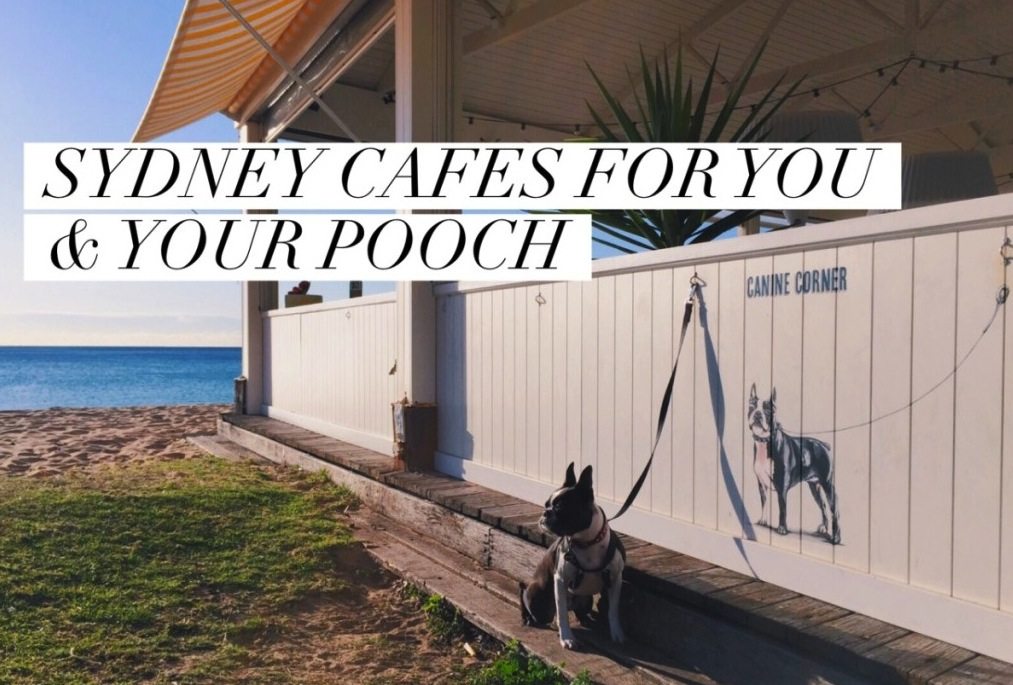 Dog Friendly Cafes in Sydney
If you're like us, your pooch is without question part of the family. In Sydney we're blessed to have such awesome weather (well, most of the time) and plenty of outdoor dining options which is the perfect recipe for a food loving dog owner, however there are some cafes which welcome your four legged friend more so than others. After reaching out to some of our foodie friends, we've compiled our personal faves plus some great recommendations below for you to visit with your very own furbaby.
City / East
Queens Park Shed
Queens Park Shed is a modern rustic cafe located in Queens Park, East Sydney. Open for breakfast, lunch & dinner with the bonus of a liquor license..just in case you fancy a glass of wine as you read through the Sunday paper.
Best for:
Opposite open fields and kids playground
Cons:
Dogs not allowed off leash in the sports fields if they are occupied
http://www.queensparkshed.com.au
Centennial Park Dining
Recently refurbished, the Centennial Park Dining kiosk is the perfect place to drop into for a casual bite to eat or grab a takeaway picnic box to eat in the park.
Best for:
The cafe/kiosk is amongst 189 hectares of parkland, plenty of space for your dog to walk/roam about (make sure you take note of where the on-leash/off-leash zones are).
Cons:
Hard to fault. As expected, it gets busy during peak periods over the weekend
http://www.cpdining.com.au
Sydney Park Kiosk
Sydney Park is one of the most dog friendly parks you can find in Sydney and the kiosk is no different. Located on the fringe of Sydney's South in St Peters, the Sydney Park Kiosk offers a casual alfresco cafe environment ideal for the whole family. Just to prove how dog friendly the park is, the local council runs dog training classes everyday Saturday at 10am.
Best for:
Great meeting place for the whole family + training for your pooch every Sat
Cons:
Not great for wet weather
http://www.sydneyparkkiosk.com.au
The Duck Inn Pub & Kitchen
The Duck Inn is one of the few (if not only) place in Sydney which welcome your pooch indoors. It also has an outdoor beer garden for those warm sunny days. It's a cosy, modern pub with great pub grub - traditional classics & modern Australian. Located in Chippendale.
Best for:
Great pub food and wet weather
Cons:
Hard to fault.
http://www.theduckinnpubandkitchen.com/
Image: Dimmi
North
The Avalon On The Beach
Brand new to the Northern Beaches is this stylish beachside cafe located in the Avalon Surf Club. Occupying the first floor with a casual restaurant and a kiosk on the ground floor serving Double Roasters coffee, wholesome snacks and lunch. The kiosk is the ideal place to park up with your pooch and watch the waves roll in.
Best for:
Casual dining serving fresh, sustainable and seasonal food
Cons:
Too early to tell...
http://www.theavalononthebeach.com/
Image: Broadsheet
Chew Chew Pet Restaurant
This one is purely for your furbaby...the name says it all really. The dedicated dog menu is organic and nutritious with items such as Chicken Risotto, Lamb Omelette and of course Doggie Cappuccino. They even have a special Birthday set menu including a heart shaped cake for your four legged loved one. Located in Sydney's leafy North Shore suburb of Wollstonecraft.
Best for:
Indulging your pooch
Cons:
It's not about you or human food but worth seeing your four legged friend lap up the vip treatment
http://www.chewchew.com.au
Forty Beans Cafe
This is one of our faves. Tucked away in a quiet street in Balgowlah, Forty Beans Cafe serves up some of the best coffee and light breakfast, lunch and afternoon tea options for locals. The reason why this is so awesome for your pooch is that it's located directly opposite a dog friendly park and if you're lucky, some outdoor seating where you can soak up the sun and let your pooch make some new friends. If you miss out on a table, just order takeaway and find a patch of nearby grass to lie on.
Best for:
Location - directly opposite a dog friendly park
Cons:
It gets incredibly busy on a weekend. Outdoor tables are limited.
http://www.forty-beans.com.au
Image: weekend notes
West
Parramatta Park Cafe
Located in a picturesque setting overlooking the Parramatta River, the Park Cafe is open for breakfast & lunch 7 days a week. A cheap & cheerful eatery amongst the birdlife and greenery.
Pros:
Tranquil setting + child friendly too
Cons:
Relatively small menu
http://www.ppeventcentre.com.au/cafe/
Young Henrys
For those wanting something stronger than a skinny flat white, head to Young Henrys in Newtown. Probably more inner city than in Sydney's West, Young Henrys is a local brewery with a chilled vibe, perfect for a cheeky afternoon cider or craft beer. Your four-legged friend is more than welcome here.
Pros:
It's a dog friendly bar, what more can we say!
Cons:
Nearby parking can be a challenge, but that's Newtown for you.
http://younghenrys.com
Image: Concrete Playground
Cafe Bones
Since opening, Cafe Bones has realised its vision of creating a vibrant meeting place for people and dogs. Cafe Bones is actually home to the worlds first cafe style dog beverage, the Pupaccino. They pride themselves on serving high quality food for pooches, as well as selling their very own gourmet dog biscuits range.
Best for:
Next to one of the biggest off leash parks, the Hawthorne Canal reserve in Leichhardt
Cons:
Low key set up, more of a tuck shop
http://cafebones.com.au
South
Carss Park Cafe
A relaxed cafe situated in Carss Bush Park on the foreshore of Kogarah Bay. The park and cafe is a great spot for the whole family, with an outdoor area where you can bring along your pooch. The cafe has a side kiosk if you'd prefer to grab a coffee and sandwich to go.
Pros:
A dog friendly area exists in the park opposite Parkside Drive Reserve. The entry is via Carlton Crescent
Cons:
Note that their kiosk is only open over weekends
http://carssparkcafe.com.au
Baybreeze Cafe
Baybreeze Cafe is the indoor, outdoor casual eatery located within the St George Motor Boat Club in Sans Souci. The team at Baybreeze understand the bond we have with our pooches and welcome our four legged friends with open arms. They are so accommodating that they've even created a special doggy menu including items such as a seafood stick, mixed grill, chicken deluxe and of course a puppuccino.
Pros:
Dog menu and great views over the marina
Cons:
More of a locals club vibe than a cafe/restaurant.
http://baybreezecafe.com.au
If we've missed your favourite dog friendly cafe, please share it in the comments below for all our readers to enjoy!