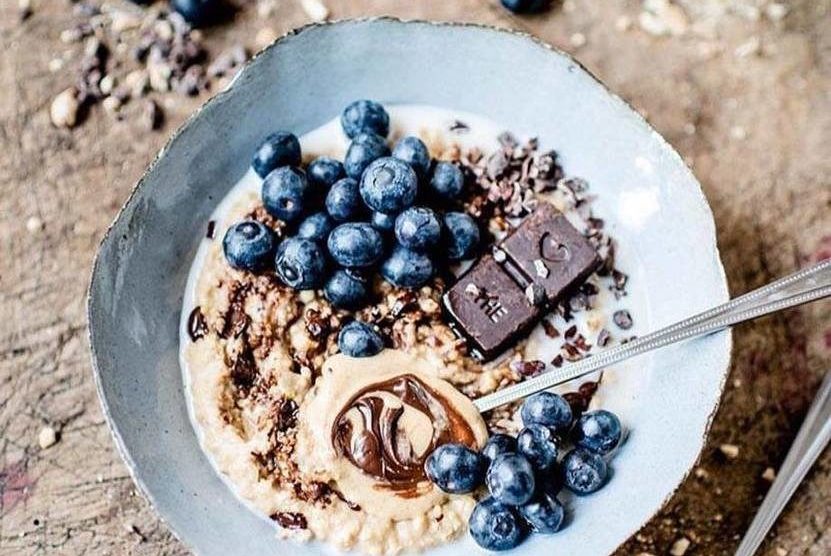 Creamy Coffee Hazelnut Porridge
This creamy porridge is everything you love about breakfast and the colder weather all rolled into one (plus featuring a good caffeine buzz). It's
100% dairy free & gluten free, but by no means free of flavour.
The hero ingredient is the beautiful cold brewed coffee, made in the Queensland tropical town, Mission Beach, by a very passionate small batch producer.
Coffee Hazelnut Creamy Porridge
Ingredients:
200 ml water

50ml Mr Bean Cold Brew

1 pinch of salt

4 TB millet*, rinsed and drained

200ml hazelnut / almond milk

2-3 tsp coconut sugar or maple syrup

1 tsp cinnamon
Serve with:
Handful of blueberries

Dark chocolate shards or 1-2 dark chocolate chips (optional)

Handful of roasted & crushed hazelnuts

1-2 TB peanut or almond butter
Method:
In a small saucepan, combine millet, water, milk, salt, cinnamon and sugar/maple syrup. Bring to the boil then reduce to a low simmer. Cover and cook for approx 20 mins until the grains are soft and it's reached the porridge consistency you like.
Finally stir through the Mr Bean Cold Brew coffee.
Serve with the suggested toppings above and enjoy!
*You can replace with oats if you're not gluten free.
Serves 1
Recipe supplied by Mr Bean Cold Brew Coffee
As seen in our April/May
2018 mini zine found inside the Discovery Box:
Experience your very own Discovery Box now and discover the #tasteoflocal.