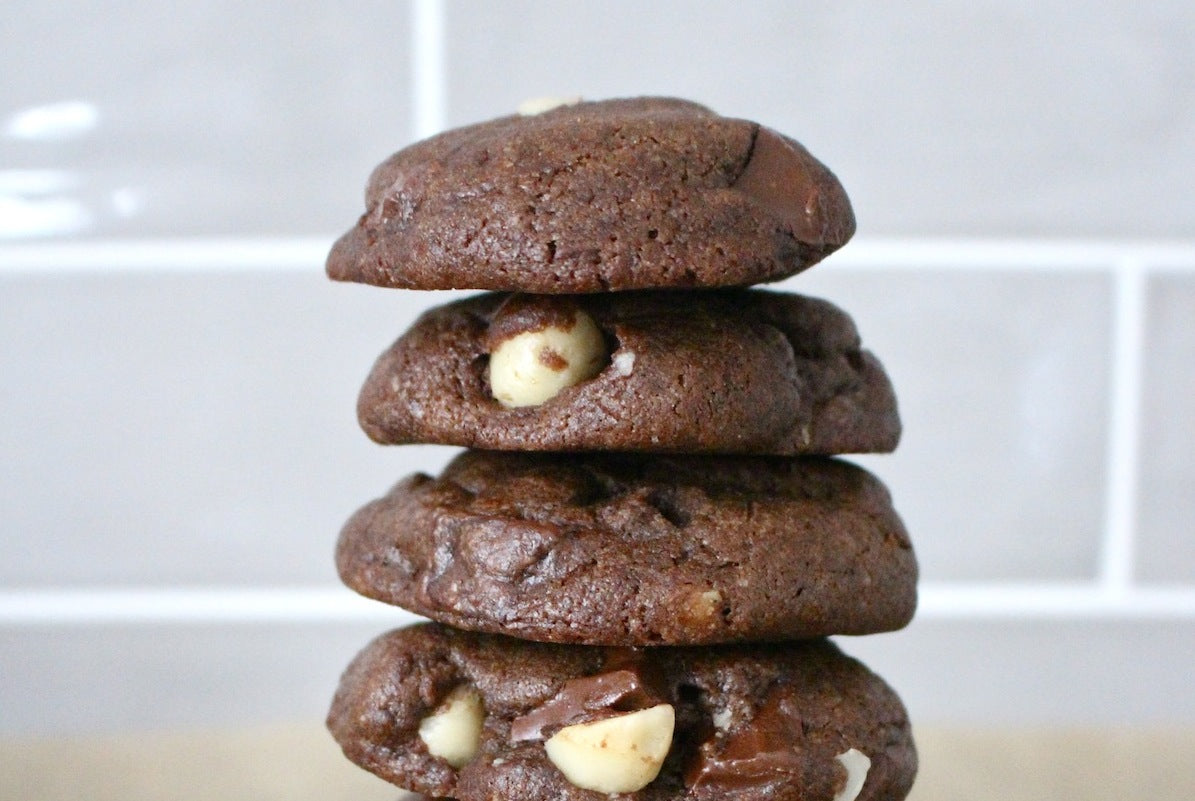 Double Chocolate Macadamia Biscuits
Hands up who loves a rich, chunky, double chocolate biscuit with just the right crispness and chewiness to it. Well today we have the perrrfect recipe for you. Feast your eyes on these delectable beauties.
Since having our baby girl, I'm becoming more and more conscious of all the icky preservatives and
copious
amounts of sugar in packaged food. Don't get me wrong, I like things sweet, really I do, but it seems the standard of sweet is off the richter scale in most packaged food. Whenever I buy pre made biscuits, I'm always left a little disappointed and remind myself that I should know better.
A)
If I make them myself I know exactly what goes into them and
B)
I can dial the sweetness down a notch,just to my liking. So how do I like my chocolate biscuits? Dark, rich, chunky & chewy with a bite.
These double chocolate biscuits, with the addition of creamy macadamia nuts, have been my evening indulgence of late. If you can time it right, there is nothing better than eating these biscuits straight from the oven so the dark chocolate oozes through each mouthful. Heaven! The below recipe makes approx 16 so if you're not planning on serving them all up at once, bake only what you plan on eating and freeze the rest. The cookie dough balls with last in the freezer for up to 3 months. Just pull out a few whenever you fancy them. That way you'll always have fresh, gooey biscuits.
Double Chocolate & Macadamia Biscuits
Butter 160g melted
Brown Sugar 2/3 cup
Raw Sugar 1/4 cup
Plain Flour 1 1/2 cups
Cocoa 1/4 cup
Cornflour 1 tsp
Bicarb Soda 1/2 tsp
Vanilla Extract 1/2 tsp
Sea Salt 1/2 tsp
Free Range Egg 1, gently whisked
Dark Chocolate 150g roughly chopped
Macadamia Nuts 1/4 cup roughly chopped
In a large bowl, whisk together the melted butter, brown & raw sugar until the sugars are dissolved & the mixture has thickened (you'll be whisking for a few mins). Stir in the vanilla extract and whisked egg. In a separate bowl, sift together the flour, cocoa, cornflour, bicarb soda and salt. Gradually add the dry mixture to the wet mixture. Toss in the dark chocolate and macadamia nuts and give it a final mix through. Wrap dough in plastic wrap and refrigerate for a min of 1 hour for the flavours to develop. Heat oven to 180 degrees celsius. As the oven is warming, roll the dough into golf ball sized rounds. Place on a lined baking tray and gently press down on each ball to flatten slightly . Bake in oven for approx 12 mins or until the top has started to crisp (but don't leave them in there for too long otherwise they'll be too hard!) Makes 16 Freeze the cookie dough balls for up to 3 months in a sealed container. Make sure the balls don't touch one another, layer & separate using baking paper. Defrost before baking in the oven.
Want more biscuits? Try these
Coconut, Chocolate & Orange
cookies .