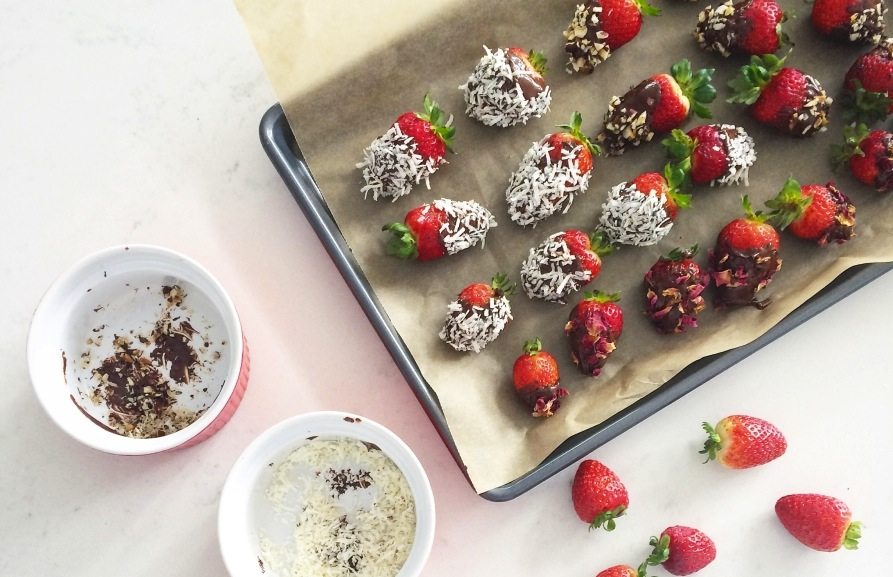 Chocolate Dipped Strawberries
Recently I was invited to a small gathering for my best friends sons 2nd Birthday. I was faced with a small dilemma that I'm sure everyone faces at some point in their social life. I was told "Not to bring thing". I always feel uncomfortable being told this, so on this instance, instead of bringing a bunch of flowers or a bottle of bubbly (which I usually opt for), I wanted to bring something that the adults & kiddiwinks could enjoy. Chocolate dipped strawberries was the answer! It's an ideal accompaniment to a slice of cake (which I knew was on the cards) or simply a cheeky healthy treat that anyone could squeeze in after a food marathon.
What I love about these is that you can get really playful & creative. I dipped the strawberries in dark chocolate and topped them with chopped hazelnut, shredded coconut and dried rose petals (not all at the same time). If that doesn't tickle your fancy, you could use milk or white chocolate topped with any kind of chopped nut or crushed honeycomb?! Basically use whatever your craving.
Dark Chocolate Dipped Strawberries
Strawberries 500g
Dark Chocolate 200g
Coconut Flakes 25g
Hazelnuts 25g finely chopped
Dried Rose Petals 25g
Firstly, gently rinse the strawberries with cold water & pat dry using paper towels. Slice the green leafy top off each strawberry. Place the finely chopped hazelnuts, dried rose petals and coconut in separate bowls & set aside. To melt the chocolate you can place the broken squares or circle melts in a bowl over a saucepan of simmering water, stirring until melted (careful not to let the bowl touch the water or come into contact with too much steam). Alternatively if you're using the melts, you can place them in a microwave safe bowl uncovered and put it in the microwave for 1 min, stir and then repeat in 30 sec intervals until melted. Position your strawberries, melted chocolate, hazelnut, rose petals & coconut in a production line & begin dipping & coating! Place directly on your serving dish lined with baking paper. Serves 6-8
*This post has been updated April 2016