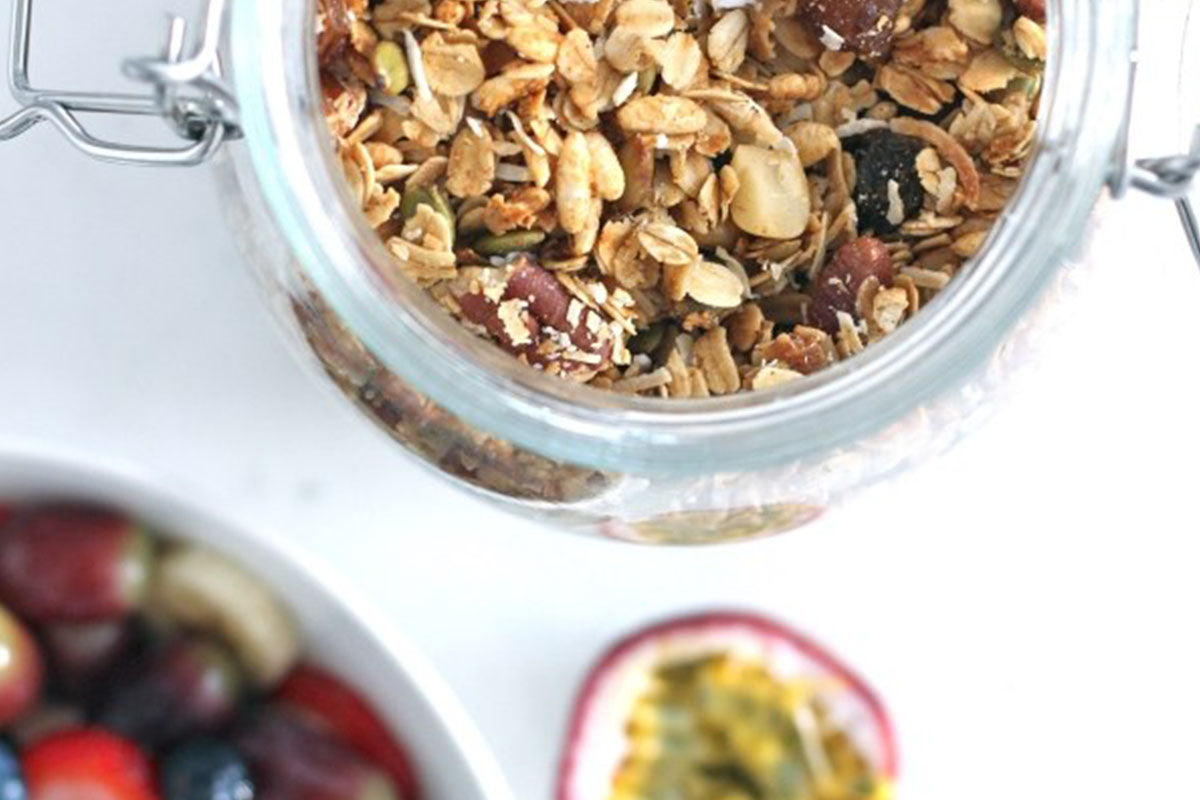 Homemade Nutty Granola
I love weekends. Apart from the obvious of not having to wake up to an alarm or fight my way through Sydney's renowned terrible traffic. I love weekends because I get to spend more time cooking & really savouring the food I eat. For years, I've lived by the 80/20. I call it the wholesome, sometimes wicked diet. Monday - Friday you'll tend to see me eat at my best - simple, fresh & nutritional produce. Now don't get me wrong, I still eat well over the weekend, but I don't hold back in eating slightly more indulgent food....like crispy pork belly or a freshly baked chocolate & hazelnut muffin with my afternoon coffee. It's all about balance for me. My homemade granola is always a hit on the weekend. Not because it's made with crazy indulgent ingredients, but I have the luxury of more time on my hands which for me, is pure indulgence. More time means making a fresh batch and serving it up with big dollops of creamy Greek yoghurt, fresh seasonal fruit and of course, a hot cup of freshly brewed coffee - absolute bliss. In our household it's the perfect start to the weekend.
Homemade Granola
Rolled Oats 2 Cups
Puffed Rice 1.5 Cups
Cinnamon 1 heaped tsp
Shredded Coconut 40g
Dried Sultanas 120g
Mixed Nuts 65g (I love to use pecans, raw peanuts & macadamia nuts)
Pepita Seeds 80g
Sunflower Seeds 30g
Maple Syrup 100ml
Vanilla Paste 1/2 tsp (alternatively use 1 tsp vanilla extract)
Macadamia oil 2 tb
Honey 1 tb
Preheat the oven to 150C. In a small saucepan, gently heat the oil, maple syrup, cinnamon & vanilla. Swirl the pan to encourage the ingredients to combine. Remove from the stovetop. In a separate large mixing bowl, mix together the oats, puffed rice, seeds & nuts. Add the warm syrup, stirring until everything has a shiny coat. Line a large rectangle baking tray with baking paper. Pour in the oat mixture and spread out evenly using a spoon. Place in the oven for 15 mins . Remove from the oven and give the mixture a stir. Return to the oven for a further 10mins. Remove from oven one last time, add the coconut, sultanas and drizzle over the honey, giving it a quick toss before returning to the oven for a further 3 mins. Turn off the temperature & allow the granola to cool in oven. Store in an airtight container. Enjoy!
*Originally published in 2013, this post has been updated May 2016