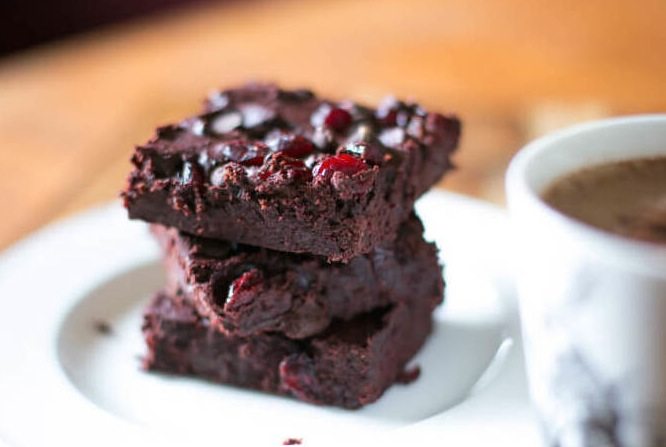 Chocolate Beetroot Brownies
It seems very fitting that we share this recipe with you today, considering it's International Chocolate Day. But hey, who needs an excuse to eat chocolate?! This rich, moist and fudgey Chocolate Beetroot Brownie recipe is fitting for any day. Developed by Liv from betterthanaboughtone.com blog, this brownie recipe was inspired by the gorgeous range of products from Grounded Pleasures in Ballarat, Victoria. We recently partnered with Grounded Pleasures after falling in love with their premium drinking chocolate
(you can read more about Grounded Pleasures in our Meet The Locals interview).
Liv has managed to create a delicious chocolatey brownie using a surprise ingredient, beetroot, and adding sour cherries for an extra twist. The brownie also happens to be gluten free which will be even better news for some.
Chocolate Beetroot Brownies
Ingredients:
200g of chocolate (70% or higher)
100g of unsalted butter
1/2 of tsp salt
100g Grounded Pleasures Panela (or substitute with brown sugar)
Seeds of a Grounded Pleasures vanilla bean
180g of cooked beetroot
5 large free range eggs
100g Grounded Pleasures Original Drinking Chocolate
100g almond meal
100g chocolate chips
100g dried sour cherries or cranberries
Method:
Preheat oven to 150 c and grease and line a rectangle 23/32cm tin or similar.
In a bowl perched over a pan of simmering water, add the chocolate and butter and stir until melted (careful not to let the bottom of the bowl touch the water).
Add the Panela (or brown sugar) and salt. Mix until the sugar has nearly dissolved.
Take off the heat and let sit for 5 mins while you puree your cooked, cooled beetroot.
Add the eggs one at a time to the chocolate mix and stir thoroughly after each one is added.
Fold through the beetroot and vanilla seeds.
Add the drinking chocolate and the almond meal and gently mix through.
Finally add half the chocolate chips and the cherries/cranberries and mix again.
Pour the mix into the lined baking tin and scatter the remaining chocolate and dried fruit on the top.
Bake for 18 mins or a little less depending on your oven.
Recipe courtesy of Grounded Pleasures and Liv at betterthanaboughtone.com
As seen in our
June
2017 mini zine, tucked inside the Discovery Box:
The original Grounded Pleasures drinking chocolate was featured inside the June 17' Discovery Box. Want to discover & experience delicious local gems just like this? Experience your very own Discovery Box now!