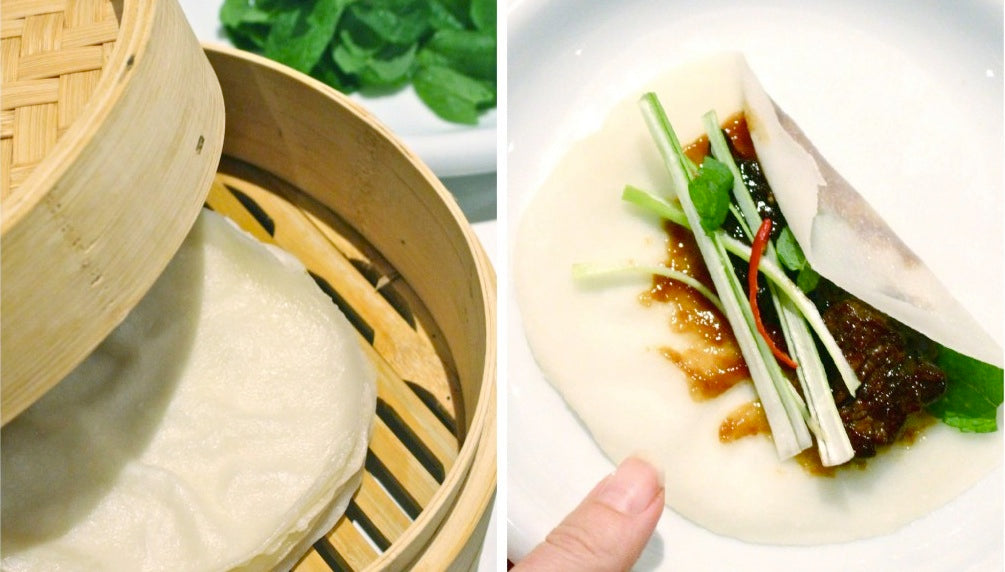 Chinese Lamb Pancakes - The perfect alternative to Peking Duck
Hands down Peking Duck Pancakes is our faaaavourite Chinese dish. In our opinion, peking duck is
the
crown jewel in Chinese cuisine. It's all about the skin when it comes to Peking Duck Pancakes. The crispier the skin & more of it the better. Cooking peking duck is not for the faint hearted (or impatient types) as it takes hours upon hours of roasting, dangling & glazing. We'd recommend just buying one from your nearest Chinese bbq shop if you're looking to make these pancakes yourself. Alternatively, these Chinese Lamb Pancakes are much simpler to make at home. They're also healthier but most importantly, taste just as amazing. This recipe is all about the tender strips of lamb backstrap, sweet ginger sauce and fresh fragrant herbs. It's a go to recipe if we're wanting a light supper or need an entree/canapes for a dinner party. We urge to you try them & decide for yourself!
Chinese Lamb Pancakes
Australian Lamb Backstrap 200g cut into thin strips (approx 1/2 cm thick)
Soy Sauce 2 TB
Chinese Cooking Wine 1 TB
Ginger 1TB grated
Garlic Clove 1 minced
Oil (I used Rice Bran oil as it has a high smoking point)
Hoisin Sauce 2 TB + extra for serving
Long Red Chilli 1 sliced into thin long strips
Cucumber 1/2 de-seeded sliced thinly lengthways
Spring Onions 4-6 trimmed, sliced thinly lengthways
Mint Leaves 1/2 cup
Sesame Oil few drops
Chinese Pancakes* 12 (Available in the freezer section at your local Asian grocer or gourmet food store)
Firstly, to marinate the lamb place the thin strips of lamb, soy sauce, ginger, garlic and chinese cooking wine into a bowl and leave for at least 20 mins, ideally 1-2 hrs in the refrigerator. Arrange the red chilli, cucumber, spring onions & mint leaves on a platter & set aside. Using a bamboo steamer (or a metal vegetable steamer lined with baking paper, punctured with holes). Place the frozen pancakes in the steamer over simmering water and leave for 8 mins (or follow instructions as per the packet you have). Whilst the pancakes are steaming, place a wok over a high heat. Once hot (you should see small wafts of smoke), add a drizzle of oil and half of the lamb with 1 TB of hoisin sauce. Stir fry for approx 1-2 mins then remove the lamb. Repeat process with the remaining lamb and hoisin sauce. Finally place all the lamb back into the wok and once piping hot again, spoon into a serving bowl. Serve immediately by arranging the steamed pancakes, bowl of lamb, platter of fresh herbs & an extra serving of hoisin sauce on the table. Serves 2
This is DIY style dining at it's best! Let everyone build their own pancakes to suit their own taste & heat preference. It's a really fun way of eating with family or friends.
chī hǎo hē hǎo! (Eat well and drink well)