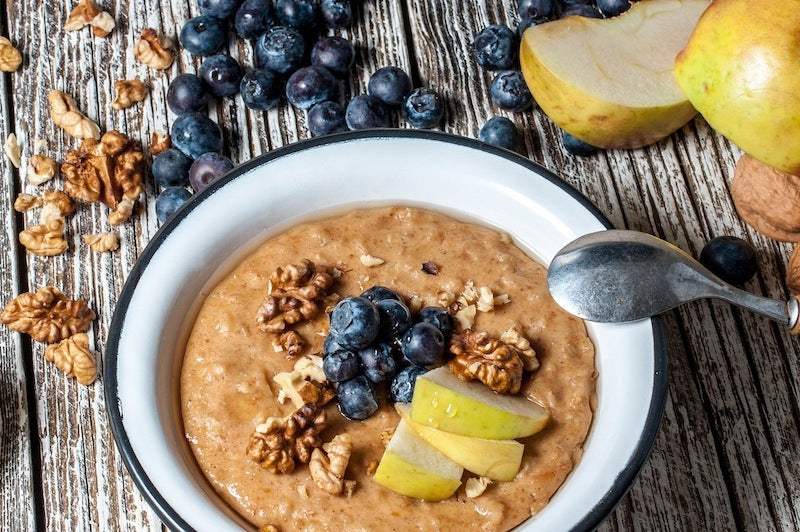 Carrot Cake Porridge
Inspired by the latest 'Winter Feast' Discovery Box theme, we developed this recipe to make your usual bowl of porridge oats that little bit extra special....worthy of a breakfast feast!
This Carrot Cake Porridge recipe uses our favourite Australian oats by family owned & run, Brushwoods. You can try these delicious oats inside the new 'Winter Feast'
Discovery Box
.
Carrot Cake Porridge
Ingredients:
¾ cup

Brushwoods

oats

1 ½ cups milk

1 sml carrot, peeled and finely grated

Handful of walnuts, roughly chopped

1/2 tsp cinnamon

1/4 tsp nutmeg

1 TB sultanas

Maple Syrup or Honey for serving
Method:
Place your oats, carrot, sultanas, spices and milk into a pan and heat gently over a low-medium heat for around 10-15 mins.
For the last few minutes of cooking, add half of the walnuts to the pan and stir.
Serve with the remaining walnuts and a drizzle of maple syrup or honey plus any of your favourite fresh fruits.
Serves 2
As seen in our exclusive 'Winter Feast'
2019 mini zine, tucked inside the Discovery Box:
Experience your very own Discovery Box now and discover the #tasteoflocal.