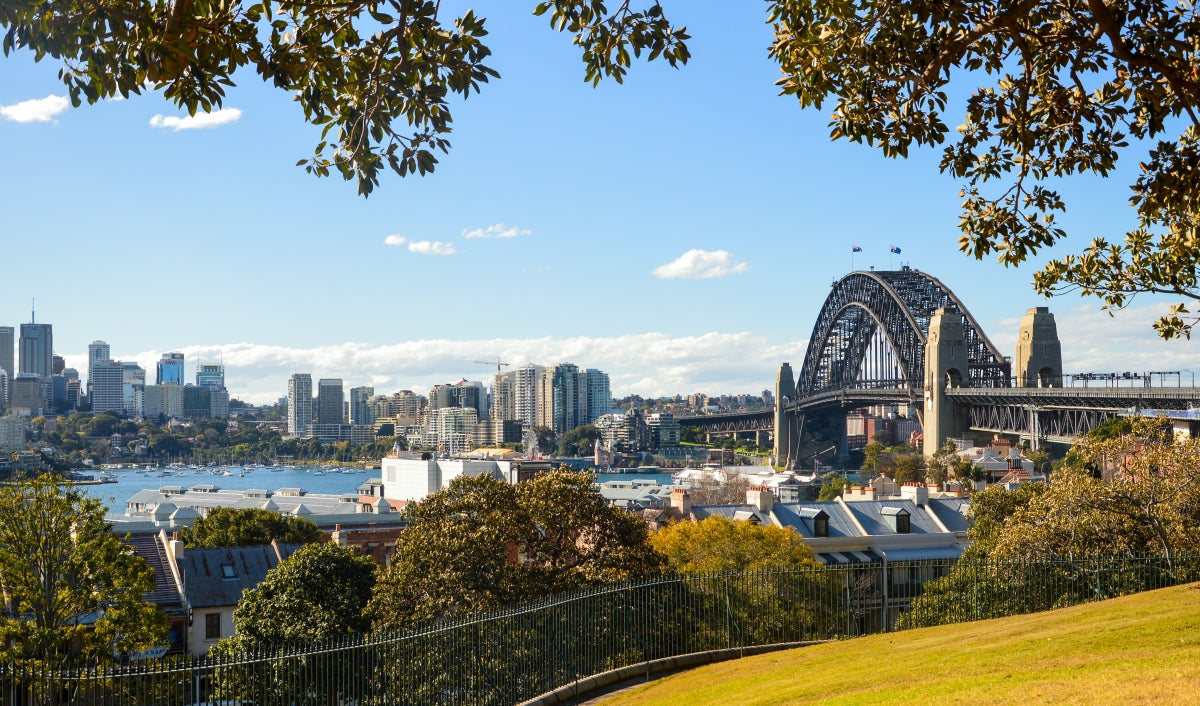 Best Picnic Spots in Sydney
At Foodies Collective, we're all about creating positive eating experiences & celebrating our dynamic local food scene.
As local Sydneysiders, outdoor dining plays a huge role in our lifestyle. When it comes to large gatherings with friends & family, we turn to the great outdoors for a picnic, no matter what the season. With so many great locations to choose from, we asked a bunch of foodie friends where their favourite spots were to picnic. Discover this insiders list below.
Central Sydney
SHARK ISLAND
A mere 20 min ferry ride from Circular Quay, Shark Island is a 1.5ha island in Sydney Harbour. With 360 degree views of Sydney, grassy lawns and picnic shelters, it's one of Sydney's most popular picnic spots. Highly recommended for New Years Eve (though you have to pre-book early) as well as watching the start of the Sydney to Hobart Yacht Race. You can find further information
here
to help plan your visit
Best for:
360 degree views of Sydney Harbour
Cons:
No BBQ facilities + you have to bring everything you need for the day (no kiosks or shops on the island).
Image : Concrete Playground
ROYAL BOTANICAL GARDENS
One of the best known picnic locations and for a very good reason, the view of the Opera House & Harbour Bridge is pretty unbeatable (especially at Lady Macquaries Chair). Here you are encouraged to walk on the grass, smell the roses & hug the trees. They have free guided walks if you want to learn more about the flora & fauna. With plenty of ground cover, you're sure to find a spot to yourself. The restaurants and kiosks on site are of a high quality. Further information is
here
Best for:
View of the Opera House & Harbour Bridge + luscious grass (oh and the fruit bats!)
Cons:
No BBQ facilities
BARANGAROO RESERVE
Barangaroo Reserve is Sydney's newest central harbourside park, giving visitors the opportunity to step into and walk a part of the foreshore which had been closed off to the public for over 100 years.
Best for:
Views of the Sydney Harbour Bridge. Bring your own picnic or grab some takeaway or eat in at the nearby dining precinct. Dogs are welcome on leash.
Cons:
There really isn't much shade, limited parking and it's not BYO.
OBSERVATION HILL
The highest natural point in the city, Observation Hill was a obvious choice for the Observatory Station in Sydney. With sweeping views of the harbour, it's also a favourite spot for a picnic or break for nearby city workers. If you're interested in astronomy & meteorology you can take visit the
station
. To read more about this million dollar view, go
here
Best for:
North Western side, late afternoon picnics & watching the sunset over Sydney Harbour
Cons:
No BBQ facilities
Image: ST Photographics
Pssst...did we tell you that our 'Discovery Boxes'
introduce you to the ultimate Australian gourmet foods?!
Upgrade your pantry with premium, undiscovered artisan foods & support local with us!
North

LITTLE MANLY BEACH & COLLINS BEACH This is one of our personal favourites as there are plenty of options for everyone. Little Manly Beach, Little Manly Point and Collins Beach are both reached via Stuart St in Manly. Little Manly is a great swimming beach, especially for the kids as the water is extremely flat. There is a small grassy park with shaded playground, electric bbq's and a fab little kiosk if you didn't fancy cooking yourself. Little Manly Point is directly adjacent to the beach and provides a rolling green to lay your rug down. There are also more bbqs and picnic tables to choose from. Collins Beach is very quiet and private and can only be reached via a short walking trail from the end of Stuart St. It doesn't have all he facilities like Little Manly, however this is its charm, perfect for a romantic picnic for two.

Best for:

Something for everyone

Cons:

Little Manly Beach can get quite busy in Summer
Image: Gusha

THE BASIN, KURINGAI NATIONAL PARK Accessed by walking track from West Head or ferry across Pittwater, this sheltered beach and inland lagoon makes the perfect day trip for a family picnic or perhaps a weekend camping adventure. There is plenty here to keep you occupied, whether you want a quiet dip in the ocean, a game of beach cricket or take a hike via the nearby Bairne walking track and see the aboriginal carvings. The Basin is so idyllic it really feels like you're a million miles away from the heart of the city. For further information about The Basin, click here. If you want to make a weekend of it you can stay at the adjacent The Basin campground

Best for:

Larger family gatherings, open spaces, swimming, bbq facilities and nearby walks

Cons:

Can only arrive via ferry (from Palm Beach) or by foot (via the Ku-ring-gai National Park)..it's worth the adventure though!
Image: Alan Ventress

CHOWDER BAY, MOSMAN The bay of water at Chowder Bay is so clear & beautiful to look it's easy to forget how close to the city you are. Only 10kms from the city centre, Chowder Bay is a little piece of paradise in Mosman. It's really no surprise that it's become a popular swimming & picnic spot for the north shore. Part of the Sydney Harbour National Park it has a backdrop of deep green. You can either get here via the popular Bradleys Head to Chowder Head walk or by car. Further information can be found here

Best for:

Larger family gatherings, Snorkelling, Swimming, Coffee at Barcino Kiosk

Cons:

At the time of writing this there weren't any bbq facilities (tbc), nearby parking is expensive
LANE COVE NATIONAL PARK Lane Cove National Park is a lush pocket of bushland that sits on either side of the Lane Cove River. There is an abundance of picnic tables, bbqs & grassy areas to choose from. The Lane Cove Boatshed offers a rare experience of rowing along the peaceful river. If you prefer activities on land, there are loads of nearby walking tracks and cycle paths to keep you busy. You can find out further information here *Lane Cove National Park have recently opened luxury camping (I like to call is glamping) called Tandara

Best for:

Variety of activities, row boats, large grassy spaces, bbqs

Cons:

There really isn't anything, perhaps the National Park Entry Fee - $7 per car per day which really isn't that much at all
Image: NSW National Parks

NORTH HARBOUR RESERVE, BALGOWLAH Another local personal favourite, this park has two gorgeous fig trees that are front and centre, providing lovely natural shade. If you want to bathe in the sunshine, there is plenty of open space too. There are bbqs, picnic tables, a shaded kids playground even a half basketball court making it ideal for family get togethers. The nearby coffee shop Forty Beans is worth popping into for afternoon tea. Further information on the park is here

Best for:

Beautiful setting, bbqs, nearby coffee shop, dog friendly

Cons:

Parking is limited
CLONTARF RESERVE Clontarf harbour beach reserve is a popular spot for families. With BBQs, a playground, nearby off leash dog park and clear calm waters to swim in, it's no wonder why. There is also a restaurant and kiosk on site in case you'd prefer someone else to do the cooking for you, or at least have some drinks and ice creams to cool you down. Further info is available here

Best for:

Swimming only steps away from the picnic area, kiosk, bbqs

Cons

: It can get very busy here on a hot, sunny day. Make sure you get down earlier to grab a car park and picnic spot.
Image: paulasiobhan.com
South

WATTAMOLA, ROYAL NATIONAL PARK A popular picnic spot for locals in Sydney's South, it's a great spot for swimming even snorkelling as the water is so calm. Tucked away in the eastern zone of the Royal National Park, it's the ideal place to set up for the day, with bbqs, picnic tables and a gorgeous beach to relax at. It also makes a nice base to explore the park on foot via the beach tracks. More information is here

Best for:

Escaping urban life, swimming, snorkelling, bbqs

Cons:

You have to bring everything you need for the day, remember to bring lots of water (no kiosks or shops nearby).
Image: Daily Telegraph

AUDLEY, THE ROYAL NATIONAL PARK Audley is the gateway to the Royal National Park and the first recommended stop on the Grand Pacific Drive from Sydney to the NSW South Coast. With extensive picnic grounds, cafe, bike trails and boatshed, it's a lovely spot for a family picnic. The local ducks and birdlife will definitely entertain the kids (for a bit at least). Park information is here

Best for:

Larger family gatherings, cafe, bbqs, boatshed

Cons:

Can get quite busy in Summer
Image: NSW National Parks
East

CAMP COVE Highly recommended by a friend "Best spot in Sydney is the western end of Camp Cove. You are right on the harbour and can see everywhere from the Harbour Bridge to Manly. You can walk to South Head, take your togs and go for a dip at Camp Cove beach. Champagne is compulsory".

Best for:

Swimming, Kiosk, Harbour views, admiring the multi million dollar real estate

Cons:

No bbqs, limited nearby parking
Image: NSW National Parks

BEARE PARK, ELIZABETH BAY A family friendly flat grassy park located on the edge of the harbour with a shaded kids playground. Sunny til late afternoon for those who like to bathe in the sun. The new Miss Chu's café is on the marina, great if you need coffee or run out of food. Location/Park details here

Best for:

Family friendly, Miss Chu cafe on site, Dog friendly

Cons:

Can get quite busy in Summer and over the weekend, no bbq facilities
ARTHUR MCELHORNE RESERVE, ELIZABETH BAY Described by a friend as "Picture perfect with a pond full of koi, perfectly manicured gardens, little waterfall and a a romantic bridge over the pond. Framed by the historic Elizabeth Bay House on one side and vistas over the harbour to the heads on the other, its my favourite place for a

picnic

" Sounds amazing right! Find out more information here

Best for:

Admiring the manicured gardens, harbour views, picnic for two

Cons:

No bbq facilities, limited nearby parking
MCKELL PARK, DARLING POINT A small, tucked away park with grassed terraces overlooking Sydney Harbour. Great views of the Harbour Bridge and beautifully manicured lawns and sandstone sculptures. It's the ideal place to lie back, read a book and have a romantic picnic for two. This park can be accessed via the public ferry at Darling Point or by car.

Best for:

Harbour bridge views, picnic for two

Cons:

No bbq facilities
Image: Woollahra Council
West

AUSTRALIAN BOTANIC GARDEN, MOUNT ANNAN Near Campbelltown, the Botanical Gardens in Mount Annan are exotic & tranquil. 416ha of lakes and hills with outdoor sculptures, bbqs, a restaurant and gift shop. The garden is free to enter and has lots to entertain the family, including bike paths with a trail built to international standards for beginners, intermediate and advanced mountain bike riders.

Best for:

Larger family gatherings, gardens, adventurous types, cycle paths

Cons:

Limited Sheltered Picnic Tables
BICENTENNIAL PARK, SYDNEY OLYMPIC PARK Part of the Olympic Park complex in Homebush, Bicentennial Park is a green oasis ideal for a family picnic. There is an adventure playground for the kids including a sandpit and climbing frame as well as a water play area. There are plenty of bbqs & picnic tables on site. You can hire bikes (two-wheeling dragster, cruiser, tandem or trike) and cycle the 35kms of path around the Olympic Park. The Waterview Cafe is worth checking out too.

Best for:

Larger family gatherings, open spaces, bbqs, Dog friendly (on leash), cycle paths

Cons:

Can get very busy
LAKE PARRAMATTA RESERVE Lake Parramatta is located just 2km from the bustling Parramatta CBD yet this beautiful lake and surrounding bushland is a haven for nearby urban dwellers. With 60ha of bushland there is plenty of room to roam. There is a playground, bbqs, picnic tables and nearby bushwalk trails to help burn off your lunch.

Best for:

BBQs, Easy walking tracks, dog friendly (on-leash)

Cons:

Convoluted drive down a number of suburban streets in Parramatta, it's easy to get lost
WHOA that's a huge list, thanks for making it to the end. Hopefully you've spotted at least one new spot to explore and to take in the beautiful scenery as you munch away. If you're looking for some picnic inspired recipes like Summer Guacamole, Fig & Prosciutto Sticks, Pink Lemonade etc you can find them HERE