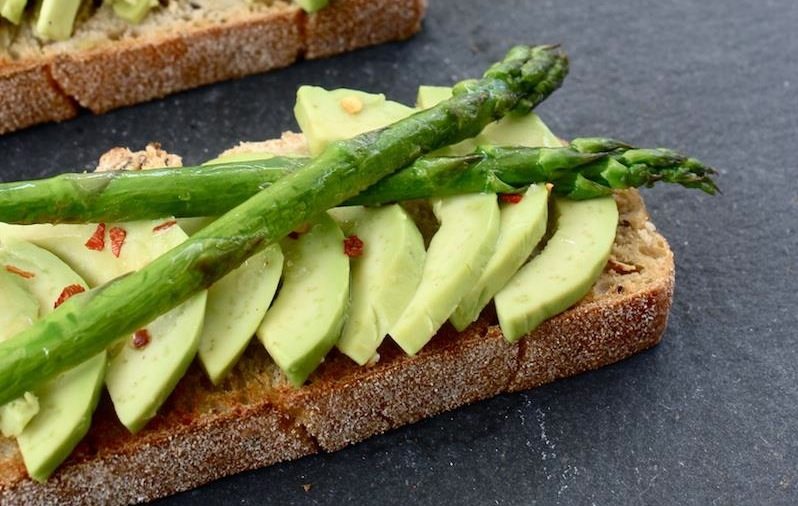 Avocado, chilli & smoked sea salt toast
Are you madly in love with avocados like us? If yes, you're not alone. Did you know that us Aussies consume more avocados than any other English speaking nation. Originating in South & Central America, the avo (lovingly called in Australia) arrived on our shores in 1840 and first planted in Sydney's Royal Botanical Gardens. One would be forgiven in thinking Avocados come into full swing over Summer, however their season actually kicks off over Autumn & Winter. I suspect it's because they are really best eaten fresh in salads or sandwiches that we think they're a Summer fruit only. Due to Australia's wide range of climates & careful selection of varieties, avocado fans can rejoice and enjoy this divine fruit almost all year round. There is an abundance of avocados available right now thanks to a bumper season, particularly in Western Australia.
Avocado on toast is usually my go to when eating out for brekkie or brunch. There is something beautiful about the simplicity of this dish. It just goes to show how magical the avo is. I've jazzed it up a here with the addition of lemon juice, chilli flakes, grilled asparagus and smoked sea salt. The smoked sea salt really does take it to another level, so if you can get your hands on some, snap it up. We used Olsson's Red Gum Smoked Salt, but there are plenty of other beautiful artisan choices out there.
Avocado & Lemon Toast sprinkled with chilli flakes & smoked sea salt
Ripe Avocado 1 large or 2 small
Lemon 1
Dried Chilli Flakes 1 tsp
Smoked Sea Salt* 1 tsp
Asparagus 4 (optional)
Sourdough Bread 4 thick slices
Olive Oil
If you're using asparagus, cut each stick in half lengthways. In a small griddle pan, cook the asparagus with a drizzle of olive oil for 2 mins or until slightly charred. Remove and set aside. Cut the lemon into wedges and set aside. Cut the avocado lengthways and gently twist to separate each half. Remove the stone with a spoon. Run a knife carefully around the edge of each half to loosen & remove the creamy flesh from the skin. Try to keep each half intact. Slice each half into horizontal/half moon shapes. Squeeze a little lemon juice over the flesh to stop any discolouration. Toast the slices of bread under the grill or in toaster under golden brown. Immediately top with the slices of avocado, chilli flakes, asparagus & sprinkle with smoked sea salt. Serve alongside the lemon wedges. Squeeze lemon juice over each slice before eating *You can use normal sea salt as a substitute
Some handy tips:
//
The best way to tell if a hass avocado is ready for use is by the colour of the skin. They change from green, to rich purple, to a black shade which means they're ready to eat!
//
For green skin varieties such as reed & shepard, use gentle pressure on the stem to see if it pulls. If it does, they're ripe & ready to eat.
//
If you plan to eat the avocado in a few days time, stock up on hard, un-ripened fruit.
//
Rub a cut or chopped avocado with lemon juice to stop the flesh from discolouring.