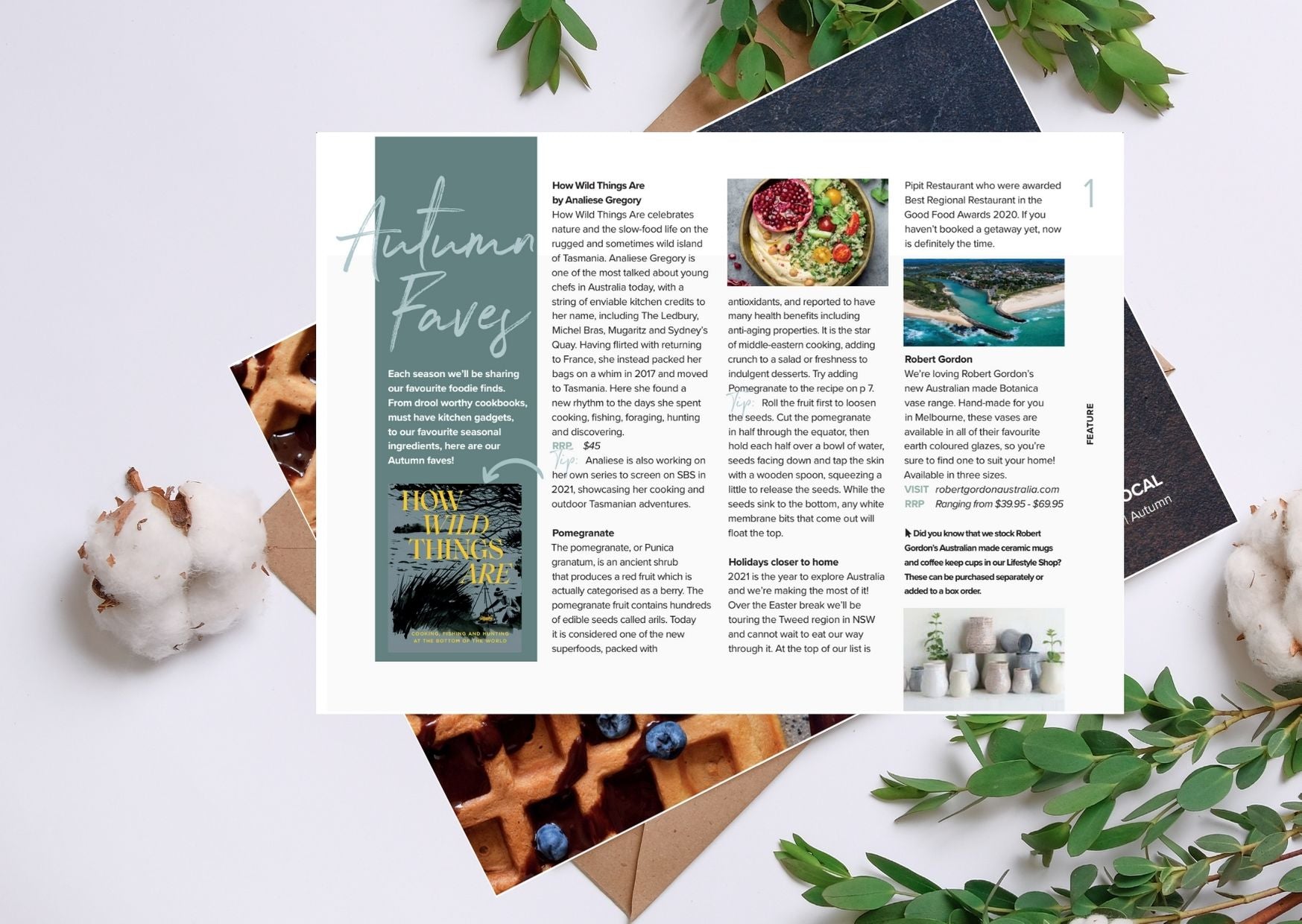 Autumn Faves 2021
Each season we'll be sharing our favourite foodie finds. From drool worthy cookbooks, must have kitchen gadgets, to our favourite seasonal ingredients, here are our Autumn 2021 faves! 
Cookbook 'How Wild Things Are' - Analiese Gregory
How Wild Things Are celebrates nature and the slow-food life on the rugged and sometimes wild island of Tasmania. Analiese Gregory is one of the most talked about young chefs in Australia today, with a string of enviable kitchen credits to her name, including The Ledbury, Michel Bras, Mugaritz and Sydney's Quay. Having flirted with returning to France, she instead packed her bags on a whim in 2017 and moved to Tasmania. Here she found a new rhythm to the days she spent cooking, fishing, foraging, hunting and discovering.
RRP $45
Tip: Analiese is also working on her own series to screen on SBS in 2021, showcasing her cooking and outdoor Tasmanian adventures. 
Holidays Closer To Home
2021 is the year to explore Australia and we're making the most of it! Over the Easter break we'll be touring the Tweed region in NSW and cannot wait to eat our way through it. At the top of our list is Pipit Restaurant who were awarded Best Regional Restaurant in the Good Food Awards 2020. If you haven't booked a getaway yet, now is definitely the time. 
Pomegranate
The pomegranate, or Punica granatum, is an ancient shrub that produces a red fruit which is actually categorised as a berry. The pomegranate fruit contains hundreds of edible seeds called arils. Today it is considered one of the new superfoods, packed with antioxidants, and reported to have many health benefits including anti-aging properties. It is the star of middle-eastern cooking, adding crunch to a salad or freshness to indulgent desserts. Try adding Pomegranate to the couscous recipe featured inside the minizine (coming soon to the blog).
Tip: Roll the fruit first to loosen the seeds. Cut the pomegranate in half through the equator, then hold each half over a bowl of water, seeds facing down and tap the skin with a wooden spoon, squeezing a little to release the seeds. While the seeds sink to the bottom, any white membrane bits that come out will float the top.
Robert Gordon
We're loving Robert Gordon's new Australian made Botanica vase range. Hand-made for you in Melbourne, these vases are available in all of their favourite earth coloured glazes, so you're sure to find one to suit your home! Available in three sizes.
RRP ranging from $39.95 - $69.95.
Visit www.robertgordonaustralia.com
Tip: Did you know that we stock Robert Gordon's Australian made ceramic mugs and coffee keep cups in our curated Lifestyle Shop? SHOP HERE
This feature was originally published in our Autumn 2021 mini-zine (included inside every Discovery Box).