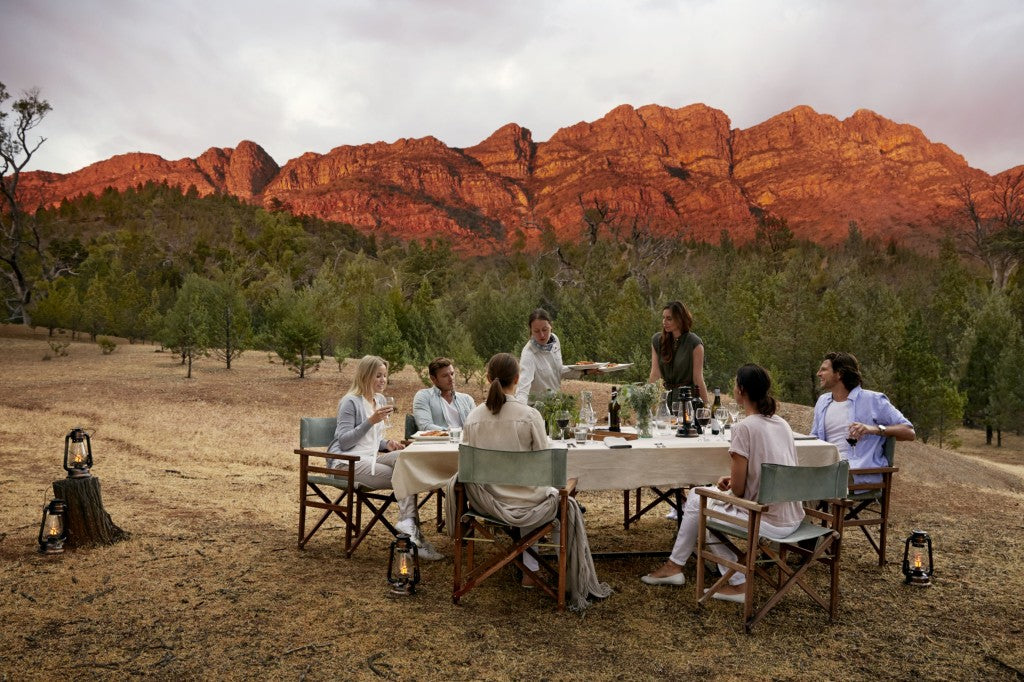 Australia's Foodie Bucket List - 16 Ultimate Food Experiences
Australia is renowned world wide for its incredible food. From our unique native 'bush tucker', quality local produce, our vibrant multicultural food scene to the innovative chefs whom continue to push boundaries and redefine modern Australian cooking. It's no wonder why we recently played host to the prestigious Worlds 50 Best Restaurants awards. For a foodie living in or visiting Australia, there are numerous must do's to savour this great country. Below is our pick, the creme de la creme, of the most unique, unforgettable and ultimate Australian food experiences.
Arkaba Flinders Rangers. Image: Journey Earth
Restaurants
ATTICA
Multi-award winning restaurant Attica's chef and sole owner Ben Shewry creates beautifully balanced, modern cuisine in a relaxed dining environment. Set in the unassuming suburbs of Melbourne, dining at
Attica
is all about the food. In last years Worlds Best 50 Restaurants, Attica achieved number 33, making it Australasia's best restaurant. Australian native food, culture and history are entwined throughout the menu.
QUAY
is one of the most awarded and talked about restaurants in Australia. It's quintessentially Sydney - modern Australian food and water views (oh the views). The location really can't be beaten, the restaurant provides a front row seat of the Opera House & Harbour Bridge. But let's talk about the food. Peter Gilmore is the Executive Chef and really, the face of Quay. He describes his cuisine as "food inspired by nature". You may have heard of their two iconic dishes, the mud crab congee which has been on the menu for 13 years and Australia's most famous dessert: the Snow Egg, which has to be experienced on your first visit. The rest of the menu is an evolving repertoire; some classics, some reworking of old favourites plus new dishes for each season.
Tip: Check the Overseas Passenger Terminal schedule to ensure your lunch or dinner date isn't spoiled by a gigantic cruise ship that's just docked.
BENNELONG

is a new upmarket dining experience located within the iconic Opera House. Under the guidance of Peter Gilmore (yes this man keeps himself very busy), the food is inspired by showcasing the very best Australian produce in a pure yet creative form. The restaurant caters for diners looking to celebrate a special occasion in the main restaurant or if your attending a performance at The Sydney Opera House, you can grab a beautiful bite to eat and drink at the bar or within the Cured & Cultured section.
BRAE
restaurant, tipped to be in the World's Best 50 Restaurant list 2017, is set on a hillside of an organic farm in the Otways hinterland in Victoria. World acclaimed chef Dan Hunter and his wife and business partner Julianne Bagnato have extended their award winning restaurant to include six luxury suites so guests can linger and truly soak up the serene surrounds. Brae utilises produce from the restaurants very own vegetable plots and fruit orchards, the surrounding land and local farmers to showcase a unique, contemporary cuisine built around an immense respect for nature and seasonality.
Quay. Image: tcc.
Hotels
WOLGAN VALLEY by One & Only resorts is serious luxury, nestled in a 7000 conservancy in the Greater Blue Mountain World Heritage Area. The restaurant showcases local produce, sourcing ingredients within a 160km radius. After you've finished your six-course menu, retreat back to your freestanding villa with private pool and veranda for some shut eyes before a day of nature walks, country horse rides or mountain biking?
ARKABA FLINDERS RANGES
- Picnic under magnificent River Red Gums or dine on the terrace around an old wool classing table with the ever-changing light and sounds of the bush. You can do this & more at the Arkaba luxury homestead in the Flinders Ranges of South Australia. Arkaba has adopted a 'buy local' principle, so the food you experience here will be the very best of South Australia's produce including a few native elements.
HALCYON HOUSE & PAPER DAISY
- Once a faded surf motel, this award winning boutique hotel
has been brought back to life and
is drawing in the fashionable & foodie crowds from all over Australia. Paper Daisy, its sophisticated yet relaxed coastal inspired restaurant is headed up by the very talented Ben Devlin (Queensland's Chef of Year 2014,
ex-Noma and Esquire). Less than 40 mins drive away is the foodie hotspot Byron Bay, so you can fill your entire stay with food filled adventures.
SAFFIRE FREYCINET
has been named Tripadvisor's No 1 luxury hotel in the 2017 Travellers Choice awards. Located on Tasmania's East Coast, it's discreetly positioned overlooking the Hazards Mountains, Freycinet Peninsula and the pristine waters of Great Oyster Bay. The Palate Restaurant offers multi-course degustation menus matched with outstanding local wines which are designed around what is available & fresh from the water or paddock that day. One of their complimentary and iconic experiences is a visit to a local oyster farm, where you get to don a pair of waders and learn about the internationally significant wetland and marine ecology, plus taste prized Pacific oysters.
SOUTHERN OCEAN LODGE
- Floating atop a secluded cliff on a rugged stretch of coast, the Southern Ocean Lodge commands peerless views of the wild Southern Ocean and pristine Kangaroo Island wilderness. One of Australia's first true luxury lodges, delivers an experience for all of your senses. The lodge prides itself on delivering a real 'produce to plate' experience, within its restaurant as well as the personalised daily itineraries to explore the abundant island.
Southern Ocean Lodge. Image: Luxury Lodges Of Australia
Outdoor Adventures
ANIMAL TRACKS KAKADU SAFARI
- For a unique and authentic Australian bush tucker experience, check out Animal Tracks Kakadu Safari Tours. Under the guidance of a bush wise Aboriginal guide, you'll hunt and gather food, experience various bush medicines & view native wildlife as you safari through the wilderness. At sunset you'll make a bush camp fire and using traditional aboriginal cooking methods, enjoy a traditional meal out in the wild.
ULURU STARLIGHT DINNER - A long standing tourist attraction/experience, the Uluru 'Sounds of Silence' starlight dinner is still a magical way to spend four hours dining in the outback. Start the evening with canapes and bubbles, moving on to a three course 'bush tucker' inspired buffet with the sound of the Didgeridoo playing in the background. Diners also get to enjoy a guided tour of the twinkling night sky, not forgetting Uluru (Ayers Rock) as your backdrop.
Uluru Sounds of Silence dinner - Image: Northern Territory tourism
Festivals
MARAGARET RIVER GOURMET ESCAPE
- The Margaret River region is regarded as one of Australia's best foodie hotspots, so it makes complete sense that one of Australia's best food festivals is hosted there. Expect a line up of Australia's best food, fine wines, craft beer and celebrity chefs. Last year Nigella Lawson made her first visit to this region as a headline talent for the event. Earmark the 17-19th November 2017, further information regarding this years event will be announced soon.
HAMILTON ISLAND
- As this is being published, Hamilton Island has been struck by cyclone Debbie, we hope there hasn't been too much damage to this beautiful piece of Australia. The Audi Hamilton Island Race Week is fast becoming one of Australia's most sought after events. But wait, what does a yacht race have to do with food? Luxury fashion, champagne houses and premium spirit brands collaborate with some of the best celebrity chefs from all around the world, creating the most magical dining experiences for those lucky enough to attend. The 2017 event will be held from the 19th- 27th August, giving you plenty of time to come up with a plan to get you there.
Margaret River Gourmet Escape. Image - Lotus Int
Classes / Tours
AGRARIAN KITCHEN
- Want to learn how to make pasta, cook with truffles or perhaps make your own cheese by some of Australia's most loved cooks and producers? The Agrarian Kitchen is a sustainable farm-based cooking school with an inspiring paddock to plate philosophy. Rodney Dunn, former Food Editor of Australian Gourmet Traveller magazine and one-time apprentice to Australian chef, Tetsuya Wakuda, established Agrarian Kitchen with his wife, Séverine Demanet, in 2007 and since then has become the most sought after and highly respected cooking school in Australia.
THE FARM BYRON BAY
- A relatively newcomer to the Australian food scene, The Farm Byron Bay has made a tremendous impact and has quickly become a must visit location when visiting Byron Bay. Their motto 'Grow, Feed, Educate' runs through each of the micro-businesses that function within The Farm and encourages visitors to experience how a farm operates, supports the environment and contributes to a healthier lifestyle. It also helps that the hugely popular Three Blue Ducks runs the restaurant, cafe & general store there. The Farm is a low key but hugely inspiring place to experience.
ULTIMATE PENFOLDS TASTING TOUR
- This tour is perfect for those who can't afford a bottle of the world renowned & sought after Grange, but seeks to just have & savour a taste. You'll be joined by a member of the Penfolds team for a guided historical tour of the Magill estate and enjoy private luxury tasting.
Penfolds cellar door. Image: Penfolds How many have you ticked off your list? Have we missed any? Share your thoughts with our community below!