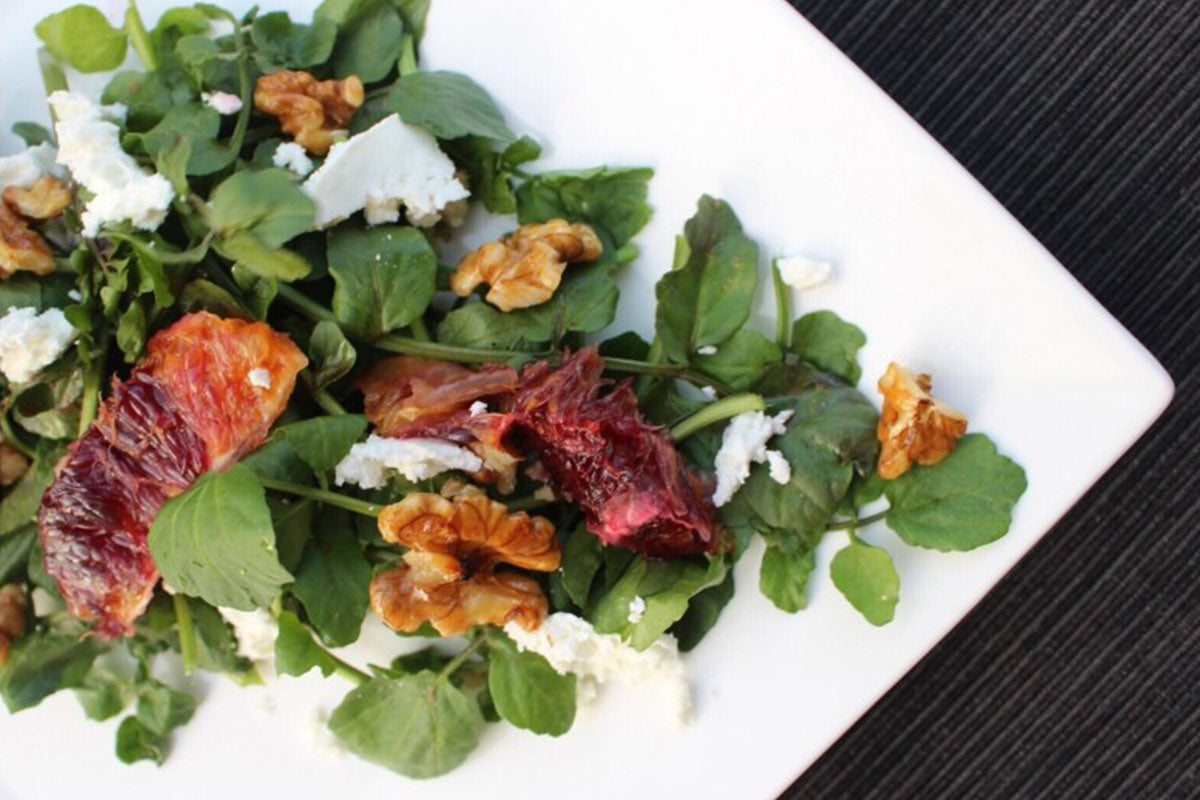 Simple Spring Salad
One of the many reasons why I love to eat seasonally is that mother nature forces you to mix up your cooking repertoire. As the weather changes, she knows what our bodies crave. In Winter it's hearty root vegetables, in Summer it's light & leafy greens. Yes, there are certain fruits & vegetables when out of season you can still find on the grocers shelf, however I've learnt to remember how let down I feel about their lack of flavour. It also removes the joy when they are back in season. I get incredibly excited (maybe too excited!) when my favourites come back in season. Pears in Autumn, Rhubarb & Butternut Squash in Winter, Cherries in Summer, Peas & Blood Oranges in Spring to name a few. This Simple Spring Salad celebrates one of these faves. The juicy ruby Blood Orange.
Whether you're after a light lunch or looking for something to compliment a piece of grilled meat or fish for dinner, this can be your go to salad for the Spring season. A definite crowd pleaser. So what's your favourite seasonal fruit or vegetable? Do you also try to eat with the seasons? Please share your thoughts in the comments box below.
Simple Spring Salad - Blood Oranges, Watercress, Goats Cheese & Honeyed Walnuts
Salad
Watercress 2 handfuls, washed, lower thick stems removed
Blood Orange* 1 1/2 - peeled, cut into segments
Goats Cheese 50g
Walnuts 2 TB roughly chopped
Honey 1 tsp
Blood Orange Vinaigrette
Blood Orange* use remaining half to get 2 TB juice
Lemon 1 TB juice
Dijon Mustard 1/2 tsp
Olive Oil 2 TB
Honey 1/2 tsp
Sea Salt pinch
To begin, make the vinaigrette. Whisk together all ingredients in a small glass pouring jug. Set aside for the flavours to deepen. Next, in a dry pan, toast the walnuts over a low heat until golden brown. Drizzle the honey over the walnuts & toss the pan to ensure each walnut glossy & sticky (1 min). Remove from the heat & set aside. Lastly, plate up! Place the watercress, blood orange segments, crumbled goats & walnuts on a plate. Lightly drizzle the blood vinaigrette over the salad & serve. Serves 2 *You can substitute Blood Oranges with any other kind of Orange.