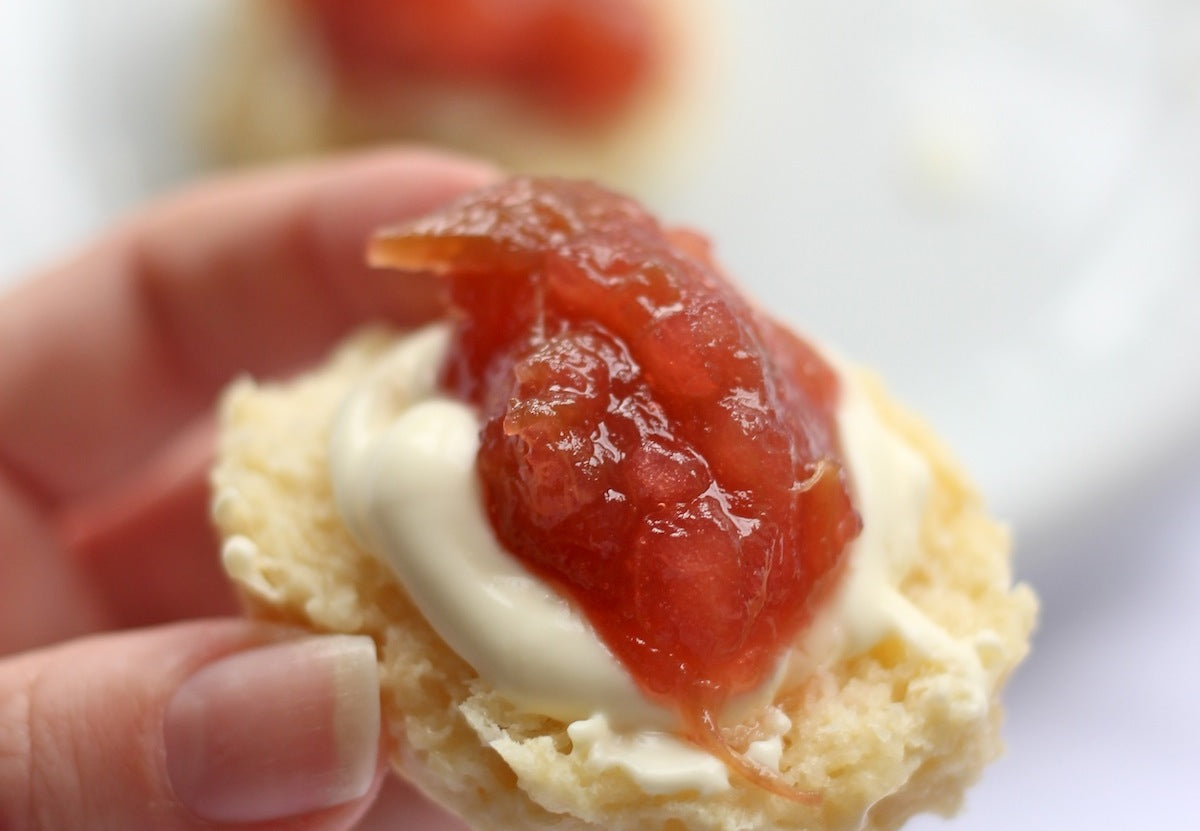 Rhubarb & Apple Jam
Make way for the glorious rhubarb. It's one of our favourite Autumn/Winter vegetables. Yes that's right, a veggie. It's the vegetable stalk of a large perennial herb, often mistaken for a fruit.
Interesting Fact: Despite Rhubarb actually being a vegetable, in 1947 the US customs court defined the rhubarb as a fruit. It was categorised based on consumption. Still today it's legally known as a fruit. Confusing huh!
Did you know the leaves are toxic? The only edible part of the rhubarb is the stalk, so make sure you chop the leaves off before cooking. When buying rhubarb, pick firm, crisp stalks that are free of blemishes. If the leaves are still attached, make sure these are fresh. Avoid stalks with wilted leaves.
I have such fond memories of eating rhubarb, mainly during my time in the UK when apple and rhubarb crumble was a regular feature on our local pub menu. This was comfort food at its best. This recipe is inspired from those days. It captures the warmth and spice of a bubbling apple and rhubarb crumble.
Rhubarb & Apple Jam
Rhubarb chopped, 250g
Apples peeled, cored, chopped 250g
Raw Sugar 300g
Cinnamon Stick 1
Lemon Juice 100ml
Water 1/4 cup
Lemon seeds & roughly chopped lemon skin of 1 lemon wrapped in cheesecloth (natural pectin)
In a large bowl add the chopped rhubarb, apples, sugar & lemon juice and leave to sit for a minimum of 1 hour to infuse the flavours. Pour contents into a heavy based saucepan and add the cinnamon stick, water and lemon seeds & skin wrapped in cheesecloth. Bring to the boil then simmer for approx 20 mins until it reaches a jammy consistency, the rhubarb has broken down and the apples are soft. Using a fork gently mash the pieces of apple, leaving a few chunks. Remove cinnamon stick and lemon seeds & skin in cheesecloth. Pour jam into a warm sterilised jars (nearly to the top). This
article
provides 3 different ways to sterilise jars. Remember to seal each jar as soon as it's filled and turn them upside down to cool on a wire rack or sheetpan, this will help to create a vacuum seal without the hassle of doing a water bath. Makes approx 2-3 cups
>>
Try this jam on freshly bakes scones - you can use our
Traditional Buttermilk Scone
recipe
Call yourself a foodie? Love trying new foods? Have you checked out our
Discovery Box
? We'd love to have you join our tribe of
'local food discoverers'
!