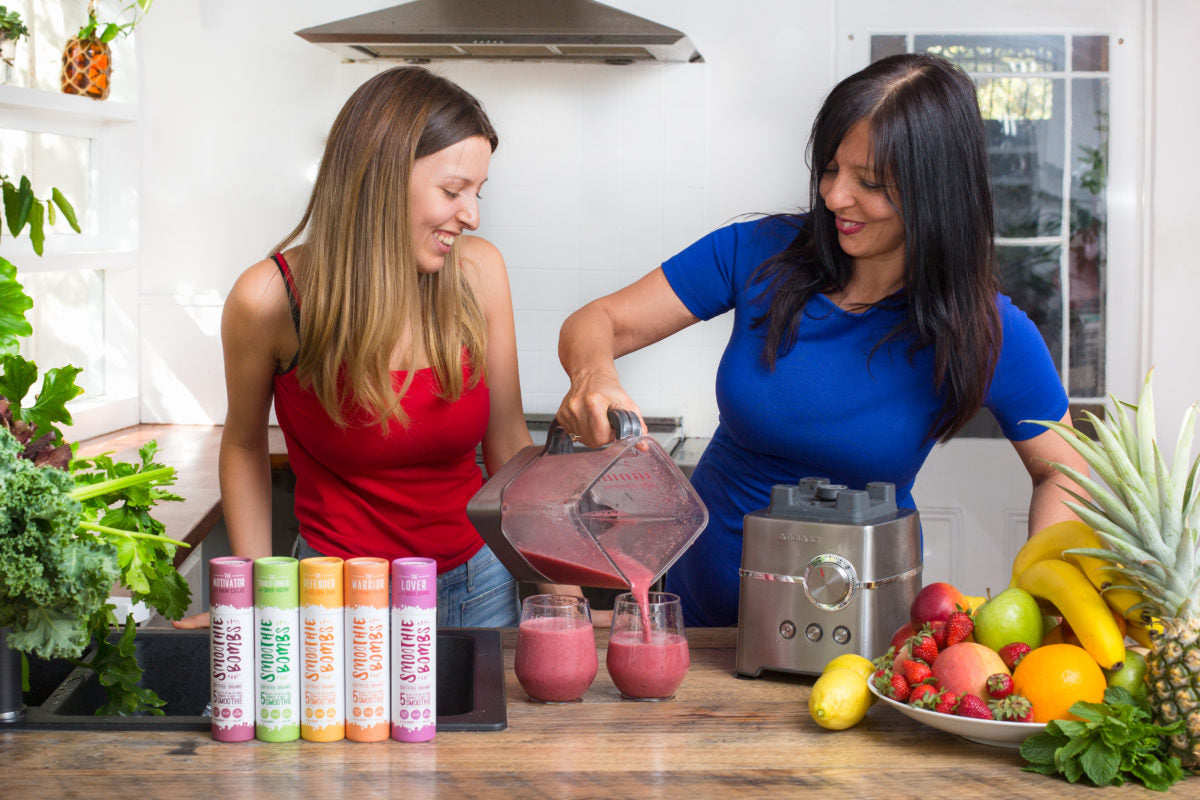 Meet The Locals - Smoothie Bombs
The Smoothie Bombs are the first certified organic, pre-portioned smoothie boosters to hit the market. Crafted by nutritionist Cinzia Cozzolino, Smoothie Bombs provide a way for the time-poor to make delicious, healthy smoothies with no fuss.
Cinzia shares with us her inspiring story from humble beginnings to a booming health food business below. >> Smoothie Bombs 'Warrior' peanut butter variation was featured in the April 17'
Discovery Box
.
What's your food philosophy?
Eat real food. It really is as simple as that.
You have an inspiring 'better late than never story'. Can you share with us your key motivation for changing careers, deciding to go back to study and ultimately launching the amazing product called Smoothie Bombs?
I happened to be walking past an open day of Australian College of Natural Medicine and decided to have a look! My passion for food has always been there and it was at 42 that I realised it was something worth looking into. The Smoothie Bombs, like becoming a nutritionist, came about organically. My youngest daughter wasn't eating breakfast on her way to high school and I wanted to find an easy solution. I've found being a nutritionist that this is something most can relate to. And so the Bombs were born and have exploded onto the market ever since!
How did you take your humble home grown product to a booming & highly sought after health & food product?
With a lot of hard work! You can speak to any business owner and you'll get the same answer 😂 It is about putting in the long hours and building up your brand. Of course social media has helped but that in itself requires a lot of time and effort to create real engagement.
The Bombs started being made at our home, with family and friends around our kitchen table. Initially we were making them for our own community, supplying friends that owned stores and cafes around our local area. We decided to launch the Raw Cacao flavour as a retail product in 2014 and the Super Greens in 2015. Before long demand was growing so fast we had to find somewhere else to make them. In 2016 we launched the current Certified Organic range with all 5 flavours. We've learnt a lot in the past 7 years, especially the value of getting people to sign NDAs!
The Smoothie Bomb tube has become quite iconic, did you design the packaging?
The tube concept had been hovering around in my head for a few years but I couldn't quite afford to bring it to fruition. My daughter and I knew we wanted the packaging to be fun and colourful. We had looked at several other ways of presentation but they all fell short. I finally bit the bullet and decided I wasn't going to comprise. I found a factory on Alibaba, took a risk and sent them the little savings I had to make the tube I envisioned. Luckily it paid off!
As a fully qualified nutritionist, what's the most common question you're asked when it comes to healthy eating and what's your key piece of advice?
I often get asked whether something is healthy or not. With the rise of social media these diets and fads have confused people about what healthy living really is. I like to keep my message simple, eat variety, eat seasonally and eat fresh (most of the time!)
What's your biggest achievement to date with Smoothie Bombs?
In 2015 I won a $25,000 grant and with that I was able to properly certify my organic ingredients. I'm proud of this because it means the consumers can trust the brand's integrity. We always source the highest quality, ethical ingredients and are kept accountable by Australian Certified Organic. Also we have some BIG news coming up which I'm not allowed to share yet 🙊 🙉 🙈
What would your ultimate last supper be?
If we're not holding back here.. a buffet of delicious italian classics like eggplant parmigiana, as well as beautiful salads and a range of raw cakes. And let's be honest, a bowl of hot chips!
To discover more and connect with Smoothie Bombs, click below:
Website:
www.thesmoothiebombs.com
Facebook:
www.facebook.com/thesmoothiebombs
Instagram
:
www.instagram.com/thesmoothiebombs