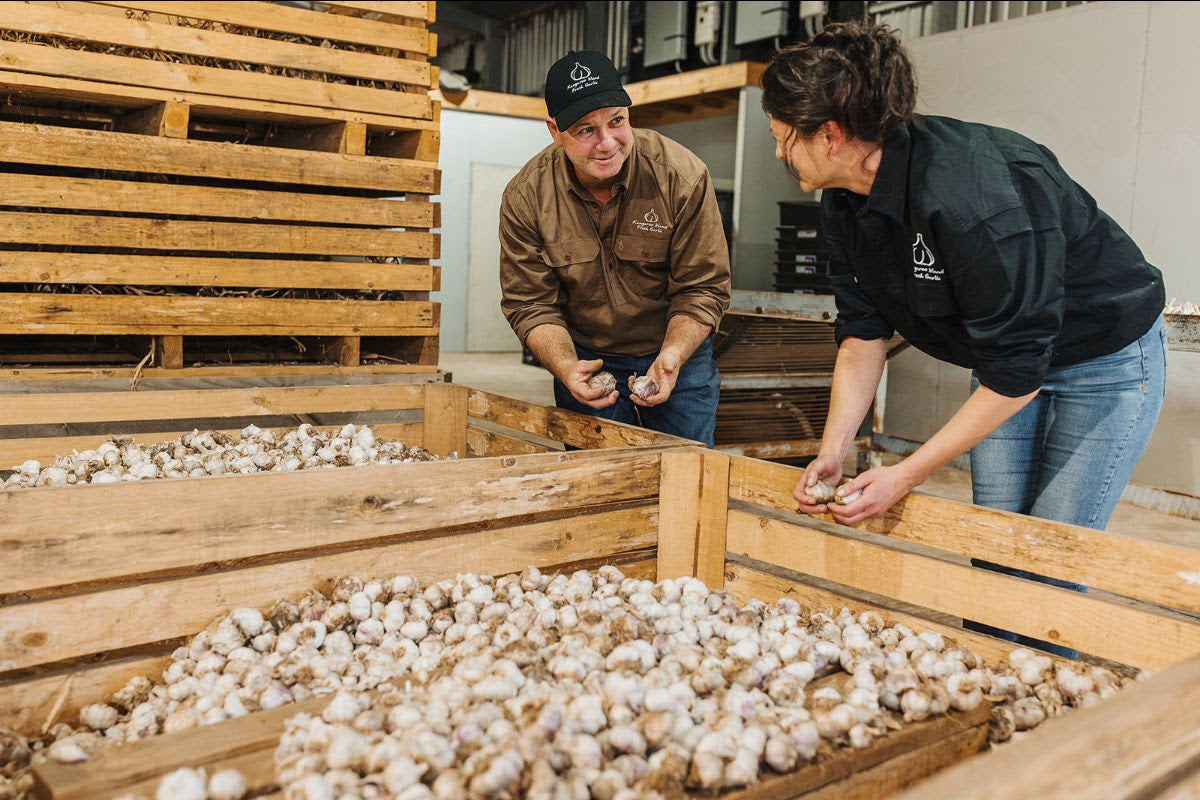 Meet The Locals - Shane at Kangaroo Island Fresh Garlic

Shane Leahy planted his first garlic crop in 2015. But the idea of starting a garlic farm was first born in 2012 amongst mates. Today Kangaroo Island Fresh Garlic is a rapidly growing business with a small team of island locals.
Fresh garlic (when in season) as well as garlic powder, garlic granules and garlic salt are all made on Shane's farm in the picturesque Stokes Bay countryside. 
We chat with Shane about his beginnings, the highs & lows of running a business and what his ultimate last supper would be...
>> Kangaroo Island Fresh Garlic granules is featured in the Winter 2022 Discovery Box (out now).
What's your food philosophy?
I reckon that food is the thing that brings us all together. Obviously, the fresher and more local, the better, which is why I eat seasonally and use pretty much only Aussie ingredients.
What was the inspiration behind starting Kangaroo Island Fresh Garlic?
The inspiration behind Kangaroo Island Fresh Garlic is a long and pretty sad story. Two of my best mates and I decided to take a crack at growing our own garlic. Within a year of us starting to take it seriously both of them had tragically passed away. I've been giving it my all for their memory, knowing that they'd be chuffed to see what's come of our little idea now.
Australian Garlic vs Imported Garlic, what's the difference?
Fresh produce is always going to be better, but more than that, the imported stuff is usually from China. It's probably been sprayed with chemicals to stop it from sprouting in coldstore and methyl bromide ( a highly toxic substance that is also proven to be 45 times more effective at destroying the ozone layer than chlorine) in quarantine, and it's definitely been bleached (mostly using chlorine).
In comparison our fresh Australian garlic has no pesticides, is stronger in flavour so you can use less, and isn't bleached.  
As a small batch producer whats the most challenging part of your job?
Probably finding enough hours in the day. We run a pretty small team on our farm, but we grow all the garlic, make all the dehydrated products and pack all our orders (wholesale and direct sales) ourselves.
And the most rewarding?
Definitely being able to see something we've grown and created bringing flavour and happiness to so many people. 
If we looked inside your fridge, what would we find?
Lamb chops from our farm and definitely Garlic Toum (a traditional Lebanese garlic sauce that we make ourselves).
What's one thing you couldn't work without?
My beautiful partner Suzie.
What do you love most about Winter and why?
With Winter comes the rain that we need to grow our magnificent garlic crops. 
If you weren't a food producer what would you be doing?
I can't imagine doing anything else but growing wonderful fresh produce.
What would your ultimate last supper be?
Roast Lamb stuffed with my fresh garlic and loads of roasted veggies.
What advice would you give to someone who is considering launching their own food business?
Research the market that you are trying to break into, and definitely don't rely on banks to help you in small business because they won't.
If you could have any celebrity/renowned chef cook you dinner, who would it be & why?
I have actually cooked meals for a number of renowned chefs including Maggie Beer and Adam Liaw and they were astounded at the food I put in front of them. So my answer is Me, because I love what I cook.
To discover more + connect with Kangaroo Island Fresh Garlic click below:
Website: www.kifreshgarlic.com.au
Insta: www.instagram.com/kangarooislandfreshgarlic
>> Try a Discovery Box now discover other incredible Australian producers like Shane! SHOP HERE