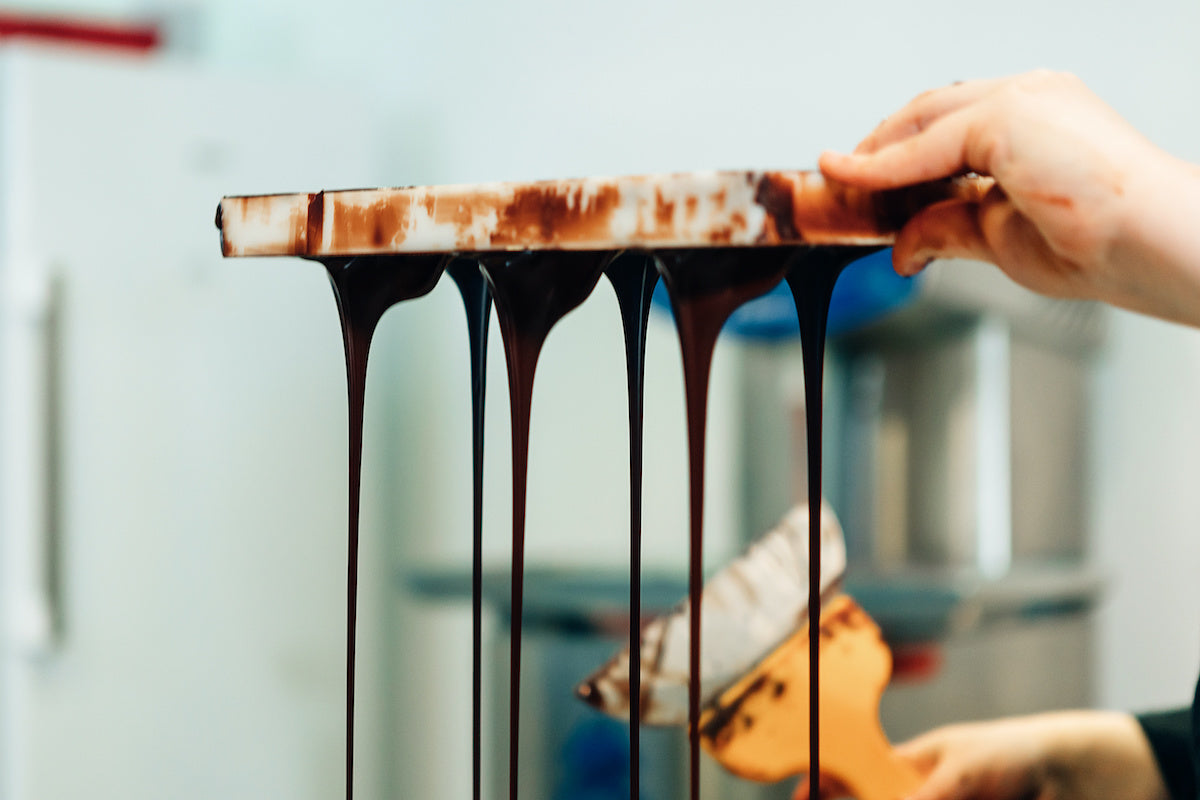 Meet The Locals - QQ La Praline
Founded by Laure Martinelli
,
QQ La Praline is a proud sustainable and eco-friendly chocolate artisan business in Melbourne. 
Laure takes pride in creating traditional as well as innovative flavours and texture combinations in her chocolate (which contains zero palm oil nor GMO). Their packaging which counts for less than 10% of the product, is plastic free and 100% recycled paper which should be applauded! 

>> QQ La Praline Red Gum Honeycomb Dark Chocolate bar was featured in the Winter 2021 Discovery Box.
What's your food philosophy?
Never compromise quality.
What was the inspiration behind starting QQ La Praline (and its name)?
I've always loved chocolate. I'm French but I've spent 5 years in Brussels where I became a chocolatier with the project to launch my chocolate business. The name "QQ La Praline" is a pun between the way Belgian people call chocolate bonbon a "Praline" and French expression "Cucu la praline".
What makes QQ La Praline unique and what influences/inspires your range of textures & flavours?
Our range of flavours is mix between classic flavours like the hazelnut or the almond and milk chocolate bar, Aussie classics like honeycomb (I didn't know honeycomb before coming to Australia and I have to say I really love it) and more innovative ones like the turmeric and cashew brittle or the "French Biscuit" our signature block which is a blend between Belgian couverture and home made traditional French biscuit and something you see nowhere else.
 I also like to use childhood souvenirs like the puffed rice and chocolate block (my hubby's favourite) reminding the piece of chocolate and bread sliced we used to have for afternoon tea in France.
As I say, never compromise quality, I use a top quality Belgian couverture chocolate meaning the only fat in it is cocoa butter (and no dodgy fat like palm oil) mixed with premium quality ingredients sourced from Australian businesses.
We try to offer modern and vibrant packaging but avoid using plastic and unnecessary packaging. Therefore the packaging is very minimalist and locally printed here in Melbourne on 100% recycled paper.
As a small batch producer, what's the most challenging part of your job?
Doing everything by myself, chocolate maker, accountant, stock manager, webmaster, community manager, sales person… besides being a mum of two wonderful little ones.
And the most rewarding?
Doing everything by myself, chocolate maker, accountant, stock manager, webmaster, community manager, sales person… besides being a mum of two wonderful little ones…more seriously, when people tell me they love QQ La Praline chocolate, then I feel my hard work pays me back.
If we looked inside your fridge, what would we find?
Butter, cheese, a bottle of chilled milk for my kids and a bottle of chilled white wine for hubby and me.
What do you love most about Winter and why?
I like feeling cozy at home having a nice warm cup of coffee in the morning and preparing a comfort dish while sipping a glass of red wine in the evening. I like a Melbourne Autumn very much and its special brightness.
What is one thing you couldn't work without?
Apart from chocolate… music especially "old" pop and rock British music like my absolute favourite band the Beatles or listening to the last episode of Top Chef France. 
If you weren't a food producer, what would you be doing?
I would probably like to teach chocolate class and the science behind it.
What advice would you give to someone who is considering launching their own food business?
Being passionate, being patient, being prepared, maybe try to get experience in your business field before flying with your own wings.
If you could have any celebrity/renowned chef cook you dinner, who would it be & why?
That would be the Pastry chef Philippe Conticini. I really love his way of seeing and explaining things and very humble. And above all his patisseries and cakes are the same as him... very generous!
What would your ultimate last supper be?
New years eve traditional french dinner: Foie gras, Oyster, Duck, Cheese Champagne and a nice dessert like my hubby's delicious mille feuille.
To discover more and connect with QQ La Praline click below:
Website: www.qqlapraline.com.au
Insta: www.instagram.com/qqlapralinechocolate
Facebook: www.facebook.com/qqlapralinechocolate