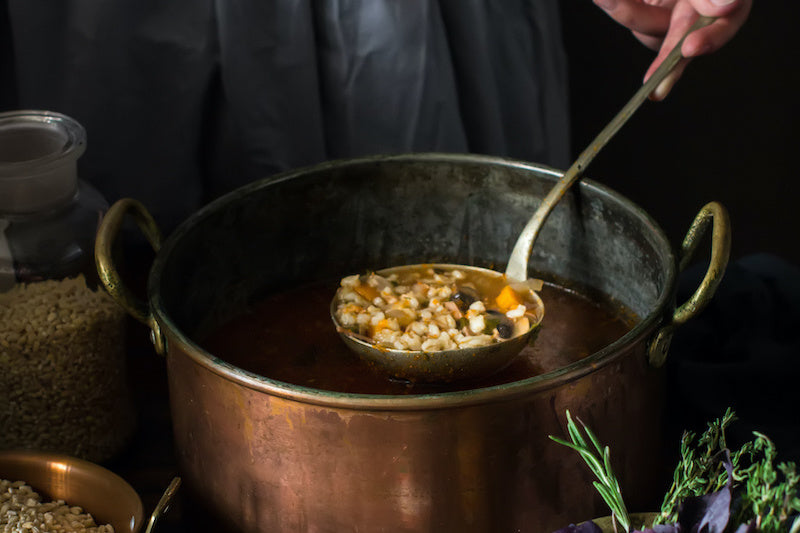 Hearty Leftover Lamb Soup
So you've cooked a Lamb Roast and wondering what you can do with the lovely leftovers? This Hearty Leftover Lamb Winter Soup is a must and made extra delicious with a dollop of mint sauce on top, plus uses up any leftover lamb from your roast masterpiece, winning! 
>> Quick side note: If you're new around here, a huge HELLO to you! Our mission is to help foodies like you discover new & exciting Australian made artisan foods every season! Come check out our ABOUT US page or say hi on our socials @foodiescollective 
Hearty Leftover Lamb Soup

Ingredients:
1 tsp olive oil

200g leftover lamb roast pieces

1 small onion, finely chopped

600g mixed root vegetable (potato, parsnip, swede or carrot, cubed)

2 tsp Worcestershire sauce

1 ¾ litres lamb or beef stock

1 thyme sprig

100g green bean, finely chopped

50g Mount Zero Soup Grain Mix*

Granary bread, to serve 

Rich Glen Mint Sauce*, to serve
Method:
Filling:
Heat the oil in a large saucepan over a medium heat. Add onion and mixed root vegetables. Cook, stirring for 5 minutes or until softened. Season the lamb, then fry for a few mins until browned. Add the Mount Zero Soup Grain Mix, then gently fry for 1 min. Add the Worcestershire sauce, stock and thyme. Cover, then simmer for 20 mins.

When everything is cooked, spoon about a quarter of the soup into a separate pan. Purée with a stick blender (or put into a normal blender and whizz), then stir it back into the rest of the soup. Add the green beans, simmer for 3 mins, then ladle the soup into bowls and serve with fresh granary bread. Top with Rich Glen Mint Sauce.

Serves 4
* The highlighted Australian made ingredients are products featured inside our 'Discovery Box'. We love sharing recipes including the products found in your box as it makes it easier for you to enjoy them! You can substitute these with other quality products. The Mount Zero Soup Grain Mix + the Rich Glen Mint Sauce in this recipe were featured in our 'Winter 2021' Discovery Box