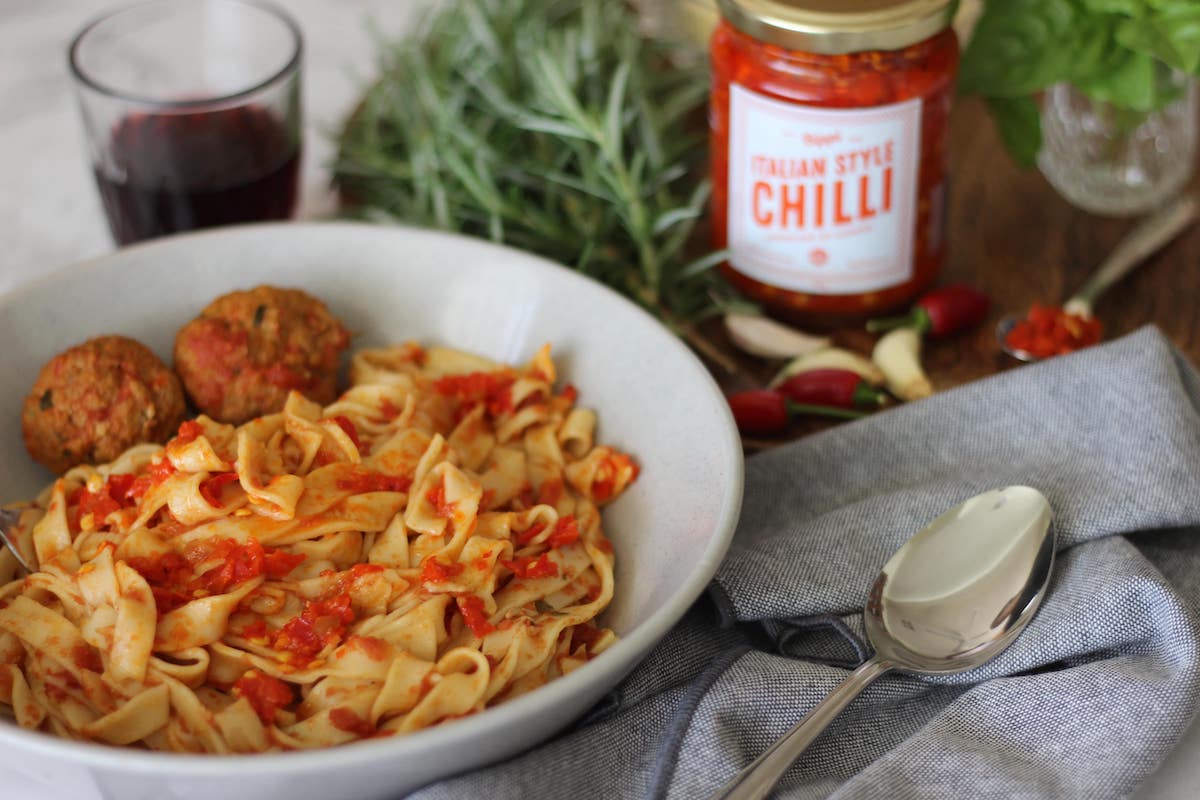 Meet The Locals - Bippi Foods (Approved by Nonna)
In 1955, their Nonna Emilia migrated from the region of Calabria in Italy, to a small country town in rural Victoria named Mildura. With her came a collection of traditional hand made recipes, one of which was her chilli, or what the family would call, Bippi.
Flash forward 65 years, through capturing the true Italian flavour and combining the highest quality Australian produce, her grandson Ben decided it was time to share these with the world.
If you enjoy a healthy, flavoursome and spicy twist to your meal, Bippi's Italian Style Chilli is a must!

>> Bippi Foods Italian Style Chilli Sauce was featured in the Spring 2021 Discovery Box.
What's your food philosophy?
Fresh and flavoursome. 
I grew up in Mildura, the heartland for most of Australia's fresh produce. I lived next door to my grandparents (my Nonni), and in between the two houses was their seasonal fruit and veggie garden. Each season I would get excited about what was coming, and what I could eat fresh off the tree or plant. In Winter came the oranges, then in Spring the snow peas, and of course the artichokes that my Nonna would stuff and slow cook in her homemade sauce. 
You can't replicate the flavours and the feelings of eating something freshly picked on a farm or from the garden. 
A philosophy not just for myself and the Bippi brand, but simply what makes me happy.
What was the inspiration behind starting Bippi Foods (and its name)?
Bippi is an Australian-Calabrese adaptation for the word chilli. 
Alongside bread and wine, chilli was an essential addition to the centre of the dining table before every meal. Whether it was fresh, in flakes, or in oil, it was all home grown and full of flavour. Within 30 seconds of sitting down at the table, someone would inevitably ask "can you pass the Bippi?". It would then be passed around the table like a eucharistic gesture. 
As a kid I would always ask Nonna, "why does the food taste better here than anything you can buy?" She would reply, in her broken English accent, "because here, I make it with love". 
As I grew up, I realised this was a problem that could be solved. Why not make a part of Nonna's food available to the world? Using fresh produce, no added preservatives and plenty of love, Bippi was born.
What's been the highlight so far in your business journey?
The customer feedback. Seeing the same people reorder time and time again after 12 months is proof that Bippi has become a part of people's lives by becoming a staple in their pantry.
That was my goal from the beginning. I wanted people to invest in the product and enjoy it with everything, just like I do. Seeing people share their Bippi inspired and infused meals is a rewarding and amazing experience. 
As a small batch producer, what's the most challenging part of your job?
Maximising production. Like most startups, we make our product in our home kitchen. It's crazy to think that we're still doing this, but we have almost hit our production capacity.
Cooking the product requires long days, a lot of effort, and without the resources available in a commercial kitchen, it only adds to the difficulty. 
And the most rewarding?
Sharing the product with family and friends. That's the essence of food. That's how Bippi was created. Everyday that we get to enjoy Bippi in meals with the people we love is a good day.
If we looked inside your fridge, what would we find?
A lot of fresh vegetables, plenty of cheese and last night's leftover pasta ready to be warmed up in the pan.
Hot tip: rewarm your pasta at a high heat to crisp the bottom. Add some olive oil, a few teaspoons of Bippi and grated pecorino. Watch the cheese melt into the chilli and into the pasta.
What do you love most about Spring and why?
Spring is my favourite season. The weather starts to warm up, the days get longer, the herbs in my garden start to bloom and people are in a cheery mood.
If you weren't a food producer, what would you be doing?
I would most likely still be soldiering on in my previous job as a Capital Investment Analyst, cooking up some beautiful tables in Microsoft Excel.
What advice would you give to someone who is considering launching their own food business?
If it tastes good, can be scaled, and has a point of difference that people are likely to support, then go for it. I was very fortunate to be able to start the brand as a side hustle whilst working full time.
I would recommend this as you test the product to identify your market and validate the idea.
If you could have any celebrity/renowned chef cook you dinner, who would it be & why?
Genaro Contaldo and his fresh homemade Pasta aglio olio (Garlic & Oil). With a few teaspoons of Bippi added of course. He epitomises fresh wholesome Italian food and has the personality to match it!
What would your ultimate last supper be?
Lunch at Nonna's
Entre - Fried Brucialetti (eggplant and beef fritters).
Main - Nonna's Homemade Pasta with fresh tomato and basil sauce. 
Followed by her schnitzels topped with roasted peppers and grilled eggplant.
Not sure if there is any room for dessert after that.
To discover more and connect with Bippi Foods click below:
Website: www.bippifoods.com
Insta: www.instagram.com/bippi.foods
Facebook: www.facebook.com