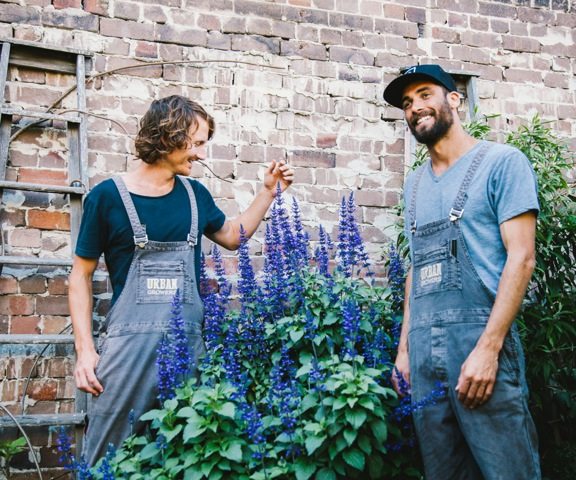 Friday Foodie In Focus - Urban Growers
If you've ever been to Kitchen by Mike, which lets face it, most of Sydney has, you'll be familiar with the Physic Garden. A tranquil place which promotes health & wellbeing through the education of fresh, seasonal food. Well today I'd love to introduce you to the creators behind this magical garden, Grant & Byron from Urban Growers. Byron grew up on a small farm on the NSW South Coast. After years of photographing flora & fauna, working as a environmental officer and landscaper, it eventually led him to studying Horticulture. Grant has spent 16 years working in the kitchen in Sydney, Sweden & Switzerland. He's completed courses in Permaculture design, beekeeping and mushroom cultivation however it was the birth his daughter Willow which really helped define his future vision & values. Grant also joined Byron to complete a diploma in Horticulture. These guys are two passionate foodies with an ethos true to our hearts. Seasonal & Local is best.
L-R: Byron + Grant
Together they've turned the traditional urban garden on it's head, helping to transform our back gardens, courtyards, balconies or rooftops into creative edible spaces. The garden which they're most proud of (which you'll hear more about in the interview below) is divided into 5 beds and is full of plants, herbs, fruit and vegetables arranged according to their traditional medicinal uses:
Musculoskeletal
and
Cardiology
(e.g. ginger and tumeric)
Gastroenterology
(e.g. dill and oregano)
Neurology
(e.g. lemon verbena and German chamomile)
Ear Nose Throat
(e.g. meyer lemon and lemongrass)
Dermatology
(e.g. Italian parsley and nasturtium) To learn more about this & their story, check out the interview below:
What or Who inspired you to create Urban Growers?
We both grew up on acres where we were lucky enough to grow much of our own food. I think we both had an orchid, veg garden, chooks, cows, fish in the creeks, and we sold the surplus locally as kids. Years later Grant and I met and we both had different life experiences but the same passion for growing fresh food locally. We wanted to bring our combined knowledge of cooking, horticulture, permaculture, playing with bees, environmental studies, teaching etc. to life in the city….so we called ourselves Urban Growers.
What are the 3 must have plants/herbs in an urban garden?
Grow what you eat! So many people buy herbs like Marjoram or Oregano, maybe because they are a familiar name, but never use it. Whatever fresh herbs you buy, try and grow it first (if in season of course). I would grow Spearmint, Italian Parsley & Coriander.
What's your food philosophy?
We believe in eating seasonal and local. Its been the motivation behind urban growers since day one. If you can do it, it almost ensures that you're also eating fresh. We also try to minimalise food waste as much as we can when we are preparing meals. Leaving skins and seeds on pumpkins, not peeling onions, eating the tops of carrots, that sort of thing.
Which garden project are you most proud of & why?
The Kitchen by Mike Physic Garden is a pretty awesome garden for us. It's got a little bit of everything - Bees, coffee, fruit trees, grape vines (Mike is making wine this year) and of course over 50 different medicinal plants. A lot medicinal plant growing research went into it from the beginning, to see it looking so good now is a bit of a buzz. The Physic garden is also a beautiful space for us to hold our herbs for health workshops and Mike puts on a good lunch too.
Dates for upcoming workshops are listed below.
Any new & exciting projects on the horizon?
Yes! We are diversifying Urban Growers – I wont mention names at this stage but we are teaching at a local school, farming a piece of land for a restaurant, continuing our workshops and building a community garden.
If I looked inside your fridge, what would I find?
We've been loving making our own Kimchi, Kombucha, Sauerkraut and pickled radishes so there is a few jars of that. We are also getting into making our own nut spreads that have been whipped with honey from some of the hives we look after. Heaps of fruit and leafy green for could pressed juice and always an avocado or 2.
What would your last supper be?
Grant
I would eat the dishes from my childhood. My nana on my Fathers side was Sri Lankan and she made the best prawn curry and egg hoppers together with coconut sambal. The curry was so rich and the prawns were so tender, I loved sucking the juices out of the heads and stock pilling the tails until the end of the meal. She also made a beautiful cake called "love cake" its made from cashews and semolina, I've had it since but no one made it like her, I'd have that with a cup of her tea. If I could, I'd love for her to be at the table too. We wish these guys all the very best. Exciting times ahead indeed.
To discover & connect with Urban Growers click below:
Website:
http://urbangrowers.com.au
Facebook:
https://www.facebook.com/theurbangrowers.au
Instagram:
http://instagram.com/urbangrowers
Workshops:
http://kitchenbymike.com.au/classes/
Read more interviews with our favourite foodies
HERE