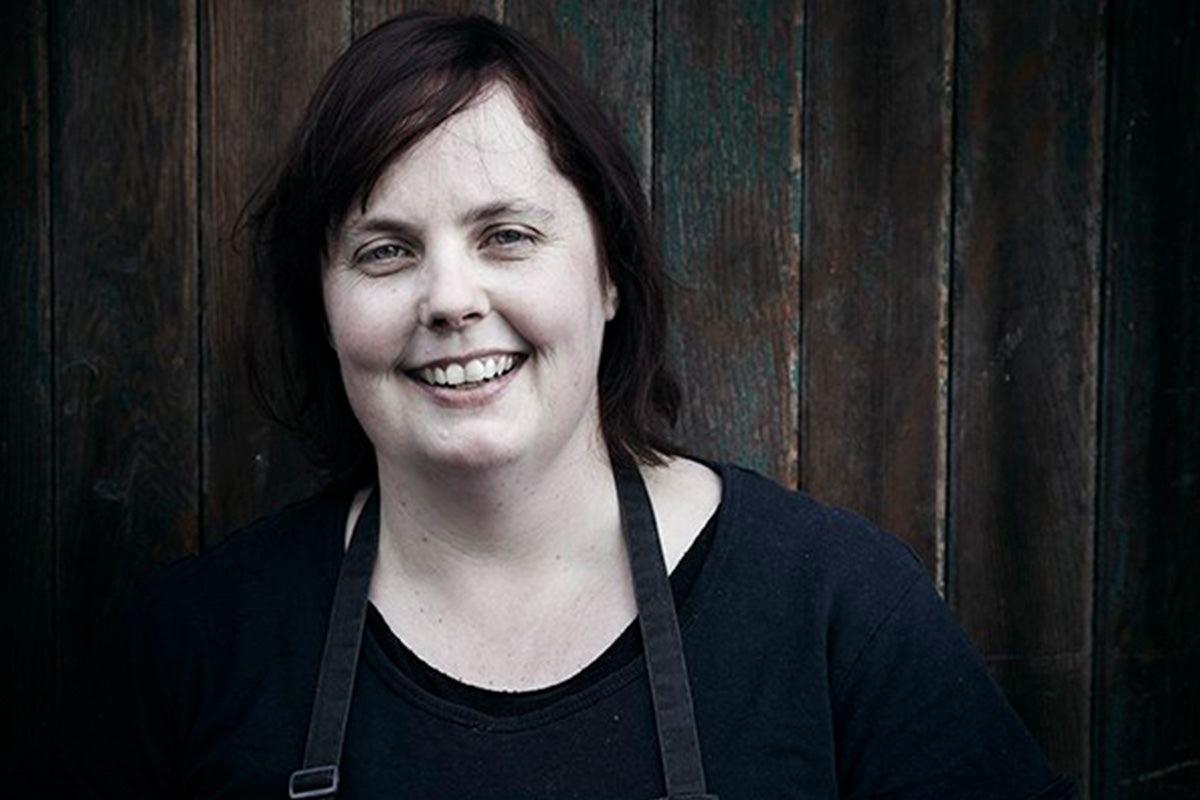 Friday Foodie In Focus - Flour & Stone's Nadine Ingram
Flour and Stone may be positioned in one of the quieter corners of central Sydney, however that hasn't stopped founder Nadine Ingram turn it into one of Sydney's much adored & sought after bakeries. Flour & Stone has a loyal following, particularly for her outrageously addictive panna cotta lamingtons, rustic lemon drizzle cake and fine apple tart.
>>Quick side note: If you're new around here, a huge HELLO to you! Our mission is to help foodies like you discover new & exciting Australian made artisan foods every season! Come check out our ABOUT US page or say hi on our socials @foodiescollective 
Since completing her apprenticeship, Nadine has worked in some high profile establishments including London's Le Gavroche and The Ivy, as well as Sydney's MG Garage and Bourke St Bakery. She first dabbled in running her own business Cookie Couture where she baked cookies in her own home. It was in November 2011 when she finally opened the doors to Flour and Stone, her first bricks and mortar store. Nadine's vision for a small bakery, serving a range of classic inspired pastries baked in a rustic way, still happily exists today.
We're thrilled to have Nadine as today's Friday Foodie In Focus. Learn more about her beginnings, news about an exciting upcoming workshop and of-course, what her ideal last supper would be.
Flour & stone team. Nadine is front row, second right
What's your food philosophy?

It's fairly simple, I want to bake those cakes people want to eat. Rustic baking that doesn't necessarily challenge flavour concepts or aesthetic boundaries but that my customers keep coming back for over and over again. That makes me very happy. I'm not interested in wild flavour combinations that smack of "look how clever I am!" They are not the cakes people endear themselves to even though they may enlighten the spirit with their brief sparkle, it's cakes like lemon drizzle that will still be on the table for centuries to come.
What's your earliest memory in the kitchen?

At home, probably boiling the corned beef dry in a manner that rendered the pot so burnt it was deemed useless. My grandmother asked me to keep an eye on it whilst she went to do the farm work, and has never let me live it down. It's a constant surprise to her that I managed to get through my apprenticeship. Professionally I remember my first day at Le Gavroche when I circled the block five times on foot because I was so nervous. It turned out they thought I was there to work in the main part of the kitchen and had me chipping the barnacles off scallop shells for Coquilles St. Jacques. It took me all day, only a brief time before they discovered I was meant to be stationed in the pastry section.
Even though you have an established bricks & mortar store, what drives you to show up at the (Eveleigh & Orange) markets each week?

Keeping in touch with our customers both at the store and further a field is a priority of ours and it's really just getting out there and talking to people that drives us. We pride ourselves on our social media presence and more importantly our response to our customer. Whilst the markets have enabled us to reach a broader audience we've also noticed a lot of our regular customers that live near the markets are loving the convenience of Flour and Stone within walking distance too.
Their famous Lamington
As a baker, I'm guessing the early starts are one of the most challenging parts of the job. What's the most rewarding?

Yes the early starts never get easier although they are offset by many rewards. I think 'The bakery' within the community has a lot to answer for in terms of its contribution to society. If you've been to Flour and Stone you will know it's cosy, it's easy for complete strangers, who might ordinarily pass one another on the street unnoticed to engage and have a chat whilst waiting for their morning coffee. There have been a lot of relationships forged in that tiny space. From the kitchen I can often hear a hum of conversation, people laughing and talking about their day, their troubles, their loves or just how much cake they have eaten from us in the last week. This sound is the most rewarding part.
On your website you dedicate the business to your daughters, Poppy & Ruby. Can you tell us a little more about this declaration & what life is like as a mum starting & running a business, particularly in the hospitality industry?

I don't think Flour and Stone would be the place it is without my daughters. I say that because having them changed me, grounded me and gave me purpose. It's true I'm not myself if I'm not baking but at the end of the day it is their validation and support that I crave. When things don't go to plan they put everything into perspective, they are my biggest critics and fans. I don't think it easy for anyone to run a business in the hospitality industry, it is a labour of love, a privilege and a huge responsibility to serve people every day.
Apple Tart
Out of all your sweet creations, do you have a favourite 'child' and if so, what makes it extra special?

The fine apple tart is my favourite. It is rustic and simple but has more technique and critical points than anything else we make. If you get all of them right it's magic , although it's success relies on the workmanship of four people. In this respect it is a testament to how well we are working as a team....or not.
Any new & exciting projects on the horizon?

I will be doing a one off workshop with Cornersmith in September where I will share a couple of my recipes including the Old fashioned vanilla cake. I am also continuing with writing my book in the hope that my stories and recipes will one day find a way into the kitchens of those intrigued with bakery life and it's stories.
What would your last supper be?
Entree- Blue Lobster cooked by Alain Ducasse

Main - Steak with cafe de Paris butter

Dessert - Beignets from One penny red in Summer hill
To discover more & connect with Nadine/ Flour & Stone, click below: