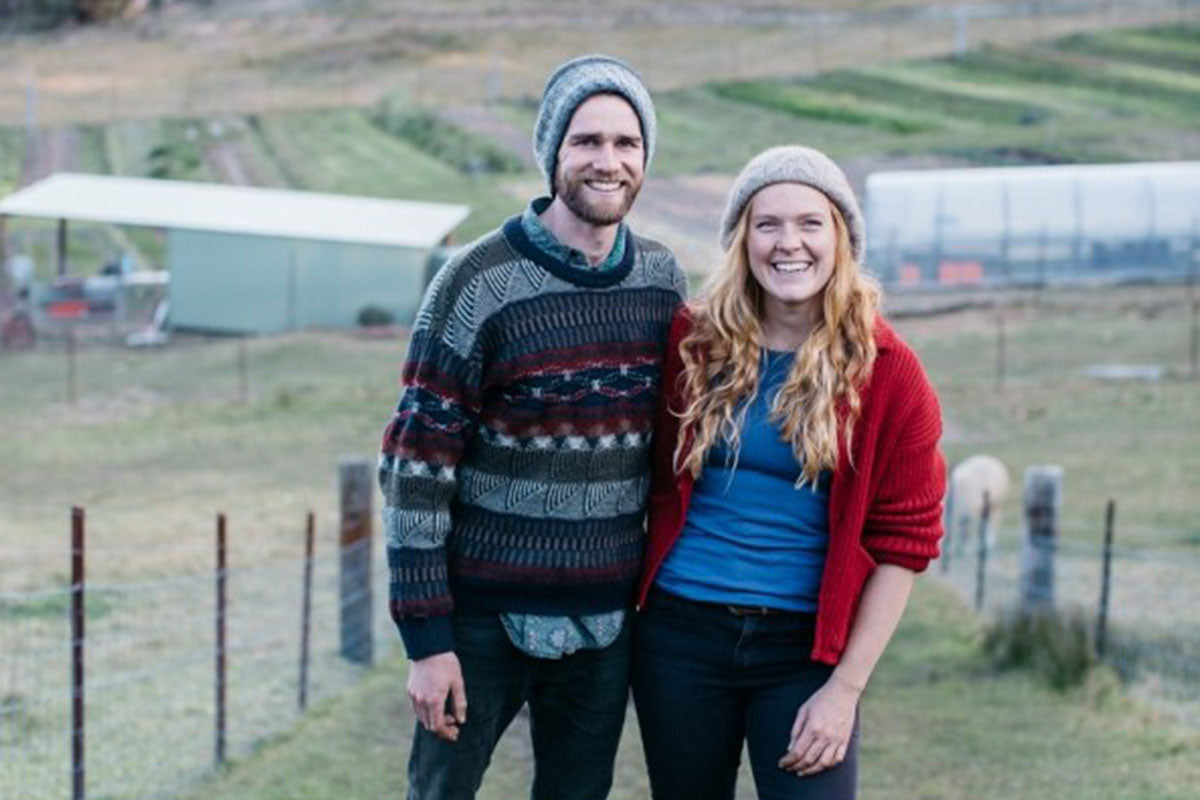 Friday Foodie In Focus - Epicurean Harvest
A small plot, high up in the misty Blue Mountains is the home of Epicurean Harvest. An organic, sustainable farm founded by the young and uber passionate couple Erika and Hayden. Their story is an inspiring, courageous and romantic one. These two love birds met whilst studying Horticultural Science at Sydney University. After a stint working in France, their relationship formed, bringing together shared learnings and strong farming ethics. Without wanting to jeopardise their own values by working for someone else, they carved their own path, leasing an 1 acre plot of land in Blackheath for a fully certified organic, vegetable production. Depending on seasonality and availability, Epicurean Harvest services 15-30 of Sydney's best restaurants (think Sepia & Bennelong), with a waiting list that's forever growing. The dedicated pair harvest by hand and drive into Sydney 1-2 times a week, delivering the freshest produce to the hands of top chefs. Erika shares with us below their philosophy, what's next on the horizon and of-course, what her ideal last supper would be.
What's your food philosophy?
Honesty, integrity, respect, kindness and transparency. Applied to all aspects of growing and eating, and the relationships formed around food – from soil, land, animal, friend, customer. Demand these from your food system, hold onto these things always. I suppose they can go into any part of life not just food. ha ha
What inspired you and Hayden to create Epicurean Harvest?
We both studied horticultural science at USyd, and learnt a wealth of knowledge, but when we entered the work force most employers were big corporations and had practices that we didn't want to compromise on. The opportunity came up in Blackheath and so that's why we decided to grow here. Turns out growing in a cold climate has its pros and cons – sweeter, more flavoursome and more nutrient dense food as the cold slows growth and forces the plant to put its energy into producing the flavonoids and sugars that protect it. We also get a forced Winter "down time" which is nice – a moment to reflect and consider. Unfortunately the cons means we have a short "growing season", being in the cloud layer means we sometimes get limited light and slowed growth, mildew and unhappy plants. But really, The Blue Mountains are beautiful and you need to love where you are and what you see everyday.
What is your proudest or biggest achievement to date with Epicurean Harvest?
"Magical moments" is when you have perfectly times successional planting, when you finish one bed of carrots and the next bed is ready. A really amazing moment was when we learnt how to manage weeds across beds without lots of labour (we are certified organic so herbicides are not an option). It is a practice called Occultation, which is basically using a large black UV treated PET silage tarp to cover beds with when prepping them to allow weed seeds to germinate then die off effectively mulching the soil and increasing carbon and microbial activity. You only do it for 2-4 weeks (depends on season/weather) and the result is beautiful clean beds to plant into. Its a game changer if used responsibly, for both soil health and production.
Out of all the beautiful produce you grow, do you have a favourite 'child' and if so, what makes it extra special?
That changes with each of the seasons. Right now, We love cabbage, their sweetness, resilience to the cold and intense wrinkling green skin. They are mustardy and colourful. Ours are small and bake whole beautifully with Megalong Gold Extra Virgin Olive Oil, salt, lemon and smoked paprika. In summer nothing beats roasted zucchini or young potatoes. Nothing extra special about the varieties, they are just so good when grown well and eaten fresh, people have forgotten what real food tastes like.
It must be incredibly rewarding seeing your 'work' on some of the finest plates in Sydney. Are there any restaurants and/or dishes that stand out for you?
Oh that is really tricky, we are always incredibly excited to see our vegetables on such fancy ceramic, the chefs all work such wonders, really. The flavours are true, exciting, complementary, contemporary and primitive at the same time they explore the new while enlivening the heart and human inside you. The colours are the MET, the textures are like a city with all its exuberance, and subtleness of a local. Dishes are unique between restaurants that we can't really say one stands out over another – the places we have been lucky enough to go to all flood back into memory. Restaurants and chefs that stand out are those that are supportive when things are hard, those that get excited with season, those that love being involved and realistically, those that pay on time.
What defines a good day at work for you?
Laughs and tasks done.
Any new & exciting project on the horizon?
We hope to be able to expand our enterprise to provide a CSA box to our local community. CSA - "Community Support Agriculture" is all about having the community involved with local production. They commit to a season of veggies, grown by the farmer for them specifically and supplied weekly. We hope that we can connect with our local community in this way, provide their vegetables and connection back to their country.
What would your ideal last supper be?
(Oh man)... Entree: One raw dutch carrot freshly picked Main: Baked cabbage with olive oil (Megalong Gold), salt, smoked paprika and lemon Dessert: Handful of fresh sun-warmed blackberries ALTERNATIVELY – the fine dining equivalent. Hehehe.
To discover more and connect with Epicurean Harvest, click below:
Instagram:
https://www.instagram.com/epicureanharvest
Website:
www.epicureanharvest.com.au
(launching soon)
Images by Luisa Brimble and Hannah McCowatt. Dishes creates by Sarah Glover