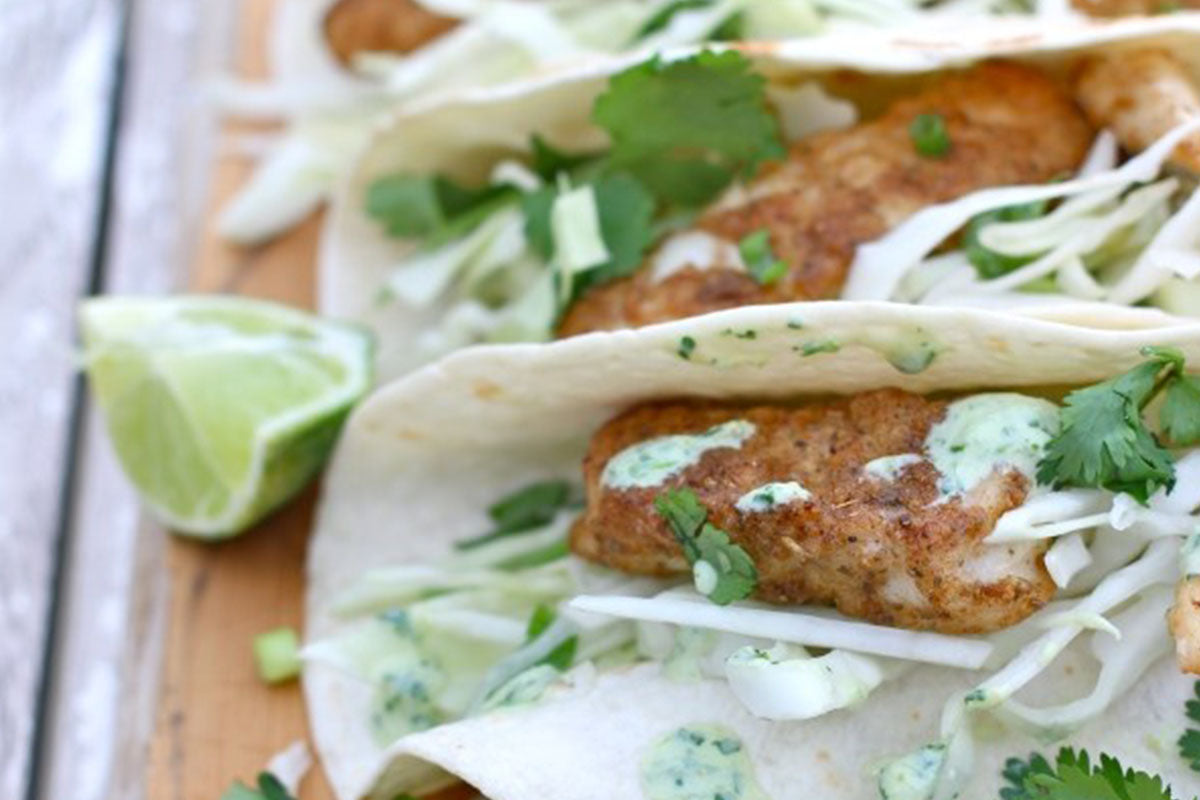 Fish Tacos with Creamy Jalapeno Sauce
The benefits of eating fish are really endless - low in fat & cholesterol, high in protein, loaded with minerals like iodine, zinc & potassium, rich in many vitamins and of course full of omega-3's. But putting these amazing perks to the side, we adore fish for its fresh flavour, lightness & the speediness it takes to cook. Within 15 mins you can have a beautiful piece of grilled fish with salad on the table. All you need is a squeeze of lemon, drizzle of olive oil and sprinkling of sea salt and your piece of fish is taken to another level.
Using the simplest yet freshest ingredients can deliver an extraordinary meal, a motto that's deeply rooted in our kitchen.
However I can't really claim to call a piece of grilled fish with lemon a recipe can I? So in the spirit of keeping things simple & easy, I wanted to share with you this Fish Taco with Creamy Jalapeno Sauce creation. The fillets of fish are lightly crumbed in a mexican inspired spice mix, served with crisp green cabbage, soft tortillas and a cool yet punchy sauce.
Fish Tacos with Creamy Jalapeno Sauce
Fish Tacos
Flathead Fillets 350g (you could also use Snapper)
Ground Cumin 2 TB
Ground Coriander 1 TB
Zaatar Spice 1 TB (optional)
Ground Chilli Powder 1/4 tsp
Plain Flour 1 TB
Free Range Egg 1
Green Cabbage 1/4, finely shredded
Lime Juice 1 TB
Coriander 2 TB chopped
Avocado 1, sliced
Olive Oil 1 tsp
Tortillas 4-6 depending on the their size
Cut fish into large bite sized strips. In a small bowl mix together the cumin, coriander, zaatar, chilli powder and flour with a pinch of salt. In a separate small bowl, whisk the egg. Set both bowls aside. In a medium sized serving bowl mix together the cabbage, lime juice & coriander. Drizzle with olive oil and season with salt & pepper. Set aside in the fridge until ready for serving. Dip the pieces of fish in the whisked egg, shake off any excess then dip into the spice mix. Set aside on a plate. Repeat process until all pieces of fish are covered in the spice mix. Pour some olive oil or vegetable oil into a frypan (about 1 cm deep) and place over a medium-high heat. Shallow fry the fish in batches for approx 2-3 mins, turning occasionally or until they are golden brown and cooked through. Drain the fish on a paper towel. In a griddle or flat pan, cook the tortillas one by one for approx 30 secs or until warmed through. Fill each tortilla with some fish, a small handful of your cabbage slaw, slices of avocado and a drizzle of the below creamy jalapeno sauce. Serves 2
Creamy Jalapeno Sauce
Greek Yoghurt 2 TB
Olive Oil 1 TB
Coriander 1 generous handful, leaves & stalks
Jalapeno* 1 fresh or a few of the sliced pickled jalapenos in a jar
Spring Onions 2, trimmed, roughly chopped
Lime 1, zested and juice of half
Water 1 TB
In a small processor, blitz together all ingredients except the water. Gradually add the water if the sauce needs loosening. Add a small pinch of salt. Chill in the fridge until ready to serve. *You can leave the jalapeno out if you prefer things milder. The combination of coriander, lime & spring onions is just as flavoursome.
I can't stress to you enough how easy this recipe is, despite how fiddly it may sound. I encourage you to give it a go & who knows, it may become part of your weekly repertoire too.
Check out our recent blog post
'Australian Seafood - Choosing Local & Sustainable'.
The more curious & educated we are, the more our local environment & seafood industries benefit.