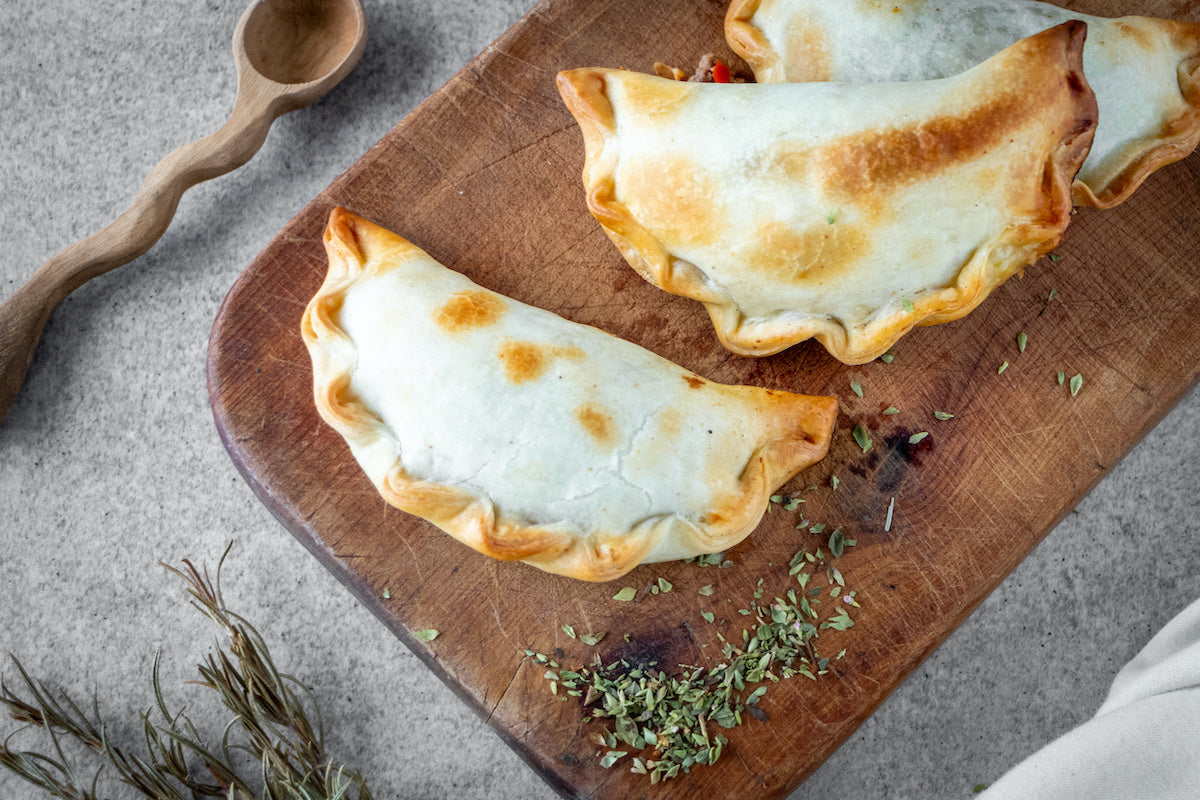 Chilean Empanadas
These moorish meaty parcels make the perfect weekend lunch or snack, great for entertaining a crowd too.
Side note: The highlighted Australian ingredients below are featured inside the 'Discovery Box', as we love showing you ways to use your newly discovered goodies. You can substitute these with other quality products. The Homegrown Sauce Co Chilean Aji Sauce is recommended as a dipping sauce. This authentic chilli sauce is featured inside the 'Spring 2020' Discovery Box 
Happy baking!
Chilean Empanadas

Ingredients:
Empanada Filling
1 TB olive oil
2 large onions, minced
500g quality minced beef
1 TB paprika
1 tsp cumin
1 tsp salt
1 tsp ground black pepper
1 tsp chilli powder (more if you want spicy empanadas)
1 TB dried oregano
¼ cup beef stock
1 TB all-purpose flour
1/3 cup raisins
⅓ cup pitted black olives, chopped
Empanada Dough
1 cup milk
1 ½ tsp salt
8 Tbsp unsalted butter
2 egg yolks
5 cups all-purpose flour (divided)
For assembling the Empanadas
3 hard boiled eggs, peeled and sliced
1 egg yolk beaten with 1 Tbsp milk (for egg wash)
For Serving
Homegrown Sauce Co Chilean Aji

sauce

 
Method:
For The Filling
Heat oil in a large pan. Add the onions and saute over medium heat until softened, 2-3 minutes.

Add the beef, cumin, paprika, oregano, chilli powder, salt and pepper. Cook for approx 5 mins until the meat is cooked through.

Dissolve the flour in the beef stock and add to the beef mixture. Cook until slightly thickened but still moist. Remove from heat and add in the raisins and black olives. 

Taste your filling and adjust the salt and chili powder as desired.

Let cool slightly before filling the empanadas. (Or prepare the filling ahead of time and refrigerate overnight.)
For the Dough
Gently heat the milk in a small saucepan over medium heat until just warm. Add the salt and butter to the milk. Let the mixture cool slightly and add the eggs. Mix until combined.

Place 4 cups of flour into a large bowl. Mix this warm milk mixture into the flour. Add the remaining 1 cup of flour as needed until a soft dough forms.

Knead the dough for approx 2-3 mins with your hands until it is soft and easy to handle.

Roll the dough into a long snake and divide into 12, evenly sized parts. Roll each part into a golf ball shape.
Assembling the Empanadas
On a floured surface, roll each ball into a 18cm flat circle, ½ cm thick. Place a heaped tablespoon of the filling and a slice of egg in the upper half of each round. Moisten the edge of the pastry with a little water and fold the dough over the filling, pressing the edge firmly, then twisting or pressing down with a fork to seal.

Place on an un-greased baking sheet and brush with egg wash. Poke three small holes into each with a toothpick so that they breathe and won't open during baking.

Bake in a preheated oven at 200C for 20-30mins until golden brown. 
Best served hot with the Homegrown Co Chilean Aji sauce.