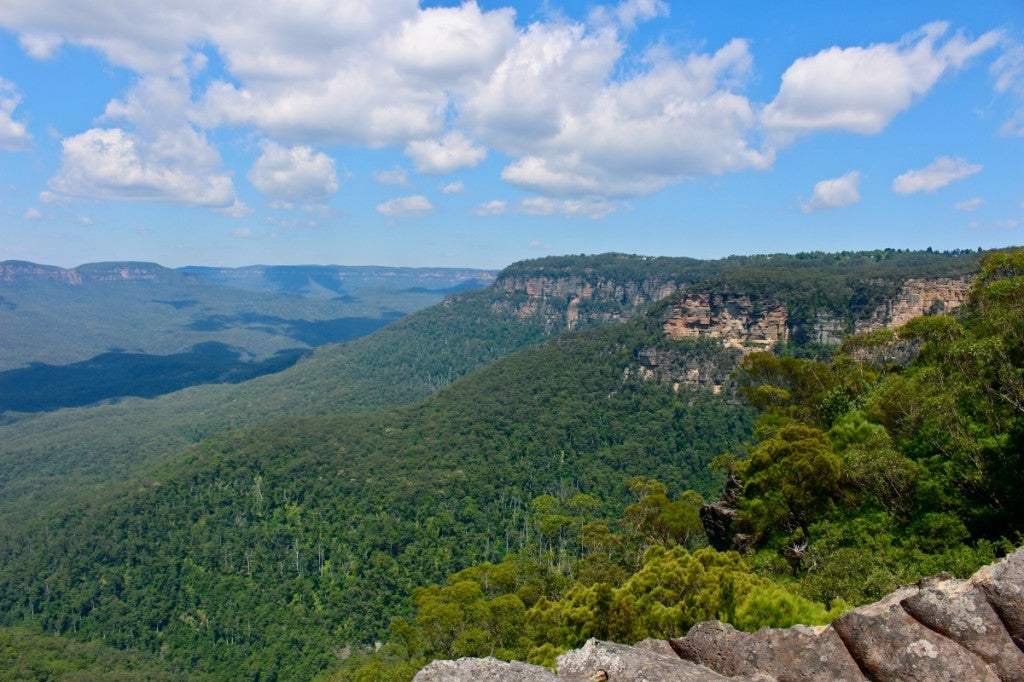 Blue Mountains Weekend Escape
Suffering from Mondayitis? We thought about delaying this Blue Mountains Weekend Escape feature till the end of the week as I can imagine for a lot of you, you're just thinking about surviving the day ahead. On the flip side, we then thought it may stir some food for thought and inspire you to plan a weekend break for yourselves. Go on, we dare you!
Here's a recap of a recent weekend escape we took in the Blue Mountains.... After ticking off the majority of Sydney's iconic attractions, we decided to escape the coast and drive 90 mins west to the majestic Blue Mountains. We booked ourselves into Naini Tal B&B, a quaint sandstone cottage nestled in the heart of Wentworth Falls village. As we drove down the sandstone pillared driveway, we immediately felt as if we'd been transported into France due to the beautifully manicured chateau inspired garden. We were warmly welcomed by owner Jenny who promptly took us up to a two-bedroom mini apartment. With the three of us eager to explore the great outdoors, we dropped our bags, quickly refreshed and drove straight to the starting point to one of Australia's greatest walking trails, the National Pass.
Walking the National Pass gives you a real taste of the Australian bush. Without fail the powerful roar and rushing descent of Wentworth Falls is the highlight, however the everyday movements of native wildlife entertains throughout the entire 3hr loop. The National Pass is a a medium intensity walk which hugs the cliff face. A clay stone ledge separates the sandstone cliffs above and below. It also features Australia's largest outdoor staircase, an attraction in itself. Whilst there are many walking trails within the Blue Mountains, this has to be up there with the best.
After burning off a few hundred calories, our appetites had grown. We carried our exhausted and hungry bodies back to the car and drove to Leura's town centre for a late lunch. We stumbled upon Wisteria Place which is located in the heart of Leura. The lunch menu is generous with a focus on savoury crepes. I went for the hearty Italian inspired crepe whilst my hubby and father-in-law opted for the eggs benedict crepe with crispy bacon. After ogling the neighbouring table's vanilla slice, we couldn't help ourselves & ordered one to share. I hadn't had one since school canteen days and unsurprisingly, it was just as good as I remember them to be!
That evening we ventured back into Leura to test out Leura Garage, one of the few Blue Mountains restaurants to be featured in the 2014 Good Food Guide. Leura Garage is one of the most popular restaurants in Leura. Once a mechanic's workshop, Garage is now serving Modern Australian/European cuisine to locals & visitors, thanks to owner James Howarth and head chef Misha Laurent who had the vision to serve quality local produce including a wine list which celebrates regional NSW. The menu is designed to share which worked out perfectly for us. We opted for the Kilroy Scotch fillet with salsa verde, plus the free range Trunkey Creek pork ribs in a sticky bbq basting sauce with a side of broccolini with toasted almonds and chat potatoes. The dessert menu was impossible to refuse. We shared the warm chocolate torte, citrus tart and an affogato. Leaving Leura Garage we felt completely satisfied and quite chuffed with the day we'd had.
Waking up bright and early, we were faced with the familiar misty haze of the mountains. Uncertain on how the weather would unfold, we decided to have breakfast as early as possible to make the most of the day ahead. Jenny at Naini Tal is not only a friendly and hospitable host, she's a fantastic cook. We were provided a substantial breakfast starting with fresh fruit and a selection of cereals. A creamy omelette, bacon & blistered cherry tomatoes followed next.
Unfortunately luck wasn't on our side that day. The weather worsened. We drove to Echo Point in Katoomba hoping we could grab a glimpse of the famous Three Sisters, but as it turned out, it was not to be, perhaps giving reason for my father in law to return one day? Places to visit:
The National Pass Walking Trail -
Wentworth Falls
http://www.nationalpass.com.au
Naini Tal
- 94 Waratah Rd, Wentworth Falls (02) 4757 4003
http://www.bluemts.com.au/nainital/
Wisteria Place -
156 Megalong Place, Leura
Garage Leura -
84 Railway Pde, Leura (02) 4784 3391
http://www.leuragarage.com.au