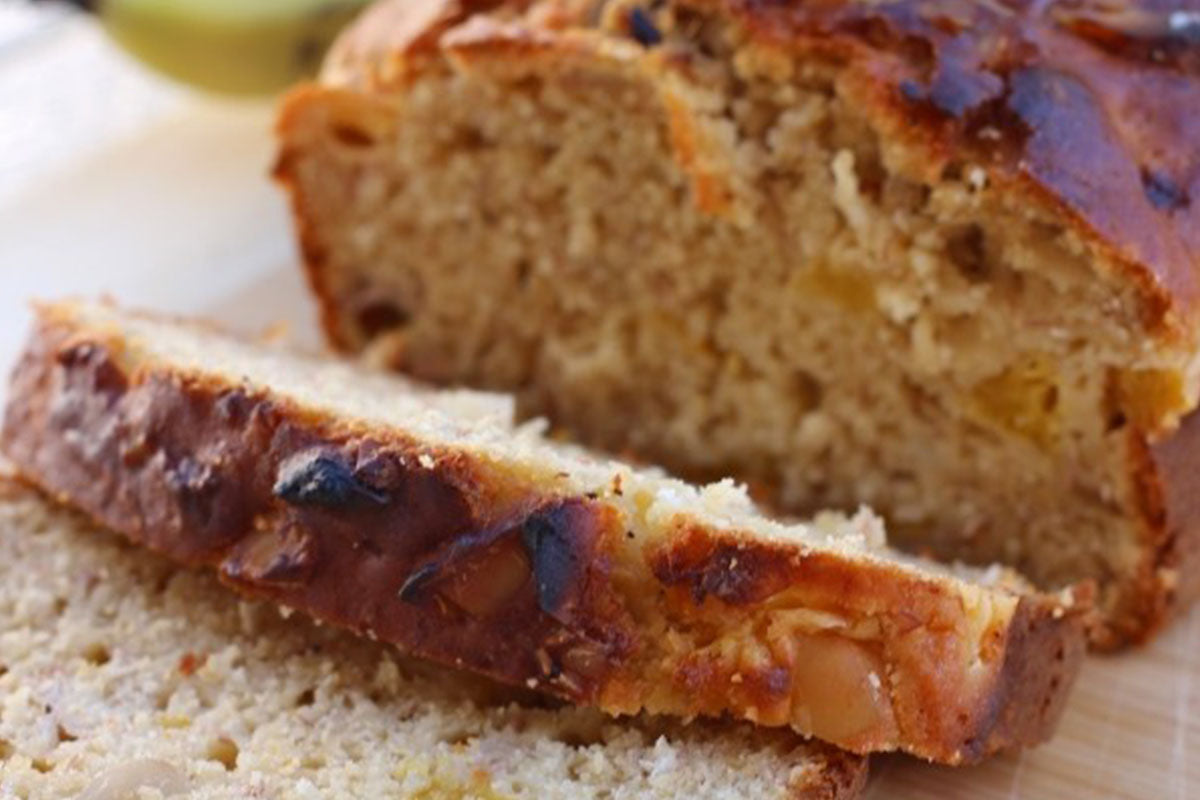 Aussie Summer Fruit Bread
Recently harvested from the bowing branches and mature tropical plantations, Australian peaches and bananas are ripe and ready for you to eat right now. Just in time for Australia Day, you can sift, stir and bake this Aussie Summer inspired Fruit Cake which can be shared amongst friends this coming Sunday. Trust me, this recipe is super easy to make and can be ready to eat within an hour. I love cutting the loaf into thick slices, lightly toasting them before smearing over a few generous lashes of creamy butter. With the inclusion of native Australian macadamia nuts, this cake is a true celebration of the Australian Summer.
Aussie Summer Fruit Cake
Butter 50g, melted & cooled
Banana, mashed 1 cup (2-3 ripened/blackened bananas)
Peach 1, cubed
Macadamia Nuts 1/4 cup, coarsely chopped
Shredded Coconut 1/2 cup
Brown Sugar 2/3 cup
Self Raising Flour 1 3/4 cup
Plain Flour 1/4 cup
Buttermilk 1/2 cup
Free Range Eggs 2
Preheat oven to 180 degrees celsius. Line a 24cm x 13cm loaf tin with baking paper, allow the paper to hang over each side. Sift flours into a large mixing bowl. Add sugar and make a well in the centre. Put aside. In a small mixing bowl, mix together the buttermilk, eggs, butter, mashed banana, peach & coconut. Place the wet banana mixture into the well of the large mixing bowl, stir till just combined. Pour the batter into the loaf tin and gently press the macadamia nuts into the top of the batter. Bake in the oven for approx 50 mins. (you can test to see if it's cooked by inserting a wooden skewer into the centre. If it comes out wet, the bread will need another 5 mins). Also keep an eye on how the top of the cake browns. Cover with a piece of foil if it's browning too quickly) Remove from oven and set aside for 5 mins. Lift the cake out of the pan using the sides of the baking paper.
Serves 8-10