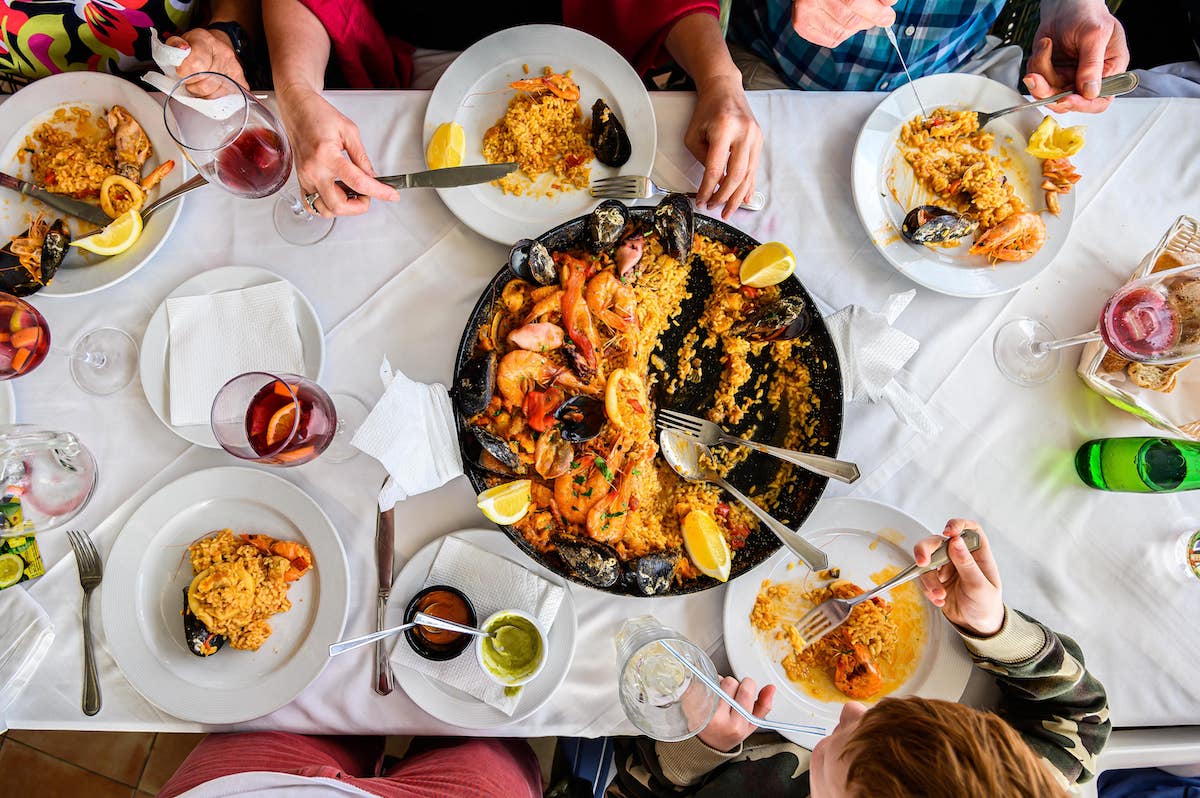 Springtime Seafood Paella
This Spring inspired Seafood Paella recipe ticks all the boxes. Big on flavour and pure gourmet satisfaction.  
Tip: Ideally serve with crusty bread and a tossed salad, a cool-climate Pinot Noir or even a more traditional Rosé-style wine or Sparkling Shiraz.
>> Quick side note: If you're new around here, a huge HELLO to you! Our mission is to help foodies like you discover new & exciting Australian made artisan foods every season! Come check out our ABOUT US page or say hi on our socials @foodiescollective 
Seafood Paella recipe

Ingredients:
1 cup Olive Oil

3 cloves Garlic (chopped)

2 Red Chillies (chopped)

1 tsp of Anchovies (optional)

1 or 2 Squid tubes cut into 2cm squares or 1cm rings

500g washed Mussels

500g peeled Green Prawns

250g washed Pippies (if available)

650g boned Chicken thighs, cut into large chunks

200g smoked Pork belly (kaiser flesch from your deli), diced

200g sliced Chorizo

1 Spanish Onion, chopped

1 Red Capsicum, sliced into strips

1 small packet of dried Peas (try to avoid frozen or canned)

500g Paella, Arborio or Basmati rice

2 tsp Screaming Seeds Spice Co. Paella Blend (or to taste)

1L Chicken or Vegetable stock

150ml Dry White Wine (or other liquid (ie. water) as required)

2 Lemons, cut into wedges

Chopped Parsley
Utensils:
Cook in either a wok, a traditional paella pan or a large frypan that is oven friendly.
Method:
Stir oil, garlic, chillies and anchovies in hot wok for 30 seconds.

Add the mussels and cook for two minutes (or until opened).

Add squid, prawns, and pippies until the prawns are 'just' pink. Remove from the pan – set aside, leaving juices in the pan.

Add chicken, pork, and chorizo and cook for two minutes. Add onion, capsicum and peas, stirring.

Add rice and Screaming Seeds Spice Co. Paella Blend and stir well.

Turn the oven on to 200 degrees.

Add stock and wine and cook stirring like a risotto for 12 minutes.

Take off the stove and with flair, arrange the seafood on a pan.

Place in the oven for about 10 more minutes or until rice is cooked.

Remove, sprinkle with parsley and serve with lemon wedges.
Recipe courtesy of Screaming Seeds Spice Co
* The highlighted Australian made ingredients are products featured inside our 'Discovery Box'. We love sharing recipes using the products found in your box as it makes it easier for you to enjoy them! You can substitute these with other quality products. The Screaming Seeds Spics Co 'Paella mix' in this recipe was featured in our 'Spring 2021' Discovery Box