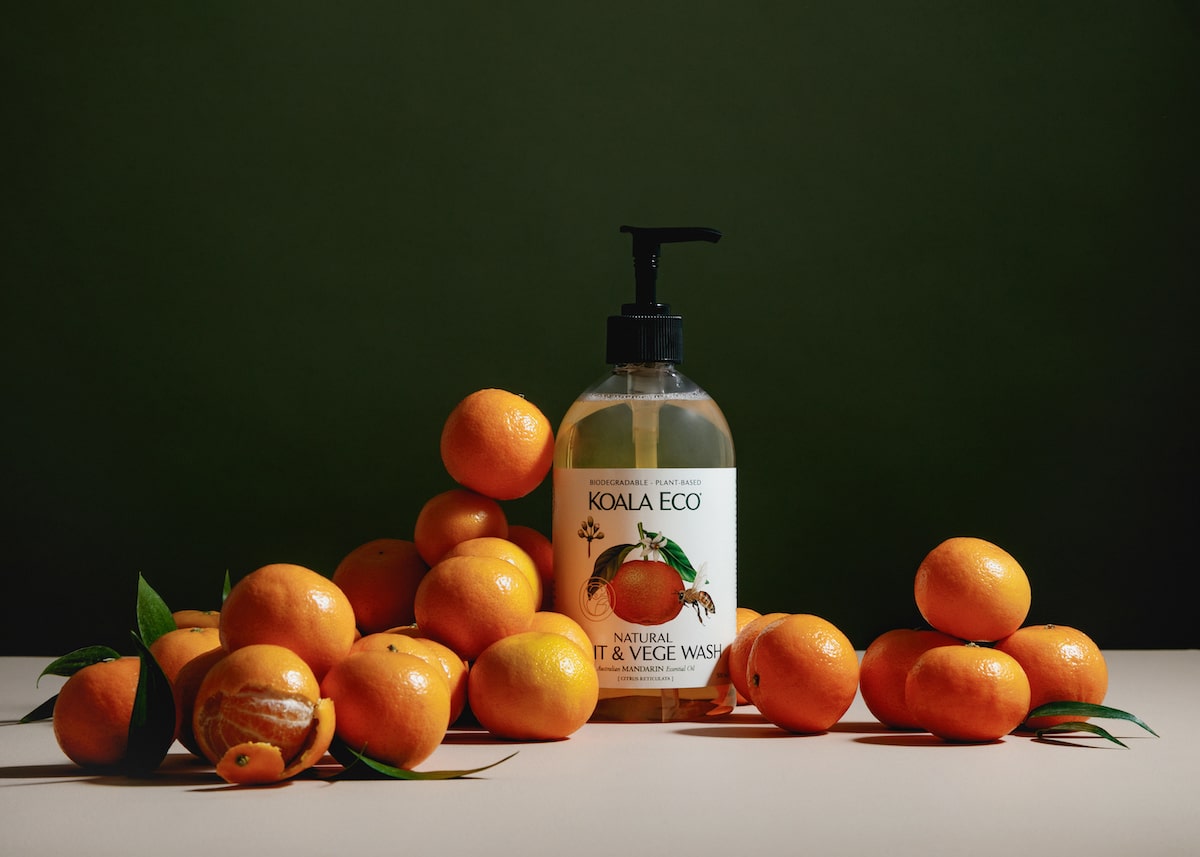 Meet The Locals - Jessica and Paul from Koala Eco
Here at Foodies Collective we care deeply about showcasing foods that are natural and Australian made, which is why we also fell in love with Koala Eco's plant based cleaning products for the kitchen and home. 
We chat with co founders husband-and-wife duo Jessica Bragdon and Paul Davidson to learn more about their beautiful Australian brand, what the product benefits are and of course ask are favourite foodie questions. 
>> Koala Eco Fruit & Vege Wash is featured in the Autumn 2022 Discovery Box.
What's your food philosophy?
My food philosophy is like most things in life, do the basics well and you can't go too far wrong. Use in season, fresh ingredients, season them well and cook to perfection whether its grilling over coals, baking, pan frying or raw! Samin Nosrat authored a cookbook called "Salt, Fat, Acid, Heat "which sets this out beautifully
Which Fruit or Vegetables are most important to wash?
It's important to thoroughly wash all supermarket and farmer's market produce you consume. Regardless of whether your produce is organic or not, it all undergoes human handling as well as potentially drift spray, fertilisers, mould spores, animal waste, and dust and dirt. However, washing beyond the ordinary rinse under water is particularly important for produce that falls under the Dirty Dozen, a list of fruits and vegetables that are most contaminated by pesticides. The Dirty Dozen comprises strawberries, spinach, nectarines, apples, grapes, peaches, cherries, pears, tomatoes, celery, potatoes, and capsicums
Why is it important to use a fruit and vegetable wash instead of just water?
Water is often not sufficient to dissolve waxes and eliminate all traces of pesticides, fertilisers, mould spores, and the effects of human handling. Washing with a dedicated Fruit & Vegetable Wash ensures you're consuming produce in its natural state and reaping the full nutritional benefits of your fruits and vegetables.
What is the best way to wash these fruit and vegetables?
Fruits and vegetables most susceptible to pesticide contamination should be washed with a dedicated Fruit & Vegetable Wash to ensure all pesticides are removed before consumption. Simply add half a capful to a sink of cold water and wash your fruits and vegetables before rinsing clean under running water. For leafy greens like spinach and kale, soak in the solution for five minutes before rinsing clean. Supermarket produce like apples, capsicums, cucumbers, eggplants, and citrus fruits often have wax applied to prevent moisture loss and make them look more appealing to consumers; removing this residue often requires a bit more of a scrub with a bamboo cloth or clean sponge.
What is one thing you couldn't work without?
My chefs knife. 
If we looked inside your fridge, what would we find?
You would always find the following:
Crème fraiche
Homemade pickled vegetables
A beautiful Chorizo or Salami
Scotch fillet steak
Mushrooms
Red and yellow Capsicums
Parmesan Cheese
Fresh chillies
Stone and Wood Pacific Ale
What do you love most about Autumn and why?
Start of the AFL season. 
What would your ultimate last supper be?
Wow!
Sydney Rock Oysters 
Abalone grilled on BBQ
Singapore Chilli Crab
Lobster Fried Rice
Crème Brulee
What advice would you give to someone who is considering launching their own food business?
Make sure you celebrate the wins when you have them (even the small ones). Starting a business is hard with many highs and lows, it's like constantly being on a roller coaster. So, when you do have a win, take the day off early, reward your team, go out for a nice dinner and celebrate
If you could have any celebrity/renowned chef cook you dinner, who would it be & why?
 Can I have 2?
Anthony Bourdain and Maggie Beer.
Tony was a natural born story teller and would have been brilliant company and Maggie is just lovely.
To discover more + connect with Koala Eco click below:
Website: www.koala.eco
Insta: www.instagram.com/koalaeco
Facebook: www.facebook.com/koalaeco
>> GRAB your Autumn Discovery Box now and try the beautiful Koala Eco Fruit & Veg Wash! SHOP HERE