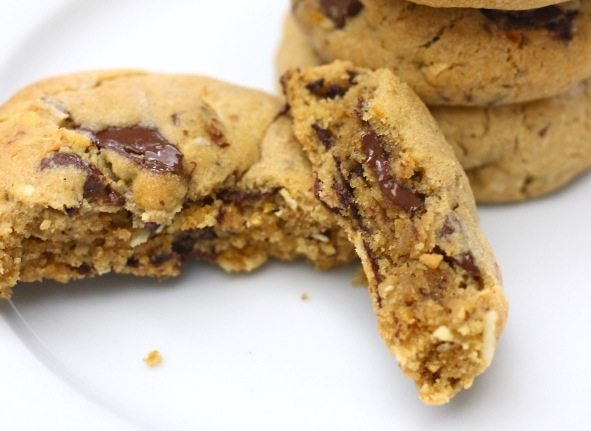 Chewy Chocolate, Orange & Coconut Cookies
Splurge alert!
This blog post is a blast from the past....permission to immediately scroll to the amazing cookie recipe below ;)
Whilst my pregnancy cravings have calmed down a bit these last few weeks (thank god!), if you were to ask what they've been like, I could sum them up in two words;
Citrus
&
Sweet
. In the early stages I couldn't get enough of citrus fruit, any kind would do, but ruby grapefruit was probably the front runner. When it came to having something sweet, again I wasn't overly fussy but muffins & cookies tended to be my go to option. These Chewy Chocolate, Orange & Coconut cookies have more often than not been my guilty pleasure. Who doesn't love a chewy gooey freshly baked cookie?!
Whilst there is nothing wrong with simple choc chip cookies, I couldn't resist adding a sprinkling of coconut and of course a touch of citrus. Expect a flavour bomb in your mouth, especially if you eat them straight from the oven. To achieve a chewy consistency, I urge you to chill the cookie dough for at least 30 mins. However if you simply can't wait, you can still whack them in the oven as soon as you're dough is complete.
This is really a simple, no-nonsense recipe, great for getting the kids involved (especially for the dirty work using your hands!).
Chewy Chocolate, Orange & Coconut Cookies
Butter 130g, slightly melted
Brown Sugar 1/2 cup
Raw Sugar 1/4 cup
Free Range Egg 1
Vanilla Paste 3/4 tsp (or use 1 tsp extract)
Plain Flour 1 1/2 cups
Baking Soda 1/2 tsp
Sea Salt 1 tsp
Orange Zest, of 1 orange
Dark Chocolate 3/4 cup, roughly chopped
Shredded Coconut 1/4 cup
Preheat oven to 175 degrees celsius. Using electric beaters or a whisk, beat together the butter, brown and raw sugar in a mixing bowl until light and fluffy. Add the egg and vanilla and gently combine. Sift the flour, baking soda and sea salt into the bowl and using a wooden spoon, mix until just combined. Add the chocolate, orange and coconut and stir until you have a dough consistency. It's best to use your hands in this last stage to bring it all together into one large ball. Cover the bowl with plastic wrap and place in the fridge to cool for at least 30 mins, ideally up to 1-2 hours. (chilling cookie dough controls the spread when cooking, it also helps to make the cookie more chewy). Remove from the fridge and using your hands, roll into 12-14 balls. Place balls onto a lined baking tray, gently press down on each one & ensure they are at least 5 cm apart (even try baking only 6-7 at a time giving them lots of space). Place tray on the middle shelf of the oven and cook for approx 12 mins or until they have started to puff up at the centre and you notice the first sign of browning (do not over bake!). Remove from oven and let them sit for a few minutes to cool. Eat straightaway with a chilled glass of milk or store in a air tight container for a few days.
Happy Baking!